This ginger lemonade is made by blending a whole lemon with lemon juice and ginger, and it is absolutely incredible.
We had some friends over for dinner last night. It was a beautiful, balmy evening on the deck with fresh food and fabulous company. We decided to make use of the huge bowl of lemons we'd been given by our neighbor and make lemonade.
The secret ingredient to this lemonade is to blend in a whole lemon. The zest and pith adds an aromatic citrus essence, a depth of flavor, and tartness, and the ginger adds back-end zing. I've sweetened this with coconut nectar, but you can use maple syrup, or any other sweetener.
The ginger lemonade will be frothy right after you blend it. Just chill in the fridge, and the froth will settle. If you're not a fan of ginger, mint or lavender is delicious. Add to taste.
GINGER LEMONADE WITH A WHOLE LEMON

GINGER LEMONADE WITH A WHOLE LEMON is delicious! Be sure to use a thin-skinned lemon for the best flavor. GET THE FULL PRINTED RECIPE:https://www.theblendergirl.com/recipe/ginger-lemonade-with-a-whole-lemon/

Posted by The Blendaholic on Monday, October 8, 2018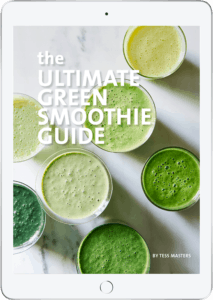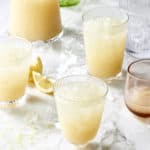 Ginger Lemonade With A Whole Lemon
For epic lemonade, blend a whole lemon into the mixture to give it a velvety frothy texture and amazing depth of flavor.
Ingredients
4

cups (960ml)

filtered water

1

cup (240ml)

fresh lemon juice

1/2

cup (120ml)

coconut nectar

(or pure maple syrup or other sweetener)

1

medium thin-skinned lemon,

skin on, scrubbed, cut, and seeded

1

tablespoon

minced ginger,

plus more to taste
Instructions
Throw all of the ingredients into your blender and blast on high until the whole lemon is completely pulverized. The mixture will be frothy. Tweak ginger to taste. 

Transfer to a sealed container in the fridge to chill and allow the froth to settle.

Serve over ice.