This creamy almond banana date smoothie is one of my favorite smoothies. It is just so creamy and delicious.
Fresh dates are one of the great culinary pleasures of life. Dates are the oldest, and certainly the sweetest fruit, with the highest concentration of fruit sugars. They're so decadent and fabulous. I eat them in moderation. But, when I indulge, I commit.
Throw some pitted dates in your blender with bananas, almond milk, and coconut water, and you've got a dessert shake that will make you weak at the knees.
For a richer, more buttery flavor, add 1/2 cup raw cashews. To make this shake nut-free, use rice milk, hemp milk, or coconut milk.
THE BLENDAHOLIC SHOW TRAILER

THE BLENDAHOLIC SHOW TRAILER: Hi, my name is Tess and I'm a Blendaholic. Every Monday I share super easy recipes you can make in your blender! I'm blending up smoothies, cocktails, soups, appetizers, snacks, main meals, and desserts. There isn't anything I won't try in a blender, and all of the recipes are mind-blowingly delicious. So, dust off your blender, and tune in to The Blendaholic every Monday at 7AM PST to find your perfect blend. Find more easy healthy recipes at The Blender Girlhttps://www.theblendergirl.com/

Posted by The Blendaholic on Monday, January 22, 2018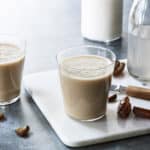 Creamy Almond Banana Date Smoothie
This creamy almond banana date smoothie is really delicious. It's one of my all-time favorite smoothies.
Servings
2
16-ounce glasses
Instructions
Throw all of the ingredients into your blender (including any boosters) and blast on high for 30 to 60 seconds until smooth and creamy.