Vegan Carbonara
---
May 22, 2015
This super easy vegan carbonara is full of delicious flavors, and kids love it! For adults, jazz this up with some veggies, herbs, and spices.
This super easy vegan carbonara is quick, full of delicious flavors, and kids love it! If you're making this for adults, jazz it up with some mushrooms or broccoli, herbs, and spices. I love adding a pinch of cayenne, paprika, and turmeric for an extra kick.
I got this vegan carbonara recipe from my dear friend Dreena Burton.
I get a lot of emails asking for healthy suggestions for children, or how to maintain a vegan or vegetarian lifestyle with picky eaters. If you're one of those people, Dreena's new book, Plant-Powered Families  has a ton of amazing ideas!
Dreena Burton is a goddess in the vegan community. Why? Because she was writing plant-based cookbooks long before "vegan" was a buzzword or a hot food trend, and because her recipes are really easy, really delicious, and always work! After being vegan for over 20 years, Dreena has more experience than most vegan bloggers and authors, and as a mother of three beautiful thriving girls who have been raised on a vegan diet, she has a treasure trove of thousands of scrumptious family-friendly foods tested and approved by her discerning kids. Dreena is also just a beautiful, generous person, and all of her recipes are infused with that love for people and nourishing food.
Dreena has filled this book with really useful tips for stocking your pantry with staple ingredients, strategies for seducing picky eaters or all ages with healthy choices, ensuring that your children get enough nutrients – calcium, iron, protein etc, and hundreds of tricks for infusing your dishes with delectable flavor in very little time. Dreena calls vegan children "weegans". Check out her cute range of apparel: T Shirts, onesies, aprons, and more. I love them!
This really is the ultimate vegan cookbook for busy moms and dads. Or just busy people in general. Dreena is one of my favorite vegan recipe developers, and I will be referring to this amazing book again and again for quick, easy ideas. I've also purchased a copy for my sister so that she can make some of these yummies for my niece and nephew.
Your family will love the variety of breakfasts, lunches, dinners, desserts, and snacks, as well as amazing salad dressings, sauces, and sprinkles for making healthy food fun for kids. Some of my favorites include:  Cinnamon French Toast, Savory Chickpea Omelets, Double Chocolate Orange Banana Muffins, Mild Cheesy Dip, Cheesy Caesar, Home-Style Gravy, Seasoned Polenta Croutons, Sniffle Soup, Thick N Hearty Tomato Sauce, Polenta Pizza Crust, No-Bake Granola Bars, Sneaky Chickpea Burgers, Apple Lentil Dal, Chunky Monkey Smoothie, Best Banana Bread, Peanut Butter Pudding with Berrylicious Swirl, Lemon Kissed Blondie Bites, Nicer Krispie Squares, Protein Power Balls, Vanilla Bean Almond Butter Fudge, and lots of awesome popsicles.
Try this vegan carbonara and you will be running to get your copy of Plant-Powered Families and learn more about Dreena Burton.
THE BLENDAHOLIC SHOW TRAILER

THE BLENDAHOLIC SHOW TRAILER: Hi, my name is Tess and I'm a Blendaholic. Every Monday I share super easy recipes you can make in your blender! I'm blending up smoothies, cocktails, soups, appetizers, snacks, main meals, and desserts. There isn't anything I won't try in a blender, and all of the recipes are mind-blowingly delicious. So, dust off your blender, and tune in to The Blendaholic every Monday at 7AM PST to find your perfect blend. Find more easy healthy recipes at The Blender Girlhttps://www.theblendergirl.com/

Posted by The Blendaholic on Monday, January 22, 2018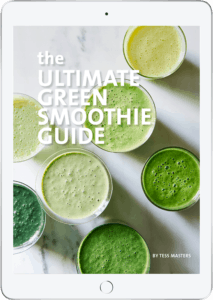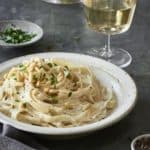 Creamy Vegan Pasta Carbonara
This super easy vegan carbonara is full of delicious flavors, and kids love it! For adults, jazz this simple dinner up with some veggies, herbs, and spices.

Instructions
Cook the pasta according to package directions. Meanwhile, prepare the sauce.

Throw the cashews, almonds, 2 tablespoons of the pine nuts, miso, garlic, sea salt, mustard, onion powder, water, milk, and lemon juice into your blender, and blast on high for 30 to 60 seconds until smooth and creamy.

Drain the pasta and return it to the cooking pot. Add the sauce (scrape it all out of the blender) and on a medium-low heat let the sauce thicken. This will take 2 to 3 minutes. Stir in the lemon zest and pepper. Serve, sprinkling with the remaining pine nuts.
Recipe Notes
Garlic and Spice Note: This sauce is meant to be family-friendly. Adults may want to boost the flavor with more garlic, Dijon, and black pepper. 
Milk Note: Once the pasta has sat for a minute or two after serving, it will continue to thicken. Add another 1–2 tablespoons of milk or more if needed to thin, and stir through over low heat.
Idea: Greens are delicious wilted into this pasta. Add a few handfuls of baby spinach just before serving (the heat of the pasta will wilt the spinach without overcooking). If you'd like to use a hardier green like chopped kale, add it to the pasta cooking water just before draining the pasta. Proceed with the recipe and serve immediately so the greens do not overcook.
Recipe from Plant-Powered Families copyright 2015 by Dreena Burton. 
Photo by Trent Lanz and styling by Alicia Buszczak
Other recipes from the book:
Ta-Quinos
White Bean Guacamole
Crazy Brownies
No-Bake Granola Bars