Homemade Ketchup
from The Blender Girl cookbook
---
June 27, 2017
This homemade ketchup recipe is super easy and tastes incredible. Just throw everything into your blender and simmer.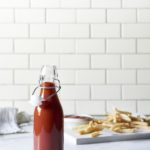 Blender Ketchup
This is an amazing homemade ketchup recipe that is vegan and gluten-free from The Blender Girl cookbook. Blend everything, and then simmer on the stove. Too easy!

Servings
1
1/2 cups (400G)
Instructions
Throw the canned tomatoes and their juices, onion, tomato paste, maple syrup, apple cider vinegar, garlic, salt, Worcestershire sauce, mustard powder, and pepper into your blender and and blast on high for 30 to 60 seconds, until well combined and smooth. Transfer the mixture to a medium saucepan over high heat, and bring it just to a boil. Reduce the heat to medium and simmer, stirring occasionally, for about 30 minutes, until the mixture has reduced and thickened.

In a small bowl, combine the cornstarch and filtered water until a paste forms. Stir the paste into the tomato mixture, and simmer for 10 to 15 minutes more, until thickened further. (The mixture will thicken further when chilling.)

Remove the pan from the heat, and let the ketchup cool to room temperature. Transfer the ketchup to a glass container, seal tightly, and chill in the fridge.