I made this creamy blended vegetable soup for my friend Kat today, and it was so good I had to share it with you.
Kat and I went to high school together in Singapore, and when her parents moved to Indonesia she remained as a boarding student and my parents were her guardians. She became part of our family, and I think of her as my second sister. She's a Qantas flight attendant and manages to snag the odd trip to L.A.
Kat loves blended vegetable soup, so I always have a batch of soup waiting on the stove for her when she arrives for breakfast.
This blended vegetable soup is quick, easy, and loaded with green veggies. Just throw everything in the pot, simmer, blend, and devour. This vegetable soup makes a fantastic quick easy meal served with a scoop of cooked quinoa, millet, buckwheat, amaranth, or a piece of crusty gluten-free bread.
Give this vegetable soup a go and let me know what you think.
THE BLENDAHOLIC SHOW TRAILER

THE BLENDAHOLIC SHOW TRAILER: Hi, my name is Tess and I'm a Blendaholic. Every Monday I share super easy recipes you can make in your blender! I'm blending up smoothies, cocktails, soups, appetizers, snacks, main meals, and desserts. There isn't anything I won't try in a blender, and all of the recipes are mind-blowingly delicious. So, dust off your blender, and tune in to The Blendaholic every Monday at 7AM PST to find your perfect blend. Find more easy healthy recipes at The Blender Girlhttps://www.theblendergirl.com/

Posted by The Blendaholic on Monday, January 22, 2018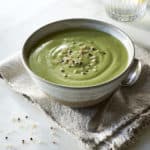 Creamy Blended Vegetable Soup
This creamy blended vegetable soup is super easy, loaded with vegetables, and delicious!
Total Time
1
hour
10
minutes
Ingredients
2

tablespoons

grapeseed oil

(or extra-virgin olive oil)

2

cups (300g)

diced yellow onion

1

tablespoon

minced garlic

(3 cloves)

1

teaspoon

Celtic sea salt,

plus more to taste

1/4

cup

diced celery

2

cups

roughly chopped zucchini

(about 2 zucchini)

2

cups

chopped cauliflower florets

7

cups

vegetable broth

4

cups (480g)

halved green beans

4

cups

broccoli florets

(about 1 head of broccoli)

1/4

cup

blanched slivered almonds

1/8

teaspoon

freshly ground black pepper,

plus more to taste

1

teaspoon

fresh lemon juice,

plus more to taste 
Instructions
In a large pot over medium-high heat, warm the oil and sauté the onions and garlic with 1/4 teaspoon of the salt for about 5 minutes until the onions are soft and translucent. Add in the celery and zucchini, and sauté for about 5 minutes until softened. Add the cauliflower and vegetable broth, and 1/2 teaspoon salt, and increase the heat to high and bring to the boil. Reduce the heat to medium, and simmer, uncovered, for about 10 minutes until the cauliflower is just softened. Add the green beans, the broccoli, and the remaining 1/4 teaspoon of salt, and simmer for 3 to 5 minutes further until the beans and broccoli are al dente but still vibrant green.  Remove the pot from the heat, stir in the almonds and allow them to soak in the soup for about 10 minutes while the soup cools a bit. 

Transfer the soup to your blender in batches and blast on high for 30 to 60 seconds until smooth and creamy. (For conventional blenders, remove the small center lid cap and cover the opening with a kitchen towel so steam can escape while you blend.) Return the soup to the pot and warm over low heat. Season with salt and pepper to taste, and stir in the lemon juice. 

To serve, ladle the soup into bowls, and serve with a scoop of cooked grain or a piece of crusty bread.