I've adapted these jicama sticks with mango basil sauce from my friend Heather Nicholds.
A former commercial pilot and flight instructor in Canada, Heather studied to become a holistic nutritionist after experimenting with raw and vegan foods in an effort to regain her health. During her journey, she developed a passion for environmental issues, and gives 5% of the profits of all of her programs to charity.
Heather offers online meal plans, cleanse programs, cooking classes, and nutrition consultations to help people achieve their wellness goals.
She also has some delicious easy recipes on her site.
These jicama sticks with mango basil sauce that Heather shared on YouTube is super easy, light, and bursting with fresh flavors. Tweak the lime juice, chile, and salt to taste. I like julienning my jicama for gorgeous presentation. But, if you're in a hurry, you can easily shred the jicama in your food processor.
Enjoy!
THE BLENDAHOLIC SHOW TRAILER

THE BLENDAHOLIC SHOW TRAILER: Hi, my name is Tess and I'm a Blendaholic. Every Monday I share super easy recipes you can make in your blender! I'm blending up smoothies, cocktails, soups, appetizers, snacks, main meals, and desserts. There isn't anything I won't try in a blender, and all of the recipes are mind-blowingly delicious. So, dust off your blender, and tune in to The Blendaholic every Monday at 7AM PST to find your perfect blend. Find more easy healthy recipes at The Blender Girlhttps://www.theblendergirl.com/

Posted by The Blendaholic on Monday, January 22, 2018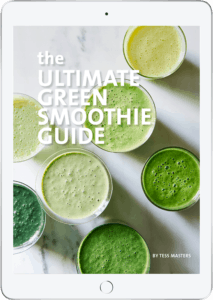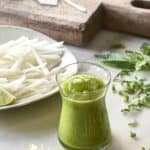 Jicama Sticks with Mango Basil Sauce
This raw jicama with mango sauce is a fantastic healthy vegan side dish.
Ingredients
1

jicama,

peeled, and julienned

1

medium

ripe mango

1/4

cup

raw coconut water

(or filtered water)

2

tablespoons 

fresh basil

1

large

green onion

1

teaspoon

fresh lime juice,

plus more to taste

1/2

teaspoon

finely chopped green chile,

plus more to taste

1/8 

teaspoon 

Celtic sea salt,

plus more to taste 
Instructions
Put the jicama in a large bowl. 

Throw the mango, water, basil, green onion, lime juice, chile, and salt into your blender, and blast on high for 20 to 30 seconds until smooth. lime juice, chile, and salt to taste. 

Toss the sauce through the jicama, cover the bowl, and transfer to the fridge. Allow the mixture to marinate for about an hour to break down some of the starch.

Serve over a bed of greens, topped with some crushed raw cashews.