These cranberry walnut vegan truffles come from Shelley Alexander.
After working as the executive chef at The Stinking Rose Restaurant, and other places, Shelley started A Harmony Healing.
Shelley's cookbook, Deliciously Holistic will be released in November 2012. With over 154 easy, nutrient-rich recipes, and gorgeous color photography, it provides readers with the basic tenets of holistic cooking; and includes whole food definitions, healing foods, digestive health tips, a shopping guide, seasonal menus, cooking tips, guidance on the best superfoods, and recommended resources.
Shelley has a penchant for creating delicious, healing recipes made with organic, nutrient-rich, sustainably grown whole foods that increase your energy, strength, and immunity. These cranberry walnut vegan truffles are so easy to make in your food processor, and are always popular.
Check out A Harmony Healing and make these cranberry walnut vegan truffles.
THE BLENDAHOLIC SHOW TRAILER

THE BLENDAHOLIC SHOW TRAILER: Hi, my name is Tess and I'm a Blendaholic. Every Monday I share super easy recipes you can make in your blender! I'm blending up smoothies, cocktails, soups, appetizers, snacks, main meals, and desserts. There isn't anything I won't try in a blender, and all of the recipes are mind-blowingly delicious. So, dust off your blender, and tune in to The Blendaholic every Monday at 7AM PST to find your perfect blend. Find more easy healthy recipes at The Blender Girlhttps://www.theblendergirl.com/

Posted by The Blendaholic on Monday, January 22, 2018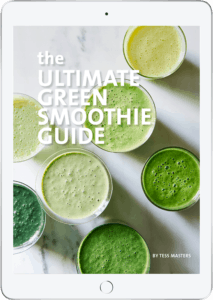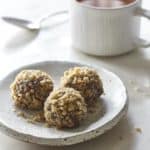 Cranberry Walnut Vegan Truffles
These vegan chocolate cranberry walnut truffles from Shelley Alexander are super easy and delicious.
Servings
10
to 12 truffles
Ingredients
1

cup

roughly chopped raw walnuts

1

cup 

pure maple syrup

1

cup

raw cacao powder

1/4

cup

melted virgin coconut oil 

2

teaspoons 

natural vanilla extract

1

teaspoon

ground cinnamon

1/4

teaspoon

orange extract 

1/8

teaspoon 

Celtic sea salt

1/2

cup

dried cranberries 
Instructions
Place 3/4 cup of the walnuts in food processor fitted with the s blade, and pulse until finely chopped but some texture remains. Set the finely chopped walnuts aside to roll the truffles in, and keep the remaining 1/4 cup walnuts to add to the truffle batter. 

Pour the maple syrup, coconut oil, cacao powder, vanilla, cinnamon, orange extract, and salt into your food processor or blender, and process for 30 to 60 seconds until smooth. (You may need to scrape down the sides of the container.) 

Pour the truffle base in a bowl, and stir in cranberries, and the 1/4 cup of roughly chopped walnuts. Cover, and freeze for 30 to 40 minutes until firm.

With a tablespoon measurer, scoop out the truffle batter, and shape into round balls. 

Roll the truffles in the finely chopped walnuts until evenly coated. Place the finished truffles on a baking sheet lined with parchment paper or a silicon liner, and freeze for 30 to 40 minutes until solid. Keep in the freezer until ready to serve, or transfer to a sealed container and keep in the fridge. The truffles will keep for about 2 weeks.