Instant Pot Garlic Baby Potatoes
---
March 14, 2018
These Instant Pot potatoes are super easy, and are gluten free & vegan. Cooking potatoes in the Instant Pot is amazing. Add garlic and herbs for great flavor.
These Instant Pot potatoes are super easy! I haven't used my Instant Pot very much since I got it. But, if I had have known that cooking potatoes in an Instant Pot was so easy and fabulous I would have done it a lot sooner. It is just so easy, and you can infuse incredible flavor with butter, garlic, and fresh herbs.
These delicious garlic potatoes come from the Weeknight Cooking with your Instant Pot cookbook by my dear friend Kristy Bernardo. Those of you who have an Instant Pot know that this incredible machine is a game-changer in the kitchen, and there are ton of Instant Pot cookbooks flooding the market. But, this one is my fave.
I had the honor of blurbing this book, and it has so many awesome ideas for using your Instant Pot in creative ways. Kristy's brilliant book will help you get phenomenal food on the table with less mess and less fuss, but with full flavor and fun. Kristy has been sharing recipes that do just that on her wildly popular blog, The Wicked Noodle, for many years now. So, it was only a matter of time before she finally wrote a cookbook. Let's hope it's the first of many!
I was first introduced to the Instant Pot from Karen Kipp, The Juice Goddess who I wrote The Decadent Detox with and is my partner in leading the 3-day juice fasts and 14-day cleanse programs. I stayed with Karen in Kansas City while we were creating the programs, and as we were recipe developing she kept turning to me (as we were pulling out conventional pots and pans to make soups and stews) bemoaning the fact that, "it would be so much easier if we just threw it all into the Instant Pot!" I remember looking at her puzzled, and the shocked look on her face that I had no idea what an Instant Pot was was hilarious. Needless to say, there was an Instant Pot waiting on my doorstep for me when I returned home courtesy of my Instant Pot addict.
Since then, thousands of people have joined Karen in spreading the Instant Pot love, and these days it's difficult to find somebody in America who doesn't have one. For those of you who consider yourself proud members of the fan club, Kristy's book is for you. Kristy has become an Instant Pot aficionado, and it appears that there isn't anything she hasn't tried to make in your beloved pressure cooker.
Kristy serves up simple family-friendly meals made better in half the time. No matter what your dietary stripes, there are recipes for you. There are meat-based dishes, grains, sandwiches, vegetables, one-pot soups and stews, and desserts.
Some of my favorites include: navy bean soup, Thai butternut squash soup, butternut squash mac n cheese, pesto spaghetti squash, chipotle hash brown casserole, vegetable lasagna, cilantro lime rice, balsamic caramelized onions, garlic butter green beans, lemon pepper quinoa, two-minute maple glazed carrots, maple-syrup mashed sweet potatoes, quick risotto with wild mushrooms, easy refried beans, coconut rice pudding with mango, strawberry applesauce, streusel "baked" peaches, and vanilla poached pears. Are you frantically grabbing for your Instant Pot or ordering one yet? (At just $70 it's a steal.)
I'm a potato lover, so these garlic baby potatoes that I'm sharing today caught my eye the first time I flipped through the book. (If it was my last hour on earth I would surely spend some of that time eating potatoes!)
Make sure you use the smallest potatoes you can find, or be sure to cut your spuds into small pieces. The instant pot cooks these potatoes in just 6 minutes. You can't beat that.
Snag your copy of Weeknight Cooking with your Instant Pot, and learn more about Kristy Bernardo.
THE BLENDAHOLIC SHOW TRAILER

THE BLENDAHOLIC SHOW TRAILER: Hi, my name is Tess and I'm a Blendaholic. Every Monday I share super easy recipes you can make in your blender! I'm blending up smoothies, cocktails, soups, appetizers, snacks, main meals, and desserts. There isn't anything I won't try in a blender, and all of the recipes are mind-blowingly delicious. So, dust off your blender, and tune in to The Blendaholic every Monday at 7AM PST to find your perfect blend. Find more easy healthy recipes at The Blender Girlhttps://www.theblendergirl.com/

Posted by The Blendaholic on Monday, January 22, 2018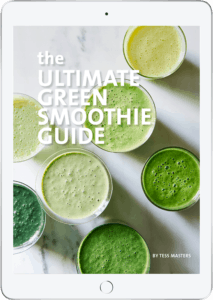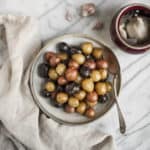 Instant Pot Garlic Baby Potatoes
These Instant Pot potatoes are super easy, and are gluten free & vegan. Cooking potatoes in the Instant Pot is easy! Add garlic and herbs for great flavor.

Instructions
Press "Sauté" to preheat your Instant Pot. When the word "hot" appears on the display, melt the butter then add the garlic. Cook for one minute, stirring frequently. Add the potatoes and toss to coat with the garlic butter.

Pour the broth over the potatoes. Close and lock the lid of the Instant Pot. Press "Manual" and immediately adjust the timer to 6 minutes. Check that the cooking pressure is on "high" and that the release valve is set to "Sealing".

When the time is up, open the IP using "Quick Pressure Release".

Transfer the potatoes to a serving dish, season to taste, and serve immediately.