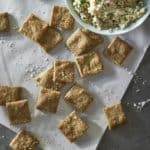 Rosemary Vegan Gluten Free Crackers
These crackers are a great homemade, gluten free alternative to processed crackers.
Ingredients
1 1/2 

cups

raw pumpkin seed flour

(finely ground raw pumpkin seeds)

3/4

cups

sorghum flour

2

teaspoons 

dried rosemary leaves

1

teaspoon 

gluten-free baking powder

1 1/2 

teaspoons 

Celtic sea salt

1

tablespoon 

psyllium husks

1/2

cup

filtered water

1/3

cup

extra-virgin olive oil
Instructions
Preheat the oven to 400°F (200°C). 

In the bowl of your stand mixer with the paddle attachment, combine the flours, rosemary leaves, baking powder, salt, and psyllium husks. Add the water and olive oil to the dry ingredients, and mix until well combined.

Let the cracker dough sit for 5 minutes. (The dough will be slightly wet, but you should still be able to shape it with your hands.)

Place the dough onto a large piece of floured parchment paper (I used pumpkin seed flour.) Flour your rolling pin (as necessary) to prevent sticking, and roll the dough to about ¼-inch thickness.

Place the parchment paper with the rolled dough onto a baking sheet, and score the top of the dough into your desired shape using a pizza wheel or a sharp knife. Sprinkle with coarse salt (if desired) and lightly press into the cracker dough.

Bake for 25 to 30 minutes, rotating the tray after about 15 minutes.

Remove the crackers from the oven, allow them to cool until they're cool to the touch, and then transfer the crackers to a wire rack to cool completely.

Store in a sealed container.