Easy Coconut Curry Soup
---
September 2, 2017
Make this incredible coconut curry soup in your high-speed blender or transfer to the stove. This recipe is vegan and gluten-free and full of fabulous flavors.
Easy Coconut Curry Soup
Do not miss making this delicious coconut curry soup. This incredible soup is vegan and gluten-free and is loaded with nutrients and fabulous flavor. And the best part? Your high-speed blender does all of the work for you! I can't explain just how amazing this coconut curry soup is. Just make it, and thank me later.
Use Your High-Speed Blender To Make Coconut Soup
As I mentioned in my minty pea soup post a few weeks ago, Scott and I have been using our 1950's stove as little as possible this summer as our kitchen gets so hot. So, we've been taking advantage of the heating function of our blender.
Our kitchen is above Scott's recording studio, and so I can't cook while he's working. Often, I've got less than 30 minutes to get dinner ready (or we'd be eating at 9PM every night), and quick easy meals like this soup are so handy.
Use Low-Carb Spiralized Zucchini Noodles
Scott is diabetic, so I make this soup with spiralized zucchini noodles. (We're kind of obsessed with our spiralizer stand mixer attachment.) But, in all seriousness, zucchini is not only low in carbs, it's loaded with nutrition and mineral-rich water. I've boosted the nutrient potential further with julienned bell pepper, cilantro, and cashews. These additions also make for beautiful presentation.
This coconut curry soup is one of those super easy staples that makes you look like a gourmet chef in less than 15 minutes, and is always a hit.
Why I use KitchenAid Blenders
I shared this coconut curry soup on the Kitchenthusiast® recipe blog as part of my role as the global spokesperson for KitchenAid® blenders.
This blender is the best machine for making soups because it has the most power at the blade and an insulated thermal control jar that not only heats soup faster than any other blender, but also keeps the soup hotter for longer. The insulated container works in much the same way as an insulated to-go cup.
And because the container has a dual-wall, it remains cool to the touch on the outside while the contents are piping hot inside, and the reinforced lid remains firmly in place while you're blending hot ingredients. When I've used other blender models in the past, I've found that the lid can pop off mid-cycle when blending soups, which makes me feel uneasy about leaving the blender running unattended. Because other lids are not reinforced like this one, there is a warping that can occur when you use the blender over time and place the lid in the dishwasher. The lid on the KitchenAid® Pro Line® Series blender is not malleable. It is such a fantastic development in the high-speed blender space.
Learn more about KitchenAid blenders.
How To Make This Soup in a Conventional Blender
For those of you who don't have a high-speed blender just puree this soup in your conventional blender, and then transfer the mixture to a saucepan, and warm it over medium heat for about 5 minutes until hot.
*Note: I am the spokesperson for KitchenAid® blenders. But, my opinions are my own.
Other Coconut Soup Recipes You Will Love
Coconut Lemongrass Soup
Sweet Potato, Red Lentil, Coconut Soup
Green Pea Coconut Soup
Carrot Coconut Soup
Please let me know what you think of this recipe in the comments!
Your feedback is really important to me, and it helps me decide which recipes to post next for you.
EASY COCONUT CURRY SOUP

This CREAMY COCONUT CURRY SOUP is so easy and has an incredible flavor. Just throw everything into your blender. This is soup is soooooo good. Don't miss it. If you don't have a high-speed blender that heats soup, blend in your conventional blender, and transfer to a saucepan and heat on the stove. GET THE FULL PRINTED RECIPE:https://www.theblendergirl.com/recipe/coconut-curry-soup/

Posted by The Blendaholic on Wednesday, May 30, 2018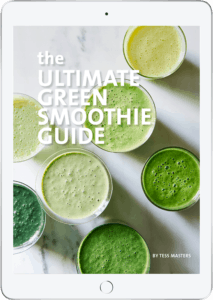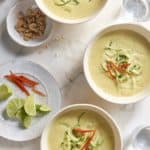 Easy Coconut Curry Soup
This delicious coconut curry soup is vegan and gluten-free and is super easy to make in your high-speed blender. Or transfer to the stove to warm.

Ingredients
Toppings:
1

small zucchini,

spiralized into noodles

1

small red bell pepper,

julienned

1/2

cup (14g)

finely chopped cilantro 

1/2

cup (70g)

crushed raw or toasted cashews

1

medium lime,

cut into quarters
Instructions
Place all of the soup ingredients into the blender jar of the KitchenAid® Pro Line® Blender. Secure the lid and set the blender to the Adapti-Blend™ Soup program. Blend until the machine turns itself off. Alternatively, blend for about 5 minutes, starting on speed 1 and gradually increasing to speed 10.

If you don't have a high-speed blender, blend the soup until smooth and creamy, and then transfer to a saucepan, and gently warm on the stovetop over medium heat until piping hot. 

Divide the soup evenly between four soup bowls, and add equal amounts of zucchini noodles, bell pepper, cilantro, and crushed cashews.  Enjoy immediately.