Cauliflower Tabouli
from The Decadent Detox
---
March 7, 2013
This cauliflower tabouli is absolutely delicious and loaded with nutrients. This raw version is low-carb, grain-free, and paleo-friendly. Don't miss it!
Cauliflower Tabouli
This cauliflower tabouli from The Decadent Detox 14-Day Cleanse is on heavy rotation in my life. Unlike traditional tabouli that uses bulgur wheat or most gluten-free tabouli that uses cooked quinoa, this tabouli uses cauliflower rice so it's grain-free, paleo-friendly, low carb, and completely raw.
I absolutely love tabouli any way I can get it. I freely admit to having a tabouli obsession. I have contemplated "death by tabouli" many times. It is definitely on my desert-island foods.
I do enjoy quinoa tabouli. and hemp seed tabouli, which is loaded with protein. (I need to share that recipe on the site.)
But, this cauliflower tabouli takes the blue ribbon prize for me because it is the most nutrient-dense tabouli because of the cauliflower.
Cauliflower is one of the most health-promoting foods we can eat. Loaded with vitamins, minerals, and antioxidant phytonutrients, including glutathione, cauliflower combats oxidation in our cells, tissues, organs, and blood. Amped up with the powerful detox compound glucoraphanin, cauliflower is one of the top foods that supports detox.
But what if you hate raw cauliflower?
I am definitely flying the flag for that camp. I absolutely hate raw cauliflower. Raw florets are never showing up on my crudité platter Yuk!
But, when you process raw cauliflower florets into cauliflower rice and toss it through this salad you can't even taste it. Adding raw cauliflower to this raw tabouli is a fantastic way to reap the rewards of the raw florets without the funky flavor.
This raw cauliflower tabouli wins over even the most devoted "raw cauliphobes" who don't even realize the fluffy white stuff they're scoffing with delight is cauliflower!
Be sure to pulse your cauliflower in the food processor until it's the consistency of couscous for the best results.
I also finely dice the cucumber and tomato, and finely chop the green onions for uniform look and flavor. Finely chopped salads appeal to the socialist in me. Every lift of the fork gets it's fair share of the magic!
You're also going to get the best results with this cauliflower tabouli if you scoop out the flesh and seeds of the tomatoes and the seeds of the cucumber. I cut them both in half and thten use a spoon. Watch the video below to see how I make it. Removing the watery flesh and seeds prevents the salad from getting too wet and mushy. I save the flesh and seeds for a gazpacho smoothie on the same day.
If you're chopping your ingredients ahead of time and serving this tabouli hours later or the next day, hold back the dressing and toss it through right before serving. I also pour the salad ingredients through a strainer to remove the excess water before adding the dressing.
But, I'm making this tabouli seem much more high maintenance than it actually is. It's super easy.
This cauliflower tabouli is a winner, and is a huge hit every time I serve it. Don't miss it.
Join The Decadent Detox Cleanse
Join my 14-Day Live-Guided Cleanse to get healthy and stay healthy the decadent delicious way.
Please let me know what you think of this recipe in the comments!
Your feedback is really important to me, and it helps me decide which recipes to post next for you.
GRAIN-FREE CAULIFLOWER TABOULI

This GRAIN-FREE CAULIFLOWER TABOULI tastes just like conventional tabouli but is raw, loaded with nutients, enzymes, and fabulous flavor, and is gluten-free, keto, and paleo-friendly. GET THE FULL PRINTED RECIPE:https://www.theblendergirl.com/recipe/cauliflower-tabouli/

Posted by The Blendaholic on Monday, July 23, 2018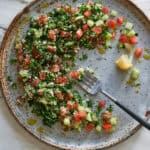 Cauliflower Tabouli
This cauliflower tabouli is absolutely delicious and loaded with nutrients. This raw version is low-carb, grain-free, and paleo-friendly. Don't miss it!

Ingredients
1/2

large head

cauliflower,

chopped up into florets

3

large bunches

flat-leaf parsley,

finely chopped

8

large

tomatoes,

halved, flesh scooped out, and finely diced

1

bunch

green onions,

finely chopped (white and green parts)

1

English cucumber,

flesh scooped out, and diced

1/3

cup (80ml)

extra-virgin olive oil,

plus more to taste

3

tablespoons

fresh lemon juice,

plus more to taste

2

tablespoons

finely chopped fresh mint,

plus more to taste

1/2

teaspoon 

Celtic sea salt,

plus more to taste

1/4 

teaspoon

freshly ground black pepper,

plus more to taste
Instructions
To make the cauliflower rice, place the raw florets into a food processor fitted with the S blade, and pulse until the consistency of couscous.

Transfer this mixture to a large mixing bowl, add all of the other ingredients, and toss until well combined. Tweak olive oil, lemon juice, mint, salt, and pepper to taste.