Zucchini and Watercress Soup
---
February 5, 2014
This zucchini and watercress soup from Mark Hyman's 10 Day Detox Diet is rich, creamy, and delicious! Serve with cauliflower rice for a healthy meal.
This zucchini and watercress soup from Dr Mark Hyman's 10 Day Detox Diet is rich, creamy, and delicious! Serve with cauliflower rice for a healthy meal.
Participating in Dr Mark Hyman's 10 Day Detox Program has been a real eye opener.
It has been scientifically proven that sugar is more addictive than alcohol, cocaine, and heroine. Sugar is the most dangerous drug on the planet. Reading Dr Mark Hyman's 10 Day Detox Diet book has been a game changer for me the last month.
Abstaining from any foods that convert to sugar in the body (sweeteners, high-sugar fruits, starchy vegetables, and grains) has made a huge difference in my blood sugar while I've been going through the program. As I mentioned last week, I've realized that grains are my candy of choice.
Prior to the program I felt healthy, but I wasn't sleeping very well, which indicated an imbalance of some kind. After one day on the program I was sleeping better, and after one week I was sleeping the best I have in years! I'm now getting a full 8 hours of restful uninterrupted high-quality sleep with more periods of deep sleep. This regime could be called, "The Sleep Solution."
The combination of resetting my biochemistry (stabilizing my blood sugar) so that it works for me, mindfully setting my intentions and focussing on my wellness, de-stressing my life, spending less time on the internet, taking the supplements, eating the specially developed food in a particular way, soaking in the detox bath every night, meditating, doing the breathing exercises, journaling about my emotions and tracking the connection with food, and meditating have made such a difference to the calmness I feel.
I also realized that I don't sit and really enjoy my food. I'm always eating on the run driving in the car drinking a smoothie while I'm on conference calls and eating lunch while I'm answering emails. This program reminded me to stop, relax more, breathe, and take the time to practice self care. I need to take that time everyday. Wellness is not just about eating healthy whole foods. It's so easy to forget this when you're busy. As a result of stopping, slowing down, and practicing mindful self care I'm feeling more centered, grounded, balanced, and stronger.
This program arms you with the tools to improve your overall health – your physical, emotional, mental, and spiritual wellness. Everything is connected, and Dr Hyman covers it all. But, how do you stay motivated? Where do you find the strength, courage, and commitment to stay on the path?
The focus for the last day of the detox is to Harness the Power Of Your Community. This is a major focus of the program. Dr Hyman calls friends "the silver bullet for weight loss." I participated in this program with an online community. We had daily calls and shared our experiences in a facebook group. This was hugely beneficial as your emotions, stress levels, and schedule change every day making it challenging to stay with the course. Participating in the calls, reading blogs about the program, and chatting with people in the group gave me nuggets of helpful information kept reframing my perspective to keep it in a positive and inspiring place.
Dr Hyman describes losing weight as "a team sport." He cites data from his own programs (The Daniel Plan and the 10-Day Detox) and other studies that show that social threads have a bigger impact than genetics. When people participate in wellness programs in groups the success literally doubles.
If you're participating in this program or another wellness, detox, or weight loss regime I highly recommend participating with friends, colleagues, or family members. Create your own group and commit to daily phone calls and meetings where you can share your experiences to motivate and inspire each other. Create a cooking club, a meditation group, a recipe swap online etc. Create a plan for success. Set yourself up with an infrastructure that will support your goals.
If you can't find anybody that will join you in your existing circle Dr Hyman has an amazing online community that you can join. This community offers menus, automatic shopping lists, interactive tracking tools, cooking tips and advice, automated journaling reminders, and more. You can also find people who have the same dietary restrictions, health issues, and dreams as you. That way you can connect with like-minded people who have similar goals. You can find all of these resources at 10DayDetox.Com.
I'm going to share my final thoughts about the detox later this week after some reflection.
But, I just have to tell you again how delicious the food is! I've made lots of recipes in the book and they've all been amazing. The recipes are simple and easy to make. I picked up my parents from the airport yesterday morning, and I had a batch of this zucchini and watercress soup on the stove. They found it so delicious, my mother ordered a copy of the book and they are going to participate in the program when they get back from their cruise in a couple of months.
My father is pre-diabetic and really needs to change his life. I hope he can find the strength and courage to participate in an authentic way. I hope….I dream…
More about the detox later this week. Enjoy the soup.
THE BLENDAHOLIC SHOW TRAILER

THE BLENDAHOLIC SHOW TRAILER: Hi, my name is Tess and I'm a Blendaholic. Every Monday I share super easy recipes you can make in your blender! I'm blending up smoothies, cocktails, soups, appetizers, snacks, main meals, and desserts. There isn't anything I won't try in a blender, and all of the recipes are mind-blowingly delicious. So, dust off your blender, and tune in to The Blendaholic every Monday at 7AM PST to find your perfect blend. Find more easy healthy recipes at The Blender Girlhttps://www.theblendergirl.com/

Posted by The Blendaholic on Monday, January 22, 2018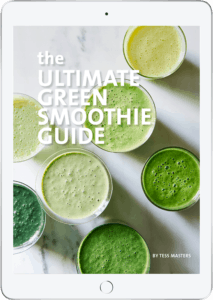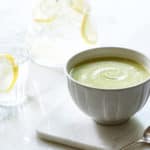 Zucchini and Watercress Soup
This zucchini and watercress soup from Dr Mark Hyman's 10 Day Detox Diet is rich, creamy, and delicious! Serve with cauliflower rice for a healthy meal.

Instructions
In a large saucepan over medium heat, warm the oil and saute the onion and celery with 1/4 teaspoon of the salt for about 5 minutes, until translucent. Add the zucchini, 1/4 teaspoon salt, and saute for a further 3 minutes.

Add the vegetable broth and the remaining 1/2 teaspoon salt, and stir in the almond butter until well combined. Increase the heat to high, and bring to a boil. Reduce the heat to low, and simmer for about 5 minutes, until the zucchini is tender. Add the watercress and simmer for a further 3 minutes, then turn off the heat, and allow the soup to cool slightly. Stir in the lemon juice.

Pour the soup into your blender in batches and puree on high for 30 to 60 seconds, until smooth and creamy. (For conventional blenders, remove the small center lid cap and cover the opening with a kitchen towel so steam can escape while you blend.) Return the soup to the saucepan, season to taste, and warm it over low heat.

To serve, ladle the soup into bowls and drizzle with olive oil. Pass lemon juice at the table.