This watermelon, grapefruit, turmeric, and radish detox juice from Blythe Metz rocks!
Watermelon juice is incredibly hydrating, and is a wonderful natural tonic for gastrointestinal complaints, pulmonary disorders, skin problems, arthritis, gout, and headaches, and magic for boosting energy. Watermelon juice also flushes acids out of the body, renewing the blood.
Grapefruit contains calcium, potassium, iron, phosphorus, sodium, vitamin C, as well as Vitamin A and some B complex vitamins. The pith contains powerful bioflavonoids which maintain healthy blood capillaries, and help burn excess fat in the body. Radishes help regulate the thyroid, and are great for constipation by stimulating the peristaltic movement of the colon. They also assist with liver detoxification combat inflammation in the gallbladder. Turmeric contains powerful anti-inflammatory and antioxidant agents, as well as having natural antibiotic, antiseptic, and analgesic properties. Turmeric improves digestion, purifies your blood, lowers cholesterol, heals stomach ulcers, prevents gas and bloating, and assists fat metabolism.
Blythe says of this juice, "This tasty bright pink juice helps rid your body of toxins and fat deposits, making your body function better and your skin glow brighter. A girl best friend for sure."
THE BLENDAHOLIC SHOW TRAILER

THE BLENDAHOLIC SHOW TRAILER: Hi, my name is Tess and I'm a Blendaholic. Every Monday I share super easy recipes you can make in your blender! I'm blending up smoothies, cocktails, soups, appetizers, snacks, main meals, and desserts. There isn't anything I won't try in a blender, and all of the recipes are mind-blowingly delicious. So, dust off your blender, and tune in to The Blendaholic every Monday at 7AM PST to find your perfect blend. Find more easy healthy recipes at The Blender Girlhttps://www.theblendergirl.com/

Posted by The Blendaholic on Monday, January 22, 2018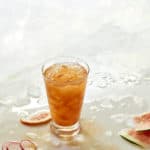 Watermelon Grapefruit Turmeric Radish Juice
This watermelon grapefruit detox juice with turmeric and radishes is a weight loss wonder.
Ingredients
1

ruby red grapefruit,

peeled

4

large

slices watermelon

1

(2-inch) piece

fresh turmeric root 

3

red radishes

Pinch of

freshly ground black pepper
Instructions
Push the ingredients through your juicer, and strain with a fine mesh sieve.