Vegan Scalloped Potatoes
---
December 21, 2015
These vegan scalloped potatoes are also gluten-free, and are so rich, creamy, and delicious you'd never know this dish was dairy-free. Don't miss it!
These vegan scalloped potatoes are so rich and creamy you'd never know this dish was dairy-free. I'm  utilizing a blend of raw cashews, onions, nutritional yeast, lemon juice, and broth to achieve the decadent flavor and texture of the beloved conventional fave.
Mum and dad are staying for a month for the holidays, and I'm feeling nostalgic.
One of my favorite things to eat when I was growing up was my mum's scalloped potatoes. (It was such a popular dish in the 80's!) But, scalloped potatoes contain gobs of cream, cheese, and butter! I didn't care when I was a kid, and didn't know until I was diagnosed with Epstein-Barr virus and an intolerance to dairy that that my indulgence in dairy was the root cause of my eczema. It was a sad day when I had to say goodbye to dairy.
But, these vegan scalloped potatoes taste so close to mum's original dairy-drenched recipe that I don't even miss my old friend.
I always use Massel vegetable broth in all of my soups. I also add use it to add flavor to sauces and gravies.
I used the concentrated liquid vegetable stock in the creamy sauce for the scalloped potatoes as it has such a magic flavor. You dilute it before using.
To dilute, follow the directions on the pack.
To make a basic vegan cream sauce, blend broth with raw unsalted cashews. Then, add any herbs and spices you like, and season to taste. To make a cream sauce for these scalloped potatoes, add nutritional yeast and lemon juice to taste.
This cream sauce is also fabulous with other vegetables like sweet potato, green beans, eggplant, and zucchini. As I type this, we're enjoying these vegan scalloped potatoes with some steamed broccoli and carrots. We're about to binge watch some taped episodes of Graham Norton. I love that show!
I hope you all have a fantastic holiday season with your family and friends.
Leave a comment below and tell me what you think of these vegan scalloped potatoes and let me know what's going on your holiday table this year.
*I'm an ambassador for Massel, but my opinions are my own.
DAIRY-FREE SCALLOPED POTATOES

These DAIRY-FREE SCALLOPED POTATOES are so rich and creamy and amazing you would never know they were vegan. GET THE FULL PRINTED FULL RECIPE: https://www.theblendergirl.com/recipe/vegan-scalloped-potatoes/

Posted by The Blendaholic on Wednesday, May 9, 2018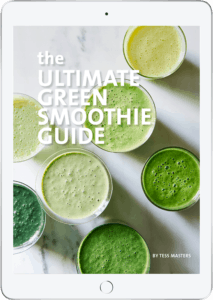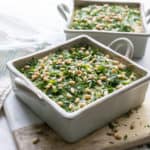 Vegan Scalloped Potatoes
Cook Time
1
hour
10
minutes
Instructions
Preheat the oven to 375°F (190°C) and grease a 9 by 13 inch rectangular baking dish with olive oil.

Cover the raw cashews with boiled water, and allow to soak for 10 minutes, then drain. Discard the soaking liquid. Set the soaked cashews aside.

To make the sauce, heat 2 tablespoons of the olive oil in a shallow saucepan over medium heat. Add the onion, garlic, and a pinch of salt, and sauté for about 10 minutes, until the onion is soft and translucent and starting to brown. Allow to cool slightly. 

Pour the Massel broth, drained cashews, onion mixture, nutritional yeast, lemon juice, rosemary, pepper, and remaining salt into your blender, and blast on high for 30 to 60 seconds, until well combined. You may have to stop the machine, and scrape down the sides of the container. You should have about 4 cups of sauce.

Arrange half of the potato slices overlapping in rows on the bottom of the baking dish, and pour half of the cashew cream (about 2 cups) on top to evenly coat the potatoes. Repeat this process with the second half of the potatoes and cashew cream. 

Cover with aluminium foil and bake for 45 minutes. Remove the foil, and bake for a further 15 minutes, until the potatoes are cooked through and lightly browned. 

Sprinkle with the parsley and chives, and serve family style.