Vegan Portobello Mushroom Burger
---
February 12, 2018
This vegan portobello mushroom burger is really tasty, and is a fantastic low carb option or healthier alternative to a traditional veggie burger served on a bun.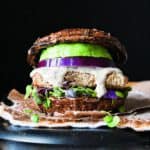 Vegan Portobello Burger
This vegan portobello mushroom burger is crazy amazing, gluten free, and a fantastic low carb alternative to a conventional veggie burger served on bun.

Ingredients
rosemary thyme mayo:
1/4

cup (60ml)

vegan mayo

1

teaspoon 

dried thyme

1

teaspoon 

dried rosemary

1

teaspoon 

balsamic vinegar
to serve:
red onion

microgreens

avocado
Instructions
Preheat the oven to 450°F (232°C).

In a bowl, mix the broth, vinegar, mustard, salt, thyme, rosemary, and garlic powder, and whisk well until combined.

Place the portobello mushrooms in a shallow baking dish, and pour the marinade over the top. Allow the mushrooms to marinate while you prepare the zucchini.

Cut the zucchini in half width-wise. Cut a thin slice off of each long edge so that some of the skin is gone. Then slice each half lengthwise into 4 equal strips. You should have 8 flat rectangles.

Make the zucchini batter by whisking the almond flour and milk in a bowl until a thick batter forms.

Make the zucchini breading by mixing together the cornmeal, flour, bread crumbs, salt, thyme, rosemary and garlic powder in a shallow baking dish.

Using one hand for the batter and one for breading (this helps avoid clumping of the breading), dip each zucchini piece in the batter, then place it in the breading dish and cover it with the breading. Then place each piece on a parchment-lined cookie sheet.

When you're done, place the mushrooms on a parchment-lined cookie sheet (use the same one if there is room). Bake the zucchini and mushrooms for 15 to 20 minutes. Check at 15 minutes and remove the mushrooms if they are done. Continue to bake the zucchini pieces until they're crispy, about 5 to 7 minutes.

While the vegetables are baking, make the rosemary thyme mayo. Mix the mayo with the thyme, rosemary and vinegar. Set it aside for serving.

Serve using two portobello mushrooms as buns. Slather one of the mushrooms with 1 tablespoon (15 ml) of rosemary thyme mayo. Fill the buns with the crispy zucchini, sliced red onion, microgreens and avocado.
Recipe Notes
For kids, cut the burgers into small pieces. Serve mayo on the side as a dipper.
Recipe and photo from Vegan Burgers & Burritos by Sophia DeSantis, copyright © 2017. Published by Page Street Publishing Co.