Maple Walnut Baked Pears
---
December 28, 2017
These maple walnut baked pears are really easy to throw together for a delicious dessert. This recipe uses just 4 simple ingredients, and is vegan, gluten-free, and paleo friendly.
THE BLENDAHOLIC SHOW TRAILER

THE BLENDAHOLIC SHOW TRAILER: Hi, my name is Tess and I'm a Blendaholic. Every Monday I share super easy recipes you can make in your blender! I'm blending up smoothies, cocktails, soups, appetizers, snacks, main meals, and desserts. There isn't anything I won't try in a blender, and all of the recipes are mind-blowingly delicious. So, dust off your blender, and tune in to The Blendaholic every Monday at 7AM PST to find your perfect blend. Find more easy healthy recipes at The Blender Girlhttps://www.theblendergirl.com/

Posted by The Blendaholic on Monday, January 22, 2018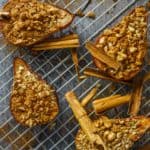 Maple Walnut Baked Pears
These maple walnut baked pears are super easy to make with just 4 ingredients! This delicious dessert is vegan, gluten-free, and paleo friendly.

Ingredients
2

large

ripe pears

1/4

cup

crushed raw walnuts

1/4

teaspoon

ground cinnamon

4

tablespoons

pure maple syrup or coconut nectar
Instructions
Preheat the oven to 350°F/180°C.

Line a baking sheet with a silicone liner or parchment paper. 

Cut the pears in half, then using a melon baller cut out and remove the center core with the seeds and place on the prepared baking sheet.

Fill the pear cavities with the crushed walnuts, drizzle with maple syrup, and sprinkle with cinnamon.

Bake in the oven for 20 to 30 minutes, until the pears are cooked through. 

Serve warm with cashew cream or ice cream. 
Recipe Notes
Recipe from Sima's Healthy Indulgence by Sima Cohen copyright © 2017. Published by Skyhorse Publishing.
Photo by Delaram Pourabdi