Maple Walnut Baked Pears
---
December 28, 2017
These maple walnut baked pears are really easy to throw together for a delicious dessert. This recipe uses just 4 simple ingredients, and is vegan, gluten-free, and paleo friendly.
These maple walnut baked pears are super easy to make with just 4 ingredients! This delicious dessert is vegan, gluten-free, and paleo friendly and takes less than 30 minutes. These baked pears are dressed to impress. I served these at a holiday brunch last week and they were a huge hit.
These decadent baked pears come from Sima's Healthy Indulgence by Sima Cohen. After working as a trainer, nutritionist, and life coach helping private clients transform their lives with the power of real food, Sima wrote her cookbook to share her philosophy with a broader audience. I provided a blurb for this awesome cookbook because it contains really simple nutritious recipes that make being healthy so easy.
In my blurb I said, "Sima's easy and accessible approach to wellness will inspire you to transform your life from the inside out, and have fun, too! Her simple lifestyle tips and delicious recipes can help you gain more energy and vitality to be the best version of you." Not all of the recipes are vegetarian, but there are a lot of veggie and vegan options in the book.
Sima shares her step-by-step health philosophy; tips for stocking your kitchen; 10 techniques to get in great physical shape; the 3 main elements to her indulgence plan: self, sweat, and substance; and her 3-day detox plan. I also really like how she divides her go-to healthy foods into: power proteins, complex carbs, and friendly fats. There is also a fantastic superfood chart
With the recipes, she also divides them up in a fun and accessible way into her main S's:
Sunrise
Sandwiches
Soups
Salads
Sunset
Snacks
Sauces
Sips
Sweets
Some of my favorite recipes include: Golden Mylk Chia Pudding; Strawberry Rose Oatmeal; Za'atar Chickpea Pocket; Happy and Sweet Soup; Stuffed Sweet Potato with Warm Bean Salad; Cherry Tahini Exercise Bites; Better Than Brownie Spread; Muhammara; Power Goji Tea; Cleansing Cardamom Tea; Lavender Coconut Lemonade; Blushing Rose Sorbet; and Chocoholic Cups.
There are so many easy recipes in this book, so snag your copy of Sima's Indulgence, and learn more about Sima Cohen.
THE BLENDAHOLIC SHOW TRAILER

THE BLENDAHOLIC SHOW TRAILER: Hi, my name is Tess and I'm a Blendaholic. Every Monday I share super easy recipes you can make in your blender! I'm blending up smoothies, cocktails, soups, appetizers, snacks, main meals, and desserts. There isn't anything I won't try in a blender, and all of the recipes are mind-blowingly delicious. So, dust off your blender, and tune in to The Blendaholic every Monday at 7AM PST to find your perfect blend. Find more easy healthy recipes at The Blender Girlhttps://www.theblendergirl.com/

Posted by The Blendaholic on Monday, January 22, 2018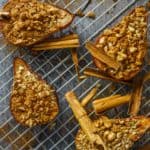 Maple Walnut Baked Pears
These maple walnut baked pears are super easy to make with just 4 ingredients! This delicious dessert is vegan, gluten-free, and paleo friendly.

Ingredients
2

large

ripe pears

1/4

cup

crushed raw walnuts

1/4

teaspoon

ground cinnamon

4

tablespoons

pure maple syrup or coconut nectar
Instructions
Preheat the oven to 350°F/180°C.

Line a baking sheet with a silicone liner or parchment paper. 

Cut the pears in half, then using a melon baller cut out and remove the center core with the seeds and place on the prepared baking sheet.

Fill the pear cavities with the crushed walnuts, drizzle with maple syrup, and sprinkle with cinnamon.

Bake in the oven for 20 to 30 minutes, until the pears are cooked through. 

Serve warm with cashew cream or ice cream. 
Recipe Notes
Recipe from Sima's Healthy Indulgence by Sima Cohen copyright © 2017. Published by Skyhorse Publishing.
Photo by Delaram Pourabdi