Vegan Lime Coconut Rice Pudding
---
December 29, 2017
This vegan coconut rice pudding is so quick and easy to make. Blend cooked brown rice in your blender and stir in some milk and sweetener to make rice pudding in less than 15 minutes!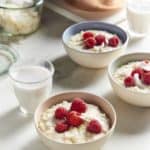 Vegan Lime Coconut Rice Pudding
This easy vegan coconut rice pudding with lime and berries is gluten-free. Use cooked brown rice and your blender to throw this together in 15 minutes!

Instructions
Pour 1 cup (240ml) of the coconut milk, the shredded coconut, maple syrup, lime zest, lime juice, ginger, vanilla, and salt into the blender jar of the KitchenAid® Pro Line® blender, secure the lid, and blast on high for 30 to 60 seconds, until smooth and creamy.

Add 1 1/2 cups (225g) of the cooked rice, secure the lid, and process on variable speed 4 for 10 seconds, until creamy but rustic. (Be careful not to over process. You don't want the blend to be completely smooth or the porridge will be goopy.)

In a saucepan over medium heat, melt the coconut oil, and pour in the blended rice mixture, and bring this mixture to a light simmer, about 1 minute. Reduce the heat to medium-low, and stir in the remaining 1 1/2 cups (225g) of cooked rice and the remaining 3/4 cup (180ml) of the coconut milk.  Stir for about 2 minutes, until the mixture thickens slightly, but is still creamy and loose. (The mixture will thicken quickly while cooling for a minute, and if you cook for longer your porridge will get very dry.

Divide the porridge evenly between four bowls, and top each bowl with 1 tablespoon of toasted coconut flakes and 1/4 cup (40g) of fresh raspberries.

Serve immediately.