Raw Broccoli Pesto with Zucchini Noodles
---
July 17, 2018
This raw broccoli basil pesto with zucchini noodles is vegan, gluten-free, grain-free, and is super easy and delicious. You'd never know it was dairy-free.
This raw vegan broccoli pesto recipe tastes like a conventional basil pesto recipe that you're used to but has all of the nutritional benefits of raw broccoli. I love broccoli pesto pasta and with this recipe I'm spiralizing raw zucchini noodles to make this dish low carb and grain-free. The secret to making an incredible dairy-free pesto and replicating the flavor of aged parmesan is using sweet white miso or chickpea miso paste. It is just incredible. I have served this broccoli pesto to many a dinner guest, and none of them have none that this pesto was dairy-free.
Raw broccoli is one of the number one detox foods we can eat. But, I really hate raw broccoli and struggle to include it in my diet. But, I've found some really tasty ways to enjoy it and this broccoli basil pesto dish is one of them! (Also, check out my creamy raw broccoli salad which is epic!)
So, here's why you should include organic raw broccoli in your diet as much as possible. Broccoli is rich in compounds called glucosinolates, and is particularly loaded in one kind, glucoraphanin, which the body converts to the detox phytonutrient sulforaphane. An enzyme called myrosinase (found in broccoli, mustard, radish, and horseradish) aids this conversion. Sulforaphane is literally detox dynamite!
Broccoli also contains antioxidant vitamin C and E, as well as the magical anti-aging glutathione that so many people are taking in supplement form. It's also chock-full of alkaline-forming minerals (magnesium, zinc), flavonoids, carotenoids, omega-3 fatty acids, vitamin K, folate, iron, and fiber which helps broccoli to oxygenate the blood, combat inflammation, aid iron absorption, and support healthy digestion.
So, hop into raw broccoli as much as you can.
To make this broccoli pesto, just throw the pesto ingredients into your high-speed blender or food processor. I use the KitchenAid® Pro Line® Series blender which is the most powerful home blender on the market.
I own almost every blender available and use them to test my recipes to ensure my recipes are accessible to people blending all over the world using all kinds of blenders. I also use them to trouble shoot issues for my readers, and I get literally thousands of emails a month about blenders.
The KitchenAid® Pro Line® Series blender is the best blender I have ever used, and consistently blends ingredients faster and better than the other high-speed blenders. it is just incredible.
And, the thing I love the most is that it is the first high-speed blender that actually has a stunning design to match my design aesthetic, and it matches my KitchenAid® stand mixer that always sits on my kitchen counter. I have both the blender and the stand mixer in Pearl White and it looks so gorgeous in my kitchen.
And, I'm not a baker. I use my blender and stand mixer (with the attachments) to make all kinds of healthy vegan meals. For this broccoli pesto pasta dish I used the spiralizer attachment. There are a variety of pieces that come with the spiralizer attachment that allows you to make thin or thick noodles as well as slice and core. I also love the sheet cutter attachment to make grain-free vegetable pasta sheets from zucchini, potatoes, sweet potatoes, jicama, beets, and more. You could use this broccoli pesto to make lasagna!
Hmmmm….I need to post that recipe.
Until then, make this broccoli pesto zucchini pasta and let me know what you think. And hop into the raw broccoli!
*I am a paid spokesperson for KitchenAid® blenders. But, all opinions contained herein are my own.
THE BLENDAHOLIC SHOW TRAILER

THE BLENDAHOLIC SHOW TRAILER: Hi, my name is Tess and I'm a Blendaholic. Every Monday I share super easy recipes you can make in your blender! I'm blending up smoothies, cocktails, soups, appetizers, snacks, main meals, and desserts. There isn't anything I won't try in a blender, and all of the recipes are mind-blowingly delicious. So, dust off your blender, and tune in to The Blendaholic every Monday at 7AM PST to find your perfect blend. Find more easy healthy recipes at The Blender Girlhttps://www.theblendergirl.com/

Posted by The Blendaholic on Monday, January 22, 2018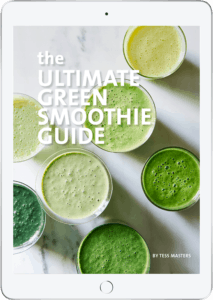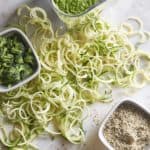 Raw Broccoli Pesto with Zucchini Noodles
This raw broccoli basil pesto with zucchini noodles is vegan, gluten-free, grain-free, and is super easy and delicious. You'd never know it was dairy-free.

Ingredients
broccoli basil pesto: (makes 1 1/2 cups (345g))
1/2

cup (120ml)

extra-virgin olive oil

3

tablespoons

fresh lemon juice

2

cups (50g)

firmly packed fresh basil leaves

1

cup (75g)

raw broccoli florets

(1/2 medium head broccoli)

1/2

cup (70g)

pine nuts

(or blanched slivered almonds or raw walnuts)

2

teaspoons

white miso paste

(or chickpea miso for soy-free)

2

teaspoons

minced garlic

(2 cloves)

3/4

teaspoon

Celtic sea salt,

plus more to serve

1/4

teaspoon

freshly ground black pepper,

plus more to serve
to serve:
2

large zucchinis

(or 4 small), spiralized to make zoodles

1

cup (140g)

finely diced English cucumber

1

cup (75g)

finely chopped raw broccoli florets

(1/2 medium head)

1/4

cup (30g)

shelled hemp seeds
Instructions
To make the pesto, throw the olive oil, lemon juice, basil, broccoli, pine nuts, miso (or parmesan), garlic, salt, and pepper into your KitchenAid® Pro Line® Series Blender. Secure the lid, remove the center lid cap, and insert the tamper. Turn the variable speed dial to 11, and process for 20 to 30 seconds, using the tamper to guide the ingredients through the blades until rustically combined but not completely smooth.

In a large bowl, use your hands to lightly toss the zucchini noodles with the diced cucumber and broccoli until well combined.

Gently massage 1 cup (230g) of the pesto through the zucchini noodles until evenly coated, and add additional pesto gradually to your preference. As you massage the fruits and vegetables will release water, making the pesto easier to work with. Season with salt and pepper, to taste. Set out four plates, and swirl equal portions onto plates, and toss with hemp seeds. Serve immediately passing any remaining pesto at the table.

*The pesto may seem a little sharp, tart, and salty when tasting out of the blender. However, it will mellow when tossed through the noodles. You can also use this with 1 packet of traditional cooked pasta.

**If serving this recipe as a dip with raw veggies or crackers, or on sandwiches or wraps, hold back on 1/2 tablespoon of the lemon juice and 1/4 teaspoon of the salt, and add to taste.