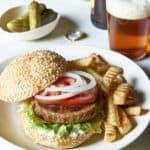 Nutty Vegan Burgers
These gluten-free veggie burgers are vegan, nutty, and super delicious and easy.
Instructions
In your food processor, add almonds, walnuts, garlic, and salt. Process until the nuts are finely ground. 

Then add ketchup, nutritional yeast, tamari, poultry seasoning (or thyme/sage), carrot and zucchini, and pulse through until the mixture becomes dense and is starting to hold together. Then pulse in the oats. 

Remove the blade, and using a 1/3 cup measurer, shape the mixture into patties. 

In a large skillet over medium heat, warm the olive oil, and cook the patties for 5 to 7 minutes, flip, and cook for a further 3 to 5 minutes until golden brown. 

Serve with patties in burger buns with lettuce, tomatoes, grilled onions, pickles, avocado, or any other fixings you like.