These nutty vegan burgers come from Dreena Burton.
Dreena has been a vegan for almost 20 years, and with more than 15 years of recipe development experience has written four bestselling vegan cookbooks charting her journey as a plant-powered cook and at-home mother of three gorgeous girls. Passionate about creating nutritious recipes, she is well known for "making healthy taste delicious!" She is an advocate of using whole foods and the "vegan basics" — beans, nuts, seeds, whole-grains, fruits and vegetables to create healthy, delicious food for the whole family.
Having been vegan since 1995, when there were fewer books written about the subject, Dreena's first project in 2001, The Everyday Vegan, was prompted by her father-in-law's heart attack, where she wanted to share valuable information about plant-based living. After having her first child, she wrote Viva Le Vegan!, which represented her journey as a mother, and featured wholesome, easy family vegan recipes. Her third celebratory cookbook, Eat, Drink & Be Vegan, with its inventive flavor combinations and inclusion of gluten-free recipes, became very popular for its entire chapter on hummus!
Released in May this year, Dreena's latest book, Let Them Eat Vegan represents an evolution in vegan cooking. The thing I love the most about this book is that Dreena uses whole foods — beans, nuts, seeds, whole-grains, vegetables, fruits and natural sweeteners to create delicious, nutrient-dense vegan meals, snacks and treats everybody can enjoy. What I love about this book is that there is no white flour, white sugar or vegan substitutes like cream cheese, sour cream or vegan meat are used in any of the recipes! All of the recipes are wheat-free and mostly gluten-free, and there are quite a few raw dishes included as well. Dreena's mouth-watering recipes cover just about every category you could want!
There are entire chapters devoted to: Breakfast Bites, Smoothies
, Salads, Sauces, Dips, Soups, Sides, Mains, Casseroles, One-Pot Wonders, Tarts
, Pastas, Cookies, Cakes, Pies, Pudding
s and a final chapter devoted to Ice cream! Some of my favorite recipes include: Anise-and Coriander-Infused Orange Lentil Soup, Too-Good-to-Be-Tofu Burgers, Apple Spice Hemp Pancakes, Winter Pot Pies, Truffled Cashew Cheese, Cocoa Cookie Dough Balls, Raspberry Almond Torte, Raw Lemon-Lime Cheesecake, Salted Chocolate Cream Cheese Brownies, Peanut Butter Chai Ice Cream, and these delicious Nutty Bean Burgers she is sharing today!
Dreena says, "I came up with these burgers after having a chat one day with my good girlfriend, Vicki, about how our kids are fussy with veggie burgers.  Many recipes (mine included) are too savory for them, or have onions and other veggies that they feel the need to pick out.  Also, sometimes the patties are too delicate for kids eating them on a hamburger bun. I got to work, and made this recipe which is very nutritious and delicious without being too heavy in herbs or spices.  And yes, you can serve it up with confidence on a burger bun!" I say, they are sensational and are not to be missed!
Let Them Eat Vegan also includes a Glossary of Kitchen Tools and Ingredients with a pantry section that suggests what you might want to stock up on, and why; and informative chapters on How to Prepare Different Greens and Grains, Raising Vegan Children (feeding toddlers, packing school lunches), and more.
As the mother of three young girls, Burton finds an entertaining balance between nutrition, taste and fun! With her wonderful sense of humor, all of the recipes have witty names such as "Warm 'Vegveeta' Cheese Sauce", or chapter titles such as "Good Pasta Belongs on a Plate – Not the Wall!" Lol! All of the recipes give you the "411 on ingredients" and have a lovely "if Aprons Could Talk" closer with tips and modification suggestions from her own personal experience.
This charming book with gorgeous food photography from the beautiful Hannah Kaminsky is fantastic for beginner vegans and experienced plant-based cooks alike, because the recipes are super easy, but inventive and full of flavor. It is also a must buy for busy parents, as so many of the recipes are great for kids. I cannot recommend this book more highly. The recipes are amazing!
Learn about Dreena Burton
THE BLENDAHOLIC SHOW TRAILER

THE BLENDAHOLIC SHOW TRAILER: Hi, my name is Tess and I'm a Blendaholic. Every Monday I share super easy recipes you can make in your blender! I'm blending up smoothies, cocktails, soups, appetizers, snacks, main meals, and desserts. There isn't anything I won't try in a blender, and all of the recipes are mind-blowingly delicious. So, dust off your blender, and tune in to The Blendaholic every Monday at 7AM PST to find your perfect blend. Find more easy healthy recipes at The Blender Girlhttps://www.theblendergirl.com/

Posted by The Blendaholic on Monday, January 22, 2018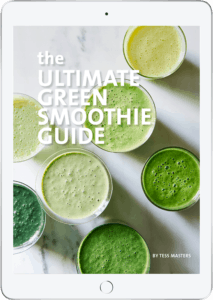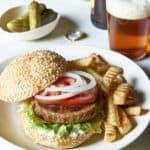 Nutty Vegan Burgers
These gluten-free veggie burgers are vegan, nutty, and super delicious and easy.
Instructions
In your food processor, add almonds, walnuts, garlic, and salt. Process until the nuts are finely ground. 

Then add ketchup, nutritional yeast, tamari, poultry seasoning (or thyme/sage), carrot and zucchini, and pulse through until the mixture becomes dense and is starting to hold together. Then pulse in the oats. 

Remove the blade, and using a 1/3 cup measurer, shape the mixture into patties. 

In a large skillet over medium heat, warm the olive oil, and cook the patties for 5 to 7 minutes, flip, and cook for a further 3 to 5 minutes until golden brown. 

Serve with patties in burger buns with lettuce, tomatoes, grilled onions, pickles, avocado, or any other fixings you like.