Avocado Toast with Roasted Eggplant
---
December 26, 2017
This vegan avocado toast has an exotic delicious twist with the addition of roasted eggplant and a hazelnut dukkah. This dish is an amazing appetizer or snack, or simple dinner.
This vegan avocado toast with roasted eggplant and hazelnut dukkah is a show-stopper gluten-free dish for breakfast, brunch, lunch, or a quick easy dinner.
Avocado toast has been trending heavily in the U.S for the last few years. Amy Chaplin and I laughed as avocado toast was served up as a revelation at hip eateries all over L.A and NY, and hundreds of "recipes" for smashed avocado on plain toast flooded instagram. In Australia, we've been eating avocado on toast for decades, and both grew up eating it for breakfast on most days.
But, we love that Americans have finally jumped on the avocado toast bandwagon and are going crazy for it. It is just so good. And the best part about avocado toast is that you don't need to do much. Plain smashed avocado on toast with some salt, pepper, and lemon juice is just divine.
However, if you're looking for an avocado toast recipe that will rock your world, this recipe delivers. And, it seems rather fitting that the best avocado toast recipe I found this year comes from a fellow Aussie cook.
This vegan avocado toast with roasted eggplant and hazelnut dukkah comes from the Hungry cookbook by Anthea Amore, and it is fantastic! It's simple, but has a more dimensional flavor and texture profile than the usual fare. Honestly, is there anything dukkah doesn't go with? I just love it. And, give me a roasted eggplant, and I'm in heaven.
Anthea and her hubby run Organic Passion Catering in Australia delighting Aussies with their incredible organic food. And now, Anthea is sharing some of their secrets in her latest book, Hungry.
I gave Anthea a quote for her book, and in it I said, "Anthea dishes up a sensorial symphony with exquisite textures and flavors that make you voracious for vegetables, and hungry for more."
Yep. This just about sums it up. Anthea has a fantastic flare for serving up flavor fever, and her dishes are really interesting. I think this book is really special.
All of her recipes are plant-based, most of them are gluten-free, and there are a lot of raw dishes and superfood ingredients.
Some of my favorite dishes include: Cherry, Rosewater & Apple Party Punch; Spicy Cardamom & Reishi Hot Chocolate; Lemon & Fennel Savoury Millet Porridge; French Toast with Figs & Macadamia Cinnamon Cream; Zucchini & Kale Fritters with Smoked Tomato & Onion Relish; Romanesco & Kale Soup with Toasted Sesame Garlic Crumbs; Celeriac Remoulade with Macadamia Mayo; Dukkah-Crumbed Tofu Burger with Turmeric Cream Cheeze; Beetroot Ravioli with Mint & Pistachio Pesto; Donut Fritters with Chocolate Black Tahini Sauce; and Spicy Poached Quince with Vanilla & Coconut Rice Pudding.
Is your mouth watering yet?!
Get your copy of Hungry, and learn more about Anthea Amore, and don't miss making this eggplant avocado toast.
THE BLENDAHOLIC SHOW TRAILER

THE BLENDAHOLIC SHOW TRAILER: Hi, my name is Tess and I'm a Blendaholic. Every Monday I share super easy recipes you can make in your blender! I'm blending up smoothies, cocktails, soups, appetizers, snacks, main meals, and desserts. There isn't anything I won't try in a blender, and all of the recipes are mind-blowingly delicious. So, dust off your blender, and tune in to The Blendaholic every Monday at 7AM PST to find your perfect blend. Find more easy healthy recipes at The Blender Girlhttps://www.theblendergirl.com/

Posted by The Blendaholic on Monday, January 22, 2018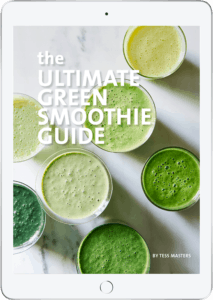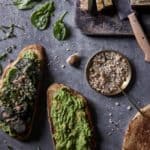 Avocado Toast with Roasted Eggplant
This vegan avocado toast with roasted eggplant and hazelnut dukkah is a show-stopper gluten-free dish for breakfast, brunch, lunch, or a quick easy dinner.

Ingredients
eggplant toast:
1

large

eggplant,

halved lengthways

2

large

garlic cloves,

skin on

2

tablespoons

extra-virgin olive oil

1/2

teaspoon

Celtic sea salt,

plus more to taste

4

slices

gluten-free bread

2

medium avocados,

halved and sliced

1

tablespoon 

fresh lime juice,

plus more to taste 

1/4 

cup

baby spinach 

4

large basil leaves,

chiffonaded, plus more to taste
hazelnut dukkah:
1/2

cup

toasted hazelnuts

1

teaspoon

ground cumin

1

teaspoon

ground coriander

1

teaspoon

dried thyme

1/2

teaspoon

Celtic sea salt

1/8 

teaspoon

cayenne pepper 

2

tablespoons

toasted white sesame seeds
Instructions
Preheat your oven to 375°F/190°C.

Line a baking tray with parchment paper or a non-stick sheet, and place the eggplant halves cut side up and the garlic cloves on the tray. Brush each eggplant piece with 1 tablespoon of olive oil and 1/8 teaspoon of salt.  

Roast the eggplant and garlic for about 30 minutes, until the eggplant is soft and golden.  

While the eggplant is cooking, make the dukkah. Throw the hazelnuts, cumin, coriander,  thyme, salt, and cayenne into the small bowl of a food processor fitted with the s blade, and pulse a few times until the hazelnuts are roughly ground with a bit of texture. Transfer the mixture to a small bowl, and stir in the sesame seeds until well combined. Set aside.  

Once the eggplant is cooked, slice each half into bite-sized pieces, and squeeze the garlic out of the skins and mash.

Toast the bread, and assemble the toppings.

Mash the avocado with 1 tablespoon of the lime juice, 2 tablespoons of the dukkah, and 1/4 teaspoon of the salt.

To assemble the toasts, smear the roasted garlic on each slice, then the avocado mixture, top with spinach, eggplant slices, chiffonaded basil, a sprinkle of dukkah and salt, and a squeeze of lime juice.