Avocado Toast with Roasted Eggplant
---
December 26, 2017
This vegan avocado toast has an exotic delicious twist with the addition of roasted eggplant and a hazelnut dukkah. This dish is an amazing appetizer or snack, or simple dinner.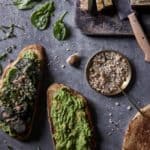 Avocado Toast with Roasted Eggplant
This vegan avocado toast with roasted eggplant and hazelnut dukkah is a show-stopper gluten-free dish for breakfast, brunch, lunch, or a quick easy dinner.

Ingredients
eggplant toast:
1

large

eggplant,

halved lengthways

2

large

garlic cloves,

skin on

2

tablespoons

extra-virgin olive oil

1/2

teaspoon

Celtic sea salt,

plus more to taste

4

slices

gluten-free bread

2

medium avocados,

halved and sliced

1

tablespoon 

fresh lime juice,

plus more to taste 

1/4 

cup

baby spinach 

4

large basil leaves,

chiffonaded, plus more to taste
Instructions
Preheat your oven to 375°F/190°C.

Line a baking tray with parchment paper or a non-stick sheet, and place the eggplant halves cut side up and the garlic cloves on the tray. Brush each eggplant piece with 1 tablespoon of olive oil and 1/8 teaspoon of salt.  

Roast the eggplant and garlic for about 30 minutes, until the eggplant is soft and golden.  

While the eggplant is cooking, make the dukkah. Throw the hazelnuts, cumin, coriander,  thyme, salt, and cayenne into the small bowl of a food processor fitted with the s blade, and pulse a few times until the hazelnuts are roughly ground with a bit of texture. Transfer the mixture to a small bowl, and stir in the sesame seeds until well combined. Set aside.  

Once the eggplant is cooked, slice each half into bite-sized pieces, and squeeze the garlic out of the skins and mash.

Toast the bread, and assemble the toppings.

Mash the avocado with 1 tablespoon of the lime juice, 2 tablespoons of the dukkah, and 1/4 teaspoon of the salt.

To assemble the toasts, smear the roasted garlic on each slice, then the avocado mixture, top with spinach, eggplant slices, chiffonaded basil, a sprinkle of dukkah and salt, and a squeeze of lime juice.