Tastes-Like-Cookie-Dough Lucuma Smoothie
---
June 2, 2013
This lucuma smoothie tastes like raw cookie dough and is sweet, creamy, and delicious. Maca, chia, and coconut water make this an awesome energy shake.
This lucuma smoothie tastes like raw cookie dough and comes from the Superfood Smoothies book by Julie Morris. This smoothie is sweet, creamy, and delicious, and is a fantastic superfood treat!
In the headnote for this lucuma smoothie Julie says, "Even though there's no real cookie dough in this smoothie, it sure tastes like it! Caramel-like dates, rich and nutty pecans, and cacao nibs with their hint of chocolate blend perfectly with lucuma powder – which has a natural "cookie-like" flavor – making this smoothie all kinds of fabulous."
As the face of Navitas Organics, Julie is an expert on incorporating superfoods into plant-based recipes. As a chef, recipe developer, and writer, Julie has worked in the natural food industry for over a decade. She is the presenter of the Navitas Organics TV Video Series and the author of Superfood Kitchen.
In Superfood Smoothies, Julie shares comprehensive information for adding superfoods to smoothies such as:
ingredients for bases for smoothies
thickeners for smoothies
sweeteners for smoothies
using frozen fruits and vegetables in smoothies
making chia gel and flavored ice cubes for smoothies
layering a smoothie in your blender
the difference between juices and smoothies
homemade nut and seed milk for smoothies and flavored ice
superfoods substitution cheat sheet for smoothies
Julie meticulously covers what she calls "The Super 15" top superfoods such as:
açai
algae (chlorella and spirulina)
cacao
camu
chia
flax
goji berries
hemp
maca
maqui
mulberries
pomegranate
sea buckthorn berries
as well as some other wonderful foods like lucuma powder which is used in this cookie dough smoothie.
For each superfood Julie shares the history, basic information, nutritional benefits, taste, ingredient pairings, substitutions, buying tips, and storage suggestions.
This book is an amazing guide to using superfoods in a fun, digestible way that inspires confidence. And let's not forget the recipes! Oh my…
Some of my favorites include: Strawberry Chamomile Tea Smoothie, Carrot Cardamom, Lucuma Lime, Pineapple Watercress, Sweet Pea, Banana Fennel, Pistachio Cherry, Green Tea Goji, and Red Velvet Cake. There's even a recipe for her green-smoothie-drinking dog, Fritz. You gotta love that. Julie's gorgeous photography appears throughout the book too.
The smoothies are arranged with a benefit index: beauty, bone strength, cleanse/detox, heart health, immunity, low calorie, and protein, so you can make recipes that not only taste delicious and are fun to make, but specifically address the demands of your lifestyle.
Blend up this lucuma smoothie and drink you cookie dough!
*Probiotic Powder – I add 1/2 teaspoon of probiotic powder to all smoothies to replenish stores of healthy bacteria for immunity, digestion, detox, and to balance the acidic effects of high-sugar fruits and other sweeteners. The really potent probiotics require refrigeration. If you have capsules, break the shell and release the powder. Unsweetened probiotic-rich liquids like kefirs (water, coconut water, milk varieties) or kombucha make wonderful health-promoting additions to shakes, too.
*Celtic Sea Salt – I add a pinch (or more) of this alkalizing, mineral-rich salt to all smoothies to boost the natural flavor of fruits and veggies; temper the acidity of sweet fruits and sweeteners; stimulate the lymphatic system; replenish electrolytes; aid digestion; and help the body access energy. I do not recommend adding common table salt which is generally heated to extreme temperatures, iodized, bleached, processed, and refined. This salt does not have the same benefits. If you have a health condition that requires you to limit your sodium intake consult your doctor before adding salt to your smoothies.
THE BLENDAHOLIC SHOW TRAILER

THE BLENDAHOLIC SHOW TRAILER: Hi, my name is Tess and I'm a Blendaholic. Every Monday I share super easy recipes you can make in your blender! I'm blending up smoothies, cocktails, soups, appetizers, snacks, main meals, and desserts. There isn't anything I won't try in a blender, and all of the recipes are mind-blowingly delicious. So, dust off your blender, and tune in to The Blendaholic every Monday at 7AM PST to find your perfect blend. Find more easy healthy recipes at The Blender Girlhttps://www.theblendergirl.com/

Posted by The Blendaholic on Monday, January 22, 2018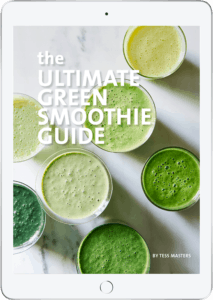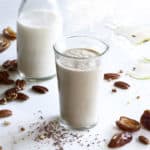 Tastes-Like-Cookie-Dough Lucuma Smoothie
This lucuma smoothie tastes like raw cookie dough and is sweet, creamy, and delicious. Maca, chia, and coconut water make this an awesome energy shake.

Servings
2
16 ounce glasses
Instructions
Throw all of the ingredients into your blender (except the cacao nibs and coconut ice) and blast on high for 30 to 60 seconds until smooth and creamy. 

​Add the cacao nibs and ice and blast again for 10 to 20 seconds until frosty.