Spaghetti Pie
---
December 19, 2016
This spaghetti pie from Thug Kitchen is a fantastic vegan, gluten-free dinner the whole family can enjoy.
This spaghetti pie is pure comfort food. It is really quick and easy, and is vegan and gluten-free. This vegan spaghetti pie recipe comes from Thug Kitchen and is delicious.
Michelle Davis and Matt Holloway have taken vegan living out of the pretentious darkness and into a bold, fun place that doesn't take anything too seriously, and they've inspired an entire generation of people to "eat like they give a fuck."
Thug Kitchen absolutely blew up in 2012, and you couldn't walk into a bookstore or get online without seeing them absolutely everywhere. After winning Saveur's "Best New Food Blog of 2013," their first book, Thug Kitchen was a #1 New York Times bestseller and has remained on the list for over 100 weeks. Their second book, Thug Kitchen Party Grub was also a NY Times bestseller, and was named one of Amazon's "Best Books of 2015." This latest book, Thug Kitchen 101 has also become a NY Times bestseller.
Thug Kitchen 101 is Matt and Michelle's back-to-basics quick meal manifesto and their love letter to California, and the famous 101 freeway that the length of the west coast of the US terminating right outside downtown L.A.
This book contains comfort foods, one-pot meals, and other super easy plant-based meals that can all be prepared in 45 minutes or less, and are easy, affordable, and delicious. The entire book is broken up like a road trip to help you eating mindfully.
The book opens with "Riding ShotGun" with salsas, sides, and small bites; continues with "Freshen The Fuck Up" with salads and slaws; "Hot Box" for soups and stews; "Cruise Control" for smoothies, drinks, and cocktails; and "Call It A Night" where you'll find the cookies, cakes, and other sweets.
Driver's Ed is where you'll get the lowdown on how to follow along on the journey. How to cut veggies, cook beans and grains, the skinny on fats, roasting veggies, the scoop on niche ingredients, how to stock your pantry, and the basics of making everyday staples like coconut whipped cream, peanut sauce, tempeh crumble, dry-fried tofu, 60-second parm, and more.
Some of my faves in the book include: crispy fennel, roasted rutabaga wedges, curry roasted eggplant, hatch chile salsa, firecracker salad, chipotle caesar, miso cabbage slaw, French crushed chickpea and artichoke heart salad, hot and sour soup, turmeric and sweet potato soup, sun-dried tomato carbonara, skillet beer chili mac, chickpea bolognese, polenta puttanesca, apollo's fury, dirty Dianne, myrajito, hot chocolate, wine cake, jasmine rice pudding, coconut pralines, cinnamon kettle corn, tahini fudge, and this awesome crispy spaghetti pie that reminds of something I used to make all the time in college when I really was driving up the 101 with no money!
Matt and Michelle live in L.A, and they're super smart, hilarious, generous people that constantly celebrate others, and Thug Kitchen is one of the most brilliant examples of branding we've seen in the food space. And, it's not just fluff and branding, these two know their stuff, walk the talk, and deliver kick-ass healthy recipes and loads of awesome info.
So, snag your copy of Thug Kitchen 101, and join the Thug Kitchen Fridge, and share what you're making.
THE BLENDAHOLIC SHOW TRAILER

THE BLENDAHOLIC SHOW TRAILER: Hi, my name is Tess and I'm a Blendaholic. Every Monday I share super easy recipes you can make in your blender! I'm blending up smoothies, cocktails, soups, appetizers, snacks, main meals, and desserts. There isn't anything I won't try in a blender, and all of the recipes are mind-blowingly delicious. So, dust off your blender, and tune in to The Blendaholic every Monday at 7AM PST to find your perfect blend. Find more easy healthy recipes at The Blender Girlhttps://www.theblendergirl.com/

Posted by The Blendaholic on Monday, January 22, 2018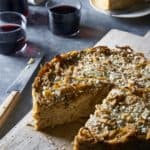 Vegan Spaghetti Pie
This spaghetti pie from Thug Kitchen is a fantastic vegan, gluten-free dinner the whole family can enjoy.

Ingredients
1

(15oz) can

plain tomato sauce 

(no salt added)

1

(14oz) can

whole artichoke hearts,

drained and rinsed

1

cup

diced yellow onion 

1/2 

cup

fresh basil leaves

1/2

cup 

nutritional yeast

3

tablespoons 

balsamic vinegar

1

tablespoon

minced garlic

(3 cloves)

1

tablespoon

finely chopped fresh thyme

(or 1 teaspoon dried)

2

teaspoons 

Celtic sea salt,

plus more to taste

1/8

teaspoon

red pepper flakes

(optional)

1

(1lb) pack

gluten-free spaghetti or fettuccine,

cooked al dente

1

medium zucchini,

shredded

2

tablespoons

extra-virgin olive oil

1/2

cup

gluten-free bread crumbs

Olive oil spray
Instructions
Preheat your oven to 450°F/230°C.

Grease a 8-inch springform pan. Wrap the bottom of the pan in foil in case your pan leaks.

Throw the tomato sauce, artichoke hearts, onion, basil, nutritional yeast, balsamic vinegar, garlic, thyme, salt, and red pepper flakes into your blender, and blast on high for 30 to 60 seconds until smooth.

In a large bowl bowl, mix together the cooked pasta, zucchini, basil, and olive oil until everything is coated in oil. Pour in the sauce mixture, and toss until everything is evenly coated. Tweak salt and thyme to taste. Fold in the bread crumbs, and stir until they're combined.

Transfer the mixture to your prepared pan, and press down so that it's really densely packed in.

Spray the top of the pie with oil, and then stick the pan in the oven. Bake for 25 to 35 minutes until the top looks a little burnt and the sides are starting to pull away from the pan. Let this carb cake cool for 10 minutes to solidify before slicing in and serving.