This easy hummus is a staple in our house. Why buy hummus when homemade hummus is so simple.
My friends Stef, who makes the best authentic Lebanese hummus I've ever tasted says it's sacrilege to make hummus with canned chickpeas and garlic. She says the secret is all in the slow cooked chickpeas and the lemon juice.
At many a girly lunch feast, Stef has come with her famous hummus, and we all madly lick the the bottom of the bowl with smiles on our faces. Her fridge is never without a bowl of hummus, and there's always a healthy stash of Lebanese flat bread in the pantry. The first thing I say as I arrive at her house with excited anticipation is, "Paleeze tell me you've made some hummus!"
So, why am I not posting this fabulous famous recipe?
Because, sometimes we don't have time to soak chickpeas for 24 hours, then rinse, simmer, and skim to get our fix. While I admit this extra work will yield more impressive results, I share this super quick version for those of you, who like me, are busy.
This super easy hummus is a crowd pleaser. Add tahini, lemon juice, salt, garlic, and cayenne to taste. I know I'm being lazy (by Stef's standards), but this quick albeit inferior version is a far cry from the ubiquitous store bought varieties we're used to eating at parties.
You won't be disappointed, despite my underwhelming recommendation.
THE BLENDAHOLIC SHOW TRAILER

THE BLENDAHOLIC SHOW TRAILER: Hi, my name is Tess and I'm a Blendaholic. Every Monday I share super easy recipes you can make in your blender! I'm blending up smoothies, cocktails, soups, appetizers, snacks, main meals, and desserts. There isn't anything I won't try in a blender, and all of the recipes are mind-blowingly delicious. So, dust off your blender, and tune in to The Blendaholic every Monday at 7AM PST to find your perfect blend. Find more easy healthy recipes at The Blender Girlhttps://www.theblendergirl.com/

Posted by The Blendaholic on Monday, January 22, 2018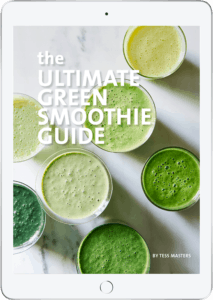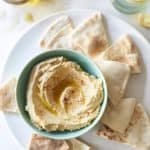 Easy Hummus
This quick easy vegan hummus recipe takes less than 10 minutes to make and is absolutely delicious!
Instructions
Throw all of the ingredients into a high-speed blender, and blast on high until smooth and creamy. Tweak the tahini, lemon juice, salt, garlic, cumin, and cayenne pepper to taste. 

Garnish with sweet paprika and a drizzle of olive oil, and serve with chips, crackers, veggie sticks, or slathered on sandwiches or wraps.