These raw chocolate coconut balls are a staple in my family.
For the last 40 years, my mum's side of our extended family has gathered together every second year for a 4-day Christmas feast. Last year I made a family cookbook, complete with all of our favorite photos, stories, and recipes.
This year is the off year, and mum and dad have come to stay with me in L.A. As mum and I were baking holiday treats last night, we were fondly reminiscing on all of our special memories and bemoaning the loss of Kimmy's rum balls! Everyone is responsible for bringing their signature treats to share every year. My mum makes her shortbread, apricot rolls, and brandy sauce. My aunt makes her famous fruit cake; and my other aunt makes her cookies and chocolates. But it is my cousin Kim's rum balls that seduce many a family member into a condensed-milk-induced coma! We've had many midnight meetings at the fridge door scoffing them!
Now Kim, I love you, and I love your rum balls. They can never be replaced. But I'm posting these raw chocolate balls as a healthier alternative. You can use any combination of raw nuts that you have on hand.
These raw chocolate coconut balls make after school snacks; pre-workout power balls, or a great little sweet treat with a cup of tea. These will last in a sealed glass container in the fridge for weeks. But they never last that long!
CHOCOLATE COCONUT BALLS

These CHOCOLATE COCONUT BALLS are super easy to throw together and are a fantastic energizing snack. These will keep in a sealed containe in the fridge for weeks. But, they never last that long. GET THE FULL PRINTED RECIPE:https://www.theblendergirl.com/recipe/raw-vegan-chocolate-coconut-balls/

Posted by The Blendaholic on Wednesday, August 1, 2018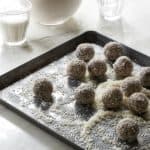 Raw Vegan Chocolate Coconut Balls
These raw vegan chocolate coconut balls can be made in less than 15 minutes in your food processor.
Instructions
In a small bowl, mix the dried coconut and cinnamon together, and set aside for rolling.

Throw the rest of the ingredients into a food processor fitted with the s blade, and pulse until the mixture forms into a ball. 

Using a tablespoon measurer, roll the mixture into balls. 

Transfer the dried coconut and cinnamon mixture onto a plate or cutting board, and roll the balls in the coconut until evenly coated. 

Store in a sealed container in the fridge.