Raw Carrot Cake
---
September 20, 2014
This incredible raw carrot cake is vegan and gluten-free, and is moist and delicious. Serve this raw cake with cashew cream or ice cream.
Incredible Raw Carrot Cake
Dessert Lovers: This raw carrot cake is amazeballs! Every time I share it in social media it blows up, and I have received so many emails of joy and gratitude from happy carrot cake lovers. This raw carrot cake is vegan and gluten-free,
I got this raw carrot cake recipe from Emily von Euw's book, Rawsome Vegan Baking.
This raw carrot cake with cashew cream is moist and incredibly delicious. You would never know it was raw and gluten-free. I could just lick the cashew cream!
Emily's blog, This Rawsome Vegan Life has tons of delicious raw and vegan recipes with beautiful photography. The book contains so many delicious desserts that I didn't know where to start when I got my copy of the book. We have been making Emily's recipes for dinner parties, and they have all been given rave reviews.
Emily shares recipes for basic raw staples like coconut cream, chocolate, date paste, and hot cacao that she uses in the recipes, some notes of resources and equipment, and allergy substitutions, and then it's all about the recipes!
Some of my favorite recipes are: triple layer ice-cream cake, double decadence chocolate silk cake with hazelnut crust, almond joys, chocolate nut butter cups, caramel mocha bars, strawberry cheesecake pops, go-nuts donuts, and cashew coffee vanilla creme cake.
But, I had to share the raw carrot cake that Emily is famous for, and with good reason. It is amazing, and not to be missed.
Get your copy of Rawsome Vegan Baking.
THE BLENDAHOLIC SHOW TRAILER

THE BLENDAHOLIC SHOW TRAILER: Hi, my name is Tess and I'm a Blendaholic. Every Monday I share super easy recipes you can make in your blender! I'm blending up smoothies, cocktails, soups, appetizers, snacks, main meals, and desserts. There isn't anything I won't try in a blender, and all of the recipes are mind-blowingly delicious. So, dust off your blender, and tune in to The Blendaholic every Monday at 7AM PST to find your perfect blend. Find more easy healthy recipes at The Blender Girlhttps://www.theblendergirl.com/

Posted by The Blendaholic on Monday, January 22, 2018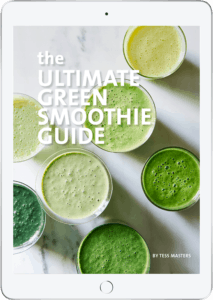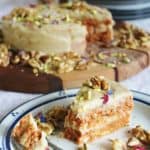 Raw Carrot Cake
This incredible raw carrot cake is vegan and gluten-free, and is moist and delicious. Serve this raw cake with cashew cream or ice cream.

Instructions
To make the frosting, blend all ingredients in your

high-speed blender

until smooth, adding as little water as possible. Taste it. Put in a bowl and set aside.

To make the cake, cut the carrots into small chunks. Then throw all the ingredients (including the carrots) in your

food processor

and pulse until it's all in really small pieces and sticks together.

Assembly: Press half the cake mix into the bottom of an adjustable

spring-form pan

, mine was about 6 inches. Then spread on about 1/3 of the frosting. Put it in the freezer until the layer of frosting is hard. Then press on the rest of the cake mix. I let it set in the fridge overnight, then frosted the whole thing, but you can do it right away if you want. Take it out of the pan and use the remaining frosting, cover with whatever garnishes you like.