Orange Creamsicle Smoothie
---
November 4, 2018
This orange banana smoothie tastes like an orange creamsicle and is an energizing and immune-boosting breakfast or snack that is vegan and gluten-free.
Orange Creamsicle Smoothie
This orange creamsicle smoothie with oats and banana is an energizing and immune-boosting breakfast or snack that is vegan and gluten-free. This orange banana smoothie tastes like dessert but is loaded with nutrients. This is a family-friendly recipe that kids absolutely love!
I created this recipe as part of my partnership with The Fresh 20.
How to make an orange creamsicle smoothie
There are several ways you can get a creamy flavor and texture with an orange creamsicle smoothie.
You can use a combination of milk and bananas, yogurt, raw unsalted cashews, coconut meat, or ice cream.
I've used cashews a lot in the dessert-style smoothies on this site, so I'm using frozen sliced bananas and rolled oats, not only to get a creamy texture but also for the energizing qualities of the ingredients for a more nutritious and functional breakfast to power your day.
For the orange element, you can use orange juice to make an orange creamsicle. But, I prefer to use whole peeled oranges for the fiber, vitamin C, and antioxidants, and boost the orange flavor with some finely grated orange zest. You could also add a splash of natural orange extract for a really decadent orange creamsicle smoothie.
Are oranges good in smoothies?
I get asked this question every week. Yes! Oranges are absolutely delicious in smoothies. You just need to remove the rind and the thick part of the white pith for the best results. The rind and thick pith can make your orange smoothie bitter. Once peeled, just segment them and throw into the blender with your other smoothie ingredients. Oranges pulverize really easily in any kind of blender, even the most inexpensive conventional blender.
I will often throw in 2 to 4 whole peeled and segmented oranges to form the liquid base of my smoothie and add some zest for an orange flavor profile as I have with this orange creamsicle smoothie. Other times, I will use just one or two oranges in combination with other ingredients.
What flavors go well in an orange smoothie?
The sweet and mild flavor of oranges mean that oranges pair well with a lot of different ingredients in smoothies.
But, the really great flavor pairings for oranges in smoothies are:
almond, coconut, cashew, oat, and rice milk
raw cashews
rolled oats
yogurt
coconut meat
banana
mango
peaches
apricot
pineapple
grapefruit
lemon and lime
cantaloupe
grapes
berries
passionfruit
avocado
carrots
dates and figs
mint
basil
rosemary
ginger
cinnamon
cacao
vanilla
As with any smoothies, experiment, add ingredients gradually, and write down the combos that you love so you can replicate them again when you hit a winner.
What are the health benefits of an orange banana smoothie?
I also get asked this question every week.
There are several reasons why an orange banana smoothie is so popular. The combination of oranges and banana is sweet, creamy, and super delicious; the ingredients are inexpensive and widely available, and an orange banana smoothie is loaded with fiber and nutrition.
The health benefit of oranges in smoothies
Oranges are loaded with antioxidants anti-inflammatory agents, and are rich in vitamin C and vitamins A (in the form of beta-carotene) to boost white blood cells, combat free radical damage, and help protect mucus membranes for healthy skin and eyes. Oranges also offer some calcium and potassium for bone and heart health.
Even though oranges are sweet they are classified as a low-GI food. The B vitamins in oranges help convert food into fuel for energy and help offset stress for optimal brain and nerve function. Oranges are also fantastic for digestion. The pectin in the flesh or oranges aids digestive regularity and clears toxins from the colon. And the hesperidin (a flavonoid) in orange rind is an amazing heart-healthy agent so it's a great addition to smoothies. The zest also boosts the orange flavor. But, use sparingly, as orange rind gets bitter quickly and will blast your bliss in quantities over 1 teaspoon.
The health benefits of banana in smoothies
Bananas are also a strategic addition to this orange creamsicle smoothie not only to add creaminess, sweetness, and awesome flavor. But, also because of their amazing energizing powers and nutritional benefit. Bananas contain potassium, B vitamins, antioxidant vitamin C, manganese, and copper and helps to oxygenate the blood; support circulation, digestion, and immunity; and build proteins.
Yes, bananas are high in natural sugar, and I don't recommend eating huge amounts of bananas. They contain about 27 grams of carbohydrates that is made up of about half in natural sugars and one-fifth in what is known as resistant starch (RS). RS has become famous in weight-loss circles as it helps make you feel full, slows digestion, stabilizes blood sugar, and revs up metabolism. Unripe bananas are even better as they contain less sugar and up to twice the amount of resistant starch.
You may have seen banana flour made from unripe bananas hit stores in the last few years. Banana flour is a fantastic addition to breakfast smoothies. You don't get the creaminess. But, you get an incredible amount of resistant starch for energy.
Bananas also contain a form of sterols which support adrenal health. So, there are good reasons why bananas are go-to ingredients in workout smoothies. Bananas are also really good ingredients in smoothies if you suffer from anxiety and depression as bananas contain tryptophan which has mood elevating properties, while magnesium helps to calms the nervous system.
Suffice to say, this orange banana smoothie is crazy amazing and is an amazing breakfast smoothie that will power your day.
You can find more easy recipes like this orange creamsicle smoothie at The Fresh 20.
For those of you who haven't used The Fresh 20, this awesome healthy meal planning service that offers five dinner recipes that utilize a list of 20 weekly ingredients was one of the first healthy meal planning companies and is still one of the best. I love the Vegetarian meal plans.
Try The Fresh 20 for free and don't miss making this orange creamsicle smoothie. It rocks!
ORANGE CREAMSICLE SMOOTHIE

This ORANGE CREAMSICLE SMOOTHIE I created for The Fresh 20 is an energizing and immune-boosting breakfast or snack, and is loaded with nutrients and tastes like dessert. GET THE FULL PRINTED RECIPE:https://www.theblendergirl.com/recipe/orange-creamsicle-smoothie/

Posted by The Blendaholic on Saturday, November 10, 2018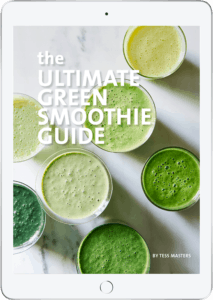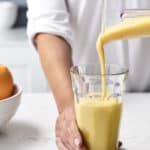 Orange Creamsicle Smoothie
This orange creamsicle smoothie with oats and banana is an energizing and immune-boosting breakfast or snack that is vegan and gluten-free.

Ingredients
1/2

cup

unsweetened almond milk

1

teaspoon

orange zest

4

medium

oranges,

peeled and segmented

1/4

cup

rolled oats

2

medium

frozen sliced bananas

1

cup

ice cubes
Instructions
Throw everything into your blender, and blast on high for 30 to 60 seconds, until smooth and creamy.