Easy Sauerkraut – Cultured Vegetables
---
February 28, 2014
This easy sauerkraut recipe is really easy and delicious. This probiotic-rich mixture is wonderful served with any meal to aid digestion and gut health.
This easy sauerkraut recipe is really easy and delicious. This probiotic-rich mixture is wonderful served with any meal to aid digestion and gut health.
I eat sauerkraut with every meal and eat a variety of probiotic-rich (fermented) foods every day.
Probiotic replenishment is vital for maintaining a balanced inner eco-system so that the friendly bacteria are strong enough to balance the hostile bacteria that is present in every body. Foods rich in probiotics help to build mineral-rich alkaline blood, and are essential for the assimilation of protein, healthy digestion, cleansing the body, and fighting disease.
I get my probiotic intake in several ways: I drink 1/4 cup coconut water kefir or water kefir every morning and every evening before bed; I drink cultured almond milk or coconut milk kefir; drink probiotic shakes; I add 1/2 teaspoon probiotic powder to my smoothies; I drink Kevita drinks; I eat prebiotic foods (those which encourage the proliferation of good bacteria) such as sea vegetables, non starchy vegetables, leafy greens, and sprouted foods. I also love using cayenne pepper, which isn't probiotic-rich but pro-biotic friendly as it stimulates the secretion of hydrochloric acid which is vital for digestion.
My favorite way to enjoy my probiotics is with cultured vegetables because they are super easy to make, inexpensive, the flavor varieties are endless, and they are so tasty when paired with other foods. I love eating them with salads, steamed veggies, with a clean piece of grilled tofu or tempeh, as a side with soup or other main dishes.
Here is my one of my favorite recipes that I have been making for years. I share another one of my best cultured vegetable recipes in my book. I love fermenting beets because the color is so vibrant and gorgeous.
The traditional preservation process of fermenting increases the vitamins, minerals, and amino acids in vegetables. There are many benefits to eating cultured vegetables. They contain live enzymes and life-affirming bacteria that helps keep our bodies balanced and healthy. Eating 1/2 cup of cultured vegetables with every meal has been life changing – improving my digestion and boosting my immunity.
I have always used fermenting jars or standard mason jars to pickle and ferment. But lately, I have been using my new Raw Rutes 5 Liter Fermenting Crock Pot, which is so much easier and convenient, because the vegetables fit into one pot and the smell doesn't waft throughout the whole house! LOL!
These gorgeous stoneware pots made in Poland with the finest vitrified clay, ensuring a long-lasting, beautiful product. The pot comes with two stone weights for proper submersion keeping the vegetables submerged in liquid which ensures proper lactic fermentation. The pots are designed for long-term food storage – for pickling cabbage, beans, squash, cucumbers, and any other vegetables you like. This stoneware has specific thermal characteristics that maintains a stable temperature which significantly improves the quality and taste of the final product. The kit also comes with an 18″ Hardwood Stomper that helps you tightly pack the vegetables down in the pot to remove as much oxygen as possible.
But, the feature I like the most about this pot is the airtight water sealable lid. You just pour a small amount of water in the channel around the lid and the cover's design allows gases to escape without allowing oxygen in. It's fantastic!
Learn more about the 5 Liter Fementing Kit at Raw Rutes.
THE BLENDAHOLIC SHOW TRAILER

THE BLENDAHOLIC SHOW TRAILER: Hi, my name is Tess and I'm a Blendaholic. Every Monday I share super easy recipes you can make in your blender! I'm blending up smoothies, cocktails, soups, appetizers, snacks, main meals, and desserts. There isn't anything I won't try in a blender, and all of the recipes are mind-blowingly delicious. So, dust off your blender, and tune in to The Blendaholic every Monday at 7AM PST to find your perfect blend. Find more easy healthy recipes at The Blender Girlhttps://www.theblendergirl.com/

Posted by The Blendaholic on Monday, January 22, 2018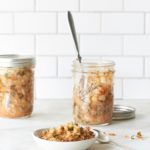 Easy Sauerkraut - Cultured Vegetables
This easy sauerkraut recipe is really easy and delicious. This probiotic-rich mixture is wonderful served with any meal to aid digestion and gut health.

Ingredients
2

heads

green cabbage

6

large

carrots

2

small

leeks

(white part only)

1

bunch

curly kale

2

green apples

2

tablespoons

Celtic sea salt

2

teaspoons

finely grated lemon zest,

plus more to taste

1/3

cup (80ml)

fresh lemon juice,

plus more to taste

2

tablespoons

minced ginger,

plus more to taste

1

tablespoon 

minced garlic

1/8

teaspoon

cayenne pepper,

plus more to taste

1

cup (240ml)

filtered water,

plus more as needed to cover vegetables for jars, and about 4 cups if using the fermenting pot
Instructions
Remove the outer layers from the cabbages. Wash these leaves and set them aside. (You will use the outer leaves to pack and seal the jars if you're not using a fermenting pot.) 

Cut each cabbage into 8 pieces. In batches, throw 4 pieces into a food processor fitted with the S blade or course shredding disc, and pulse just a few times until rustically shredded. Transfer to a very large mixing bowl. 

Now prep the rest of the vegetables. Peel and chop the carrots into pieces, wash and roughly chop the white pieces of the leeks, remove the kale leaves from their stems, and cut the apples into four pieces. 

In batches, place these foods into the food processor and pulse until coursely shredded, and transfer to the mixing bowl.

Using your hands, massage the 2 tablespoons of salt into the vegetables for about 3 to 4 minutes until the liquids from the vegetables are drawn out and the mixture have reduced in volume. 

Add the lemon zest, lemon juice, ginger, garlic, and cayenne pepper. Add more to taste. (The mixture makes a delicious shredded salad at this point.)

If you're using regular fermenting jars or mason jars, add 1 cup of filtered water to get enough brine to cover the vegetables while fermenting, and combine well.

If using jars, pack the vegetables and their juices as tightly down into the jars as possible using a potato masher or heavy spoon. Get as much air out as possible. Leave about 2 inches at the top of each jar for expansion. Roll 1 to 2 cabbage leaves (or more if using large jars) into tight "cigars" and place them on top of the vegetables to fill the remaining space. Seal the jars and let them sit at room temperature (70°F/21°C) or slightly warmer (which accelerates fermentation) for at least 7 days, preferably 10 days until the vegetables are fermented and tangy. (The key is to have a stable temperature. If you don't have an area that qualifies, wrap the jars in towels and place them in an insulated or thermal chest. Don't let the jars sit in direct sunlight. If you're using screw-top lids, open the jars half-way through fermentation (after 3 to 4 days) to let the gas escape. You may also have to pour out a bit of the brine, too. Taste the vegetables after 7 days. They may be done, or you may want them tangier. 

If using the Raw Rutes fermenting pot do not add water. Transfer the vegetables to the pot and add the water. Use the wooden stomper to press the vegetables down tightly. Once packed, gently place the stone weights on top of the vegetables side by side and press down. The liquid should rise above the vegetables 1 to 3 inches. Fill the water channel on the top of the pot and place the lid on. Place the pot in a warm dark place (about 68 to 72°F) for the first few days to get fermentation happening. After fermentation has started you will hear a bubbling sound. Put the pot in a cool place for 2 to 3 weeks (between 59 and 64°F) until the vegetables are to you preferred tanginess. Taste after 2 weeks (you should hear them bubbling), and keep tasting until they're right for you.  

When the vegetables are fermented to your preferred tanginess, transfer the jars to the fridge to slow down the fermentation. The cultured vegetables will keep in the fridge for 6 to 8 months.  

For gut health, consume 1/2 cup cultured vegetables directly before or with every meal, or as a probiotic-rich snack throughout the day.