This creamy millet cauliflower mash is another gem I got from Tony Chiodo. I've been making this cauliflower millet mash for about twenty years since my macrobiotic days. It's super easy, alkaline, loaded with nutrients, and super delicious. I make a batch of this every few weeks, and enjoy it as a side dish or as a nourishing savory breakfast porridge topped with steamed or stir-fried veggies, and sea vegetables. It's also really delicious on top of toast.
In the macrobiotic world, this dish is used as a more nutritious alternative for mashed potatoes. It's filling and strengthening, and wonderful for those people avoiding night shades. Millet is a wonderful protein-rich alkaline grain, that acts as a prebiotic to feed beneficial bacteria, hydrates the colon, and bulks up food for digestive health. This super grain also revs up fat metabolism, aids tissue repair, and provides a sustained release of energy for the body.
If you're following the Body Ecology diet, don't stir in the tahini. I always stir it in as it adds a delightful creaminess and flavor. Spice things up with a pinch of cayenne pepper. Either way, add the vegetable broth gradually until you get a thick, creamy dish, and let you cauliflower bloom.
CREAMY CAULIFOWER MASH

This CREAMY CAULIFOWER MASH is so easy and delicious. I've been making it for over 25 years. It is a healthy alternative to mashed potatoes. I enjoy it as a side dish or put it on toast. Just amazing. GET THE FULL PRINTED RECIPE:https://www.theblendergirl.com/recipe/creamy-millet-and-mashed-cauliflower/

Posted by The Blendaholic on Friday, August 3, 2018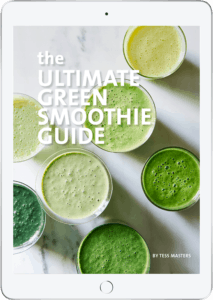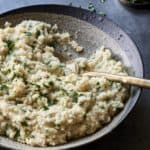 Creamy Cauliflower Mash
This macrobiotic-inspired vegan cauliflower mash with millet is so delicious, and is a healthy alternative for mashed potatoes.
Ingredients
2

tablespoons

grapeseed oil

(or extra-virgin olive oil)

2

cups

diced yellow onion

1

tablespoon

minced garlic

(3 cloves)

1 1/2

teaspoons 

Celtic sea salt,

 plus more to taste

1

cup 

hulled millet 

1

large head

cauliflower,

roughly chopped

5

cups

vegetable broth,

plus more as needed

2

tablespoons 

hulled tahini,

plus more to taste (omit if on Body Ecology)

1/8

teaspoon

freshly ground black pepper,

plus more to taste

1/2

cup

finely chopped flat-leaf parsley
Instructions
In a large saucepan over medium-high heat, warm the olive oil, and sauté the onions and garlic with 1/4 teaspoon of the salt for about 5 minutes, until soft and translucent. 

Stir in the millet, cauliflower, vegetable broth, and 1/4 teaspoon of the salt, increase the heat to high. Bring the mixture to a boil, and then reduce the heat to medium, and simmer for about 40 minutes, stirring regularly until the millet is cooked through, the liquid has been absorbed, and the dish has the consistency of creamy mashed potatoes. Add more broth as needed. 

With a wooden spoon or potato masher, break up any remaining large pieces of cauliflower. Stir in the tahini, add the remaining teaspoon of salt, and the pepper. Add tahini, salt, and pepper to taste. 

Stir through the chopped parsley, and serve.