This ginger lemon honey drink is fantastic for soothing a sore throat, is fantastic natural remedy if you have a cold, and can give you comfort if you have the flu.
I arrived home to California after visiting a friend in Ojai, and had a severe allergic reaction to the pollen. I had a sore throat that invited an aggressive frog suffering from ADD into my throat! This pesky little beast wouldn't stop scratching and tap dancing on my vocal cords, until I lost my voice and was coughing up green slime that would offend even the most seasoned doctor. I find myself being a very good listener this week.
This ginger lemon honey tonic has been a soothing magician. You can drink this warm or cold all year round to combat a restless warrior, or just as a delicious treat. Thankfully, this drink left my froggy friend over-refreshed. He has heavy feet and is now sleeping.
So I offer this easy ginger lemon honey tonic to all of my Aussie friends facing a harsh cold and flu season. As the infamous Melbourne wind blew in with gusto, I left many of my besties with colds as Melbournians strapped in for the bitter Winter chill. This drink is a quick, easy cold remedy.
Lemons are loaded with Vitamin C and have incredible antibacterial and alkalizing properties that fight infections. Lemon and ginger increase perspiration which helps combat the fevers associated with colds.
Raw local honey has natural anti-bacterial, anti-fungal, and anti-viral properties and is made by bees that have pollinated on your local plants to combat air-borne allergies and soothes sore throats. Use warm water and heat the honey as little as possible. That way, you'll preserve the phytonutrients and enzymes that are so easily destroyed with heat. Once heated beyond 100 degrees fahrenheit honey becomes acidic and loses many of its healthy benefits. If you're vegan, take the edge off the tartness with some liquid stevia. Then, tweak the ginger to taste.
For added benefit, throw in the cayenne pepper to heat the body and stimulate the lymphatic system to clear toxins. Without the cayenne, this drink is a gentle refreshing drink.
If you are bogged with the frogs, give this lemon honey ginger tonic a go. It's a s'blended soothing saver.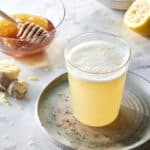 Ginger Lemon Honey Cold and Flu Tonic
This honey ginger and lemon cold and flu drink helps boost immunity and flush out toxins.
Ingredients
3

cups (720ml)

warm filtered water

1/2

cup (120ml)

fresh lemon juice

1/4

cup (60ml)

raw local honey

(or alcohol-free liquid lemon-flavored stevia)

1

tablespoon

minced ginger,

plus more to taste

Pinch

of cayenne pepper

(optional)
Instructions
Throw everything into the blender, and blast on high for about 30 seconds until well combined.

Sip and heal.