Happy St. Patrick's Day! I'm celebrating with this coconut mango banana spinach smoothie. This is my favorite green energy smoothie.
I'm thrilled my mum, dad, sister, and niece are staying with me so we can celebrate St Patrick's Day together.
My mother is part Irish. Her family are descendants of the McDermotts, Sullivans and O'Learys. We are very proud of our Irish heritage and milk it for all it's worth.
St Patrick's Day was originally a religious holiday. But let's be honest, to any self-respecting hedonist, it's fondly embraced as a "feast and drinking day", and a golden invitation to get over refreshed with irreverent indulgence under the guise of national pride.
But, really, every day is a green day for me. I start every day with a green smoothie, and this coconut mango spinach banana smoothie is my favorite blend.
This mango banana spinach smoothie is my go-to introductory smoothie for newbies because it's sweet and delicious, and if you closed your eyes you'd never know it contained leafy greens. The mild flavor of spinach is perfect for greenophobes as its so easily masked with sweet fruits.
I intend to drown my sorrows in a few gallons of this mango banana spinach smoothie after I drop my sister and my little niece off at the airport tonight. However, if the green smoothie doesn't do the trick, I'm heading down to the Tam O'Shanter with mum and dad to sing and dance with our Irish comrades.
Find more delicious smoothie recipes in The Blender Girl Smoothies app.
*Probiotic Powder – I add 1/2 teaspoon of probiotic powder to all smoothies to replenish stores of healthy bacteria for immunity, digestion, detox, and to balance the acidic effects of high-sugar fruits and other sweeteners. The really potent probiotics require refrigeration. If you have capsules, break the shell and release the powder. Unsweetened probiotic-rich liquids like kefirs (water, coconut water, milk varieties) or kombucha make wonderful health-promoting additions to shakes, too.
*Celtic Sea Salt – I add a pinch (or more) of this alkalizing, mineral-rich salt to all smoothies to boost the natural flavor of fruits and veggies; temper the acidity of sweet fruits and sweeteners; stimulate the lymphatic system; replenish electrolytes; aid digestion; and help the body access energy. I do not recommend adding common table salt which is generally heated to extreme temperatures, iodized, bleached, processed, and refined. This salt does not have the same benefits. If you have a health condition that requires you to limit your sodium intake consult your doctor before adding salt to your smoothies.
THE BLENDAHOLIC SHOW TRAILER

THE BLENDAHOLIC SHOW TRAILER: Hi, my name is Tess and I'm a Blendaholic. Every Monday I share super easy recipes you can make in your blender! I'm blending up smoothies, cocktails, soups, appetizers, snacks, main meals, and desserts. There isn't anything I won't try in a blender, and all of the recipes are mind-blowingly delicious. So, dust off your blender, and tune in to The Blendaholic every Monday at 7AM PST to find your perfect blend. Find more easy healthy recipes at The Blender Girlhttps://www.theblendergirl.com/

Posted by The Blendaholic on Monday, January 22, 2018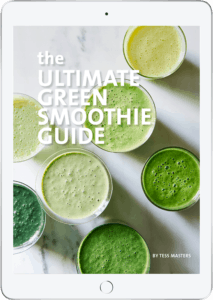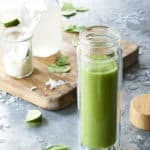 Coconut Mango Banana Spinach Smoothie
This coconut mango banana spinach smoothie is sweet and delicious, and the perfect introduction to green smoothies.
Servings
2
16-ounce glasses
Ingredients
2

cups (480ml)

raw coconut water

(or filtered water)

2

cups (88g)

firmly packed baby spinach

1

medium-sized

banana

2

tablespoons

coconut butter

1

tablespoon

fresh lime juice

2

cups (320g)

frozen mango
Instructions
Throw everything into your blender (including any boosters) and blast on high for 30 to 60 seconds until smooth and creamy.