This wild spicy dandelion berry bliss juice is a fantastic example of a pulped juice. When juicing berries in a masticating juicer there is hardly any waste, and you get a delicious "juice crush" texture that is almost like a dessert.
Dandelion greens adds a slight bitterness and the chile adds heat that turns a simple berry juice into a sublime sip. This spicy berry juice tastes like a cocktail when you get the balance just right. Depending on the ripeness and sweetness of your berries, you may want to add some stevia to heighten and balance the flavors.
Just like with the piña colada smoothie, where the bitterness of the dandelion green hinted at rum, it has the same effect in this juice.
Dandelions not only add a party flavor to this blend, they're also loaded with nutrients. Dandelion greens are rich in vitamins A, B, C and D, as well as copper, phosphorous, calcium and magnesium. These leafy legends help regulate blood pressure and cholesterol, and alkalize the blood.
Berries boost brain activity, support heart health, aid weight control and digestion, and deliver truckloads of antioxidants to combat abnormal cell development. Strawberries and raspberries are both loaded with vitamin C, which is brilliant for heart health. To get the most bang for your buck, push the whole berry (for strawberries, pull out the hulls) through your machine. To extract every bit of that berry delicious juice, alternate with high-water-content foods like cucumber, oranges, and apples, and maybe a little water.
Dandelion leaves also don't yield a lot of juice. Push a few leaves through alternating with some berries and a tiny bit of filtered water to get the most "bang for my buck."
THE BLENDAHOLIC SHOW TRAILER

THE BLENDAHOLIC SHOW TRAILER: Hi, my name is Tess and I'm a Blendaholic. Every Monday I share super easy recipes you can make in your blender! I'm blending up smoothies, cocktails, soups, appetizers, snacks, main meals, and desserts. There isn't anything I won't try in a blender, and all of the recipes are mind-blowingly delicious. So, dust off your blender, and tune in to The Blendaholic every Monday at 7AM PST to find your perfect blend. Find more easy healthy recipes at The Blender Girlhttps://www.theblendergirl.com/

Posted by The Blendaholic on Monday, January 22, 2018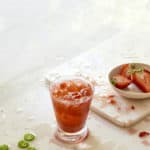 Cleansing Chile, Dandelion Green, Berry Juice
This spicy berry juice with dandelion greens has an amazing combination of flavors for detox dynamite.
Ingredients
2

cups

strawberries

1

cup

raspberries

1

cup

dandelion leaves 

1

small green chile,

ribs and seeds removed 

10 

drops

alcohol-free liquid stevia,

plus more to taste
Instructions
Push the ingredients through your juicer. Consume whole with the pulp.