Cantaloupe Popsicles with Chamomile and Mint
---
June 23, 2017
These cantaloupe popsicles with chamomile and mint have an exquisite flavor and are super easy to make.
These exquisite cantaloupe popsicles with chamomile and mint are super easy to make and have a beautiful refreshing flavor.
These cantaloupe popsicles come from the Glow Pops cookbook by Liz Moody – blogger, and food editor at MindBodyGreen.com.
I was honored to blurb this book as Liz shares 55 nutrient-dense recipes that make healthy living easy and fun, and I love anybody turning smoothies into popsicles! Loaded with fruits and vegetables, infused with superfoods, and bursting with crazy-amazing flavor, these punched-up pops will give you the glow, boost your brain power, clear your skin, rev up your metabolism, and more.
Liz opens the book with the basics you'll need to make all of the recipes: a blender, food processor, molds, sweeteners; the basic pantry staples used in the pops; and guides to making homemade coconut, almond, and cashew milks that are used repeatedly in the recipes.
Then, the recipes are broken up into categories: fruity, creamy, chocolatey, savory, and green. Then, there's a fabulous glossary of ingredients that gives a quick overview of the nutritional properties of the ingredients used in the recipes, and a master chart outlining the health goals that each recipe can help with. You can search for recipes that are: hydrating, energizing, calming, detoxifying, or brain boosting; and are immunity aids, cancer fighting, heart healthy, bloat reducing, pain relieving, good for the gut, weight loss promoting, good for glowing skin, provide allergy relief, and can be meal replacements.
Some of my favorite popsicle blends include: cucumber mint mojito, caramelized pineapple, strawberry cardamom rose lassi, matcha latte, lavender london fog, mexican hot chocolate, cold-brew mocha, olive oil chocolate rosemary, tomato beet bloody mary, curried butternut squash, thai peanut cilantro ginger, roasted carrot thyme, and turmeric mango sunrise.
These chamomile, cantaloupe, mint popsicles are tagged on the master chart as being good for bloating, gut health, detox, weight loss, glowing skin, calming, and hydrating.
Liz says that these pops are soothing and nourishing. Chamomile tea is a caffeine-free remedy that calms each and every part of your body, from muscle spasms and menstrual cramps to insomnia and anxiety. The mint contributes further tummy-taming properties, while cantaloupe offers a hefty dose of vitamins A and C.
I added some fresh lime juice to these pops to lift and brighten the flavors. They're super delicious. Leave a comment below, and let me know what you think.
THE BLENDAHOLIC SHOW TRAILER

THE BLENDAHOLIC SHOW TRAILER: Hi, my name is Tess and I'm a Blendaholic. Every Monday I share super easy recipes you can make in your blender! I'm blending up smoothies, cocktails, soups, appetizers, snacks, main meals, and desserts. There isn't anything I won't try in a blender, and all of the recipes are mind-blowingly delicious. So, dust off your blender, and tune in to The Blendaholic every Monday at 7AM PST to find your perfect blend. Find more easy healthy recipes at The Blender Girlhttps://www.theblendergirl.com/

Posted by The Blendaholic on Monday, January 22, 2018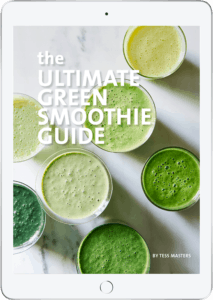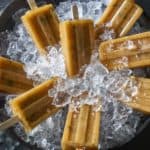 Chamomile Popsicles with Chamomile and Mint
These cantaloupe popsicles with chamomile and mint are super easy and have an exquisite flavor.

Ingredients
1

cup

filtered water

3

chamomile tea bags 

1/2

cup

lightly packed fresh mint leaves

1/4 

cup

coconut sugar,

plus more to taste

1/2

large

cantaloupe,

peeled, seeded, and cut into chunks

3

tablespoons

fresh lime juice

1/8

teaspoon

Celtic sea salt
Instructions
In a small pot, bring the water to a boil over high heat, then add the tea bags. Steep the tea in the water for 2 to 3 minutes until you have a strong brew. Discard the tea bags, and stir in the coconut sugar, until dissolved. Add half of the mint leaves, and allow the leaves to steep for 15 minutes while the water mixture cools. Strain the mixture to remove the mint leaves. 

Pour the strained tea mixture into your blender, add the cantaloupe, lime juice, and salt, and blast on high for 20 to 30 seconds until smooth. Add the remaining dry mint leaves, and pulse the blender just a few times until the mint is finely chopped and evenly dispersed in the cantaloupe mixture, but not fully blended. 

Pour the mixture into popsicle molds, and freeze for 1 hour, then insert the popsicle sticks, and freeze for 6 to 8 hours, until solid.
Recipe Notes
Reprinted from Glow Pops. Copyright © 2017 by Liz Moody. Published by Clarkson Potter/Publishers, an imprint of Penguin Random House, LLC.
Photo by Trent Lanz; styling by Alicia Buszczak