Cantaloupe Popsicles with Chamomile and Mint
---
June 23, 2017
These cantaloupe popsicles with chamomile and mint have an exquisite flavor and are super easy to make.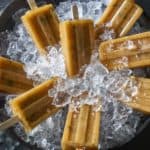 Chamomile Popsicles with Chamomile and Mint
These cantaloupe popsicles with chamomile and mint are super easy and have an exquisite flavor.

Ingredients
1

cup

filtered water

3

chamomile tea bags 

1/2

cup

lightly packed fresh mint leaves

1/4 

cup

coconut sugar,

plus more to taste

1/2

large

cantaloupe,

peeled, seeded, and cut into chunks

3

tablespoons

fresh lime juice

1/8

teaspoon

Celtic sea salt
Instructions
In a small pot, bring the water to a boil over high heat, then add the tea bags. Steep the tea in the water for 2 to 3 minutes until you have a strong brew. Discard the tea bags, and stir in the coconut sugar, until dissolved. Add half of the mint leaves, and allow the leaves to steep for 15 minutes while the water mixture cools. Strain the mixture to remove the mint leaves. 

Pour the strained tea mixture into your blender, add the cantaloupe, lime juice, and salt, and blast on high for 20 to 30 seconds until smooth. Add the remaining dry mint leaves, and pulse the blender just a few times until the mint is finely chopped and evenly dispersed in the cantaloupe mixture, but not fully blended. 

Pour the mixture into popsicle molds, and freeze for 1 hour, then insert the popsicle sticks, and freeze for 6 to 8 hours, until solid.
Recipe Notes
Reprinted from Glow Pops. Copyright © 2017 by Liz Moody. Published by Clarkson Potter/Publishers, an imprint of Penguin Random House, LLC.
Photo by Trent Lanz; styling by Alicia Buszczak