This magic anti-inflammatory turmeric green juice comes from Young and Raw duo. You may remember them from their incredible Raw Vegan Mexican Crackers.
These two health warriors successfully transformed their lives with the power of live foods. Sheleana lost 45lbs, healed her body of infertility, re-balanced her energy from extreme adrenal fatigue, reversed a hormonal imbalance that was threatening her life, and restored her body to optimum health. She and Caleb now dedicate their lives to teaching others how to do the same.
Young and Raw shares valuable information about health and nutrition, raw beauty recipes, and raw and vegan recipes. I really love their smoothies and juices!
This anti-inflammatory turmeric juice is powerful. Sheleana likens the version with coconut water to drinking pickles! While I'm a huge fan of raw coconut water, I decided to feature the green juice version of this cocktail.
Turmeric contains magical anti-inflammatory and antioxidant agents, as well as antibiotic, antiseptic, and analgesic properties. This righteous root can improve digestion, purifies your blood, lowers cholesterol, heals stomach ulcers, prevents gas and bloating, assists with fat metabolism, can help clear acne and psoriasis, arthritis, and I could go on and on.
In her original recipe post, Sheleana posted this juice as a remedy for sore joints and menstrual cramps, as well as a way to repair your muscles after a workout. I cannot recommend this juice more highly for this. I have used both the coconut water shots and the green juice mixture, and they are amazing. I don't get menstrual cramps since I followed food combining and went alkaline, so I can't personally attest to that. However, if Sheleana says it works, I believe her. Obviously, everybody is different. But, I say, give it a shot! It's better than popping those toxic menstrual cramp tablets.
There is a wealth of information on the Young and Raw site, and make sure you join the hugely popular Young and Raw facebook page.
THE BLENDAHOLIC SHOW TRAILER

THE BLENDAHOLIC SHOW TRAILER: Hi, my name is Tess and I'm a Blendaholic. Every Monday I share super easy recipes you can make in your blender! I'm blending up smoothies, cocktails, soups, appetizers, snacks, main meals, and desserts. There isn't anything I won't try in a blender, and all of the recipes are mind-blowingly delicious. So, dust off your blender, and tune in to The Blendaholic every Monday at 7AM PST to find your perfect blend. Find more easy healthy recipes at The Blender Girlhttps://www.theblendergirl.com/

Posted by The Blendaholic on Monday, January 22, 2018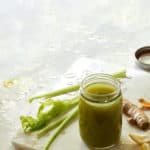 Anti-Inflammatory Green Ginger Turmeric Juice
Looking for turmeric juices? This anti-inflammatory blend from Young and Raw packs a powerful punch.
Ingredients
1

English cucumber

2

ribs

celery

1

(1-inch) piece

fresh turmeric root

(or 1 teaspoon ground turmeric)

1

(1-inch) piece

fresh ginger root,

plus more to taste

1

lemon,

peeled

Pinch

of freshly ground black pepper
Instructions
For the green juice, process all ingredients through your juicer. Enjoy strained or unstrained. 

For a coconut water turmeric elixir: mix 1 oz of juiced turmeric root with 1 cup raw coconut water, and a pinch of freshly ground black pepper. The coconut water acts a "carrier" delivering more nutrients to the cells, and the piperine in the pepper helps the curcumin in the turmeric to absorb better.