Nacho Cheese Vegan Popcorn
---
August 1, 2016
This vegan popcorn with nacho cheese flavors is absolutely mind-blowing. It is rich, cheesy, tangy, spicy, and hard to quit eating. Perfect for movie night!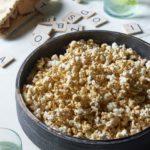 Nacho Cheese Vegan Popcorn
This vegan nacho spicy cheese popcorn from Jason Wrobel's Eaternity cookbook is a delicious healthy snack.
Instructions
In a large saucepan over medium-high heat, warm the grapeseed oil. Add the popcorn seeds and place the lid on the pan. Shake vigorously to coat the kernels with oil. When the corn starts to pop, shake the pan constantly until the popping stops, about 5 to 7 minutes. Remove the pan from the heat, remove the lid, and transfer the popcorn to a large bowl.

In a small bowl, combine the nutritional yeast, chili powder, cumin, garlic powder, salt, and cayenne pepper.

Toss the melted coconut oil and spice mixture through the hot popcorn, and serve immediately.