Vegan Kimchi
from the 60-Day Reset
---
February 1, 2023
This vegan kimchi recipe is really easy, delicious, and tastes close to conventional kimchi without the fish sauce or shrimp paste.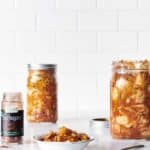 Vegan Kimichi
This vegan kimchi recipe is delicious, easy to make, and tastes close to conventional kimchi without the fish sauce or shrimp paste.
Ingredients
Vegetables
1

large (4lb/1.8kg)

fresh wombok

(see notes in post)

2

tablespoons (36g)

Celtic sea salt

(see notes in post)

1

cup (160g)

firmly packed grated carrot

(see notes in post)

1

cup (160g)

firmly packed grated daikon radish

(see notes in post)

1/2

cup (35g)

sliced green onions

(mostly green parts; see notes in post)
Paste
1/4

cup (60ml)

spring water

(see notes in post)

1/4

cup (28g)

gochugaru,

plus more to taste (see notes in post)

1/4

cup (38g)

diced yellow onion

(see notes in post)

1/3

cup (66g)

minced garlic,

plus more to taste (see notes in post)

1/3

cup (73g)

minced ginger,

plus more to taste (see notes in post)

3

tablespoons (15g)

mushroom powder

(see notes in post)

3

tablespoons (33g)

coconut sugar,

plus more to taste (see notes in post)

2

tablespoons (30ml)

coconut aminos

(see notes in post)

1

teaspoon (6g)

Celtic sea salt,

plus more to taste
Instructions
Wash and cut the wombok: Remove and discard the outer leaves, and discard any damaged or discolored leaves. Set aside two large leaves to place on the top of your mixture when sealing the kimchi. Wash the remaining wombok by placing it under some running water. Pat it dry. Place the wombok on a large cutting board, and using a sharp chef's knife, slice it in half lengthways, leaving the core in tact. Then, slice each half into four equal pieces lengthways, and slice those pieces sideways into bit-sized square-shaped pieces.

Salt the wombok: Transfer the cabbage to a very large bowl or pot. Sprinkle the salt over the cabbage, and use your hands to gently massage it into the cabbage. Allow the cabbage to sit out at room temperature for 2 to 3 hours to allow the cabbage to draw water out. (You could also cover the bowl with a breathable cloth and place it in the fridge overnight.) Your cabbage will so soft and wilted, and there will be water in the bowl.

Rinse and drain the wombok: Drain the wombok into a colander, and place into a clean bowl. Fill the bowl with filtered water, and swish the cabbage with your hands. Drain the cabbage into the colander, and leave the cabbage to drain for 5 to 10 minutes, or squeeze gently to remove the excess water. (Do not skip this step or it will dilute your kimchi.) Transfer the drained cabbage to a large, clean, dry bowl.

Mix the vegetables together: Into a large dry bowl, add the drained cabbage, carrot, daikon, and green onions, and use your hands or two spoons to mix until well combined.

Make the paste: Add the water, gochugaru, yellow onion, garlic, ginger, mushroom powder, coconut sugar, coconut aminos, and salt into your blender, and blast on high for 20 to 30 seconds, until the ingredients are pulverized and the mixture is well blended but still has a little bit of texture. (You could also blend until completely smooth.) You should have about 1 cup (318g) of paste.

Coat the vegetables: Transfer the paste to the bowl with the vegetables, and use your hands to massage the paste into the vegetables until evenly coated. (You may want to wear disposable gloves.) As you massage the veggies, they will produce "juice". This is great, as you will need this juice to pack the kimchi into the jars!

Pack your jars: Using a spoon, transfer small amounts of the coated veggies to the jars, and use your first or a pounder to pack the vegetables in tightly to ensure there are no air bubbles. (The mixture will release juice as you do this.) Leave about 1 inch at the top of your jar to allow room for the vegetables to expand and the juices to grow as the kimchi ferments and gas is produced. If you pack your jars all the way to the top, not only will it be very difficult to open the jars (as the gas will seal them shut) and the kimchi may explode out of the jars when you do get them open! Also, the juice will spill out through the release valve or lid, and make a mess in your kitchen.

Seal your jars: Once you've packed your jars, roll up a piece of one of the outer cabbage leaves you set aside (I like the firm harder pieces), and place it in the opening of the jar to cover the contents of the jar. Press down with your fingers so that the juice pools up over the top of the cabbage leaf. Place a weight (or chunk of carrot or clean stone) on top of the cabbage leaf to ensure the kimchi stays under liquid. Seal your jar with the fermentation air-lock lid or regular lid. (If you have leftover vegetable mixture, place it in a smaller jar to ferment. Or, consume it as a salad now!)

Allow your kimchi to ferment at room temperature: Store your jars at room temperature away from direct sunlight for 3 to 7 days, depending on the temperature of your environment. The ideal temperature for fermenting kimchi is (46-64°F (8-18°C). You may hear the mixture "hissing", "fizzing", "bubbling", and "popping" as it comes alive. It is not uncommon for the fermentation lid to leak "juice". Simply wipe the lid or pour the liquid off. (It is a good idea to place the jars on a board or plate to catch the juice.) If you're using a regular sealed canning jar, you may want to open the jars quickly every couple of days to allow some of the gas to escape. You also may need to drain a little bit of the juice (this is a great probiotic tonic) or even remove some of the expanded veggies and eat them as a salad if you have packed your jars too tightly. Kimchi can be consumed at every stage of fermentation, and is ready with great flavor and beneficial probiotics anywhere from 3 days to one week after packing it in your jars. Taste your kimchi to determine when it is "ready". This is a matter of personal preference. It is ready when it is slightly bubbly, has reached your preferred level of tang, and has a balanced fiery flavor. In the hotter weather, your kimchi may be done at the 3-day mark. In warmer weather, you are safer to ferment for a shorter period of time (2 to 3 days) at room temperature, and transfer your kimchi to the fridge for 2 to 3 weeks to ferment slowly rather than risk it exploding or spoiling. At average temperatures, kimchi will typically take 5 to 7 days to bubble and get tangy. In the colder weather it may take 7 to 10 days, or even longer, to develop and come alive. The "slow and low" approach of fermenting in the colder weather (41-50°F (5-10°C) for 2 to 3 weeks delivers a beautifully nuanced kimchi with deep, bold flavors. You will get a feel for what you like, the more you make kimchi. Once you've made this recipe once, you may decide to add more gochugaru, garlic, ginger, sugar, and salt for your next batch. 

Transfer your kimchi to the fridge: Once your kimchi is ready, remove the fermentation lids and rubber rings of both jars, and replace them with the sealable lids. If you're using regular canning jars, open the jars to release the gas, and seal them back on again. Transfer the sealed jars to the fridge, where the kimchi will continue to ferment, but at a slower rate. Allowing another week or two in the fridge for your kimchi to mature will not only enable the proliferation of beneficial probiotics, but also deliver more nuanced flavors. Keep your kimchi stored in the fridge, and consume within 6 months. If your kimchi develops a sour flavor, it can still be added to stir-fries and grains for delicious meals. 
Recipe Notes
CREDIT: Recipe from the 60-Day Reset. 
YIELD: Makes 2 quart jars (8 cups/1.9kg) of kimchi.
SERVING: 1 serving = 1/4 cup (60g). If you have not eaten kimchi before, start with 1 tablespoon (15g), and monitor how your body responds to the chiles and the fermented vegetables, and then gradually increase the serving according to your flavor preferences.