Vegan Gluten-Free Chocolate Pancakes
---
October 26, 2015
These chocolate vegan gluten-free pancakes are incredible. They have a light fluffy texture and taste amazing even before you add the syrup!
These vegan gluten-free pancakes are the best pancakes I've ever tasted, and all of my friends I served them to at brunch agreed.
These chocolate pancakes have a terrific fluffy texture (a far cry from the typical cardboard GF pancakes you can get), and fabulous flavor. Forget that they're gluten-free and vegan. They're just perfect pancakes no matter what you're dietary stripes.
This incredible pancake recipe comes from my friend, Meghan Telpner, a Canadian nutritionist and founder of the Academy of Culinary Nutrition. You can find this recipe in her new book, UnDiet: Eat You Way to Vibrant Health and The UnDiet Cookbook. Through humor and simple fresh recipes, Meghan is changing the way people think about their health. With a passion for vibrant living and good karma business, Meghan also works as a consultant with health-focused independent practitioners and small businesses to find their unique voice, stay ahead of the curve, cultivate community, and convert passions into profitable conscious businesses.
In The Undiet Cookbook, Meghan shares easy tips for health living with her simple humorous approach that doesn't work with calorie counting or deprivation. But, instead, is all about fun, celebration, and limitless potential. All of Meghan's recipes are gluten-free, dairy-free, and vegetarian, with many being vegan, and all of the recipes having optional tweaks to make them vegan.
Meghan uses clean, whole foods ingredients, and outlines all of these ingredients in a detailed pantry at the beginning of the book. There are also links throughout the book that take you to specific pages of her website where you can get more information, links to download shopping lists and other resources, and places to watch videos. There is a recipe legend in the book that helps you choose recipes that are also nut-free, soy-free, grain-free, raw, and protein-powered.
The recipes are broken up into categories: Decadent Drinks; Breakfast; Dips, Crackers, and Snacks; Soups; Salads; Mains; Condiments and Dressings; Desserts; and Beauty Recipes. The book closes with Entertaining Menus, Tips For Healthy Travel, Healthy Lifestyle Tips, and Guides For Making Green Smoothies and Sprouting.
Some of my favorite recipes include: Green Trampoline Smoothie, Kombucha Margarita, Stress Away Tea, Uncoffee, Healthy Hair Tonic, Sacred Scramble, TLT Lettuce "Sandwiches", Sunflower Power Spread, Shiitake Tap-Dance-Enade, Dijon Dill Kale Chips, Gracious Glow Soup, Miso Hungry Soup, Maple Magic Squash and Kale Salad, Sweet Potato Sliders, Citrus-Spiced Tempeh, Kimchi Maki Rolls, Spirulina Gomasio, Unfish Sauce, Oh Wow Cacao Truffles, Ginger Chip Cookies, Teeth-Happy Toothpaste, Herbal Tea Bath, and the Chamomile Skin-Calming Salve.
I really loved some of the other recipes in the book. But, once we tried these pancakes, I just had to share them with you because they are so amazing. Just be sure you don't leave the chia paste/chia egg sitting more than 5 minutes. Mix the chia, mix the wet ingredients, and add the chia paste in, and then make the pancakes for the best results. The chia paste is not meant to sit.
This book is a great read, is chock-full of awesome easy recipes, and would make a fabulous holiday gift for somebody looking to transition into a healthy lifestyle without gagging.
Do not miss making these chocolate pancakes. They are just amazing.
Get your copy of The Undiet Cookbook and learn more about Meghan Telpner.
THE BLENDAHOLIC SHOW TRAILER

THE BLENDAHOLIC SHOW TRAILER: Hi, my name is Tess and I'm a Blendaholic. Every Monday I share super easy recipes you can make in your blender! I'm blending up smoothies, cocktails, soups, appetizers, snacks, main meals, and desserts. There isn't anything I won't try in a blender, and all of the recipes are mind-blowingly delicious. So, dust off your blender, and tune in to The Blendaholic every Monday at 7AM PST to find your perfect blend. Find more easy healthy recipes at The Blender Girlhttps://www.theblendergirl.com/

Posted by The Blendaholic on Monday, January 22, 2018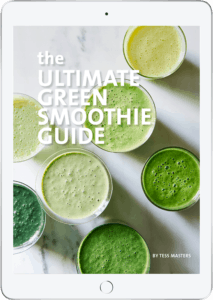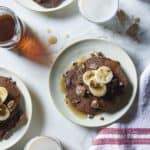 Vegan Gluten-Free Chocolate Pancakes
These chocolate vegan gluten-free pancakes are incredible. They have a light fluffy texture and taste amazing even before you add the syrup!

Ingredients
dry ingredients:
3/4

cup

brown rice flour

1/2

cup

arrowroot starch

1/2

cup

buckwheat flour

1/4

cup

chickpea flour

1/4

cup

raw cacao powder

2

tablespoons

baking powder

1/2

teaspoon

Celtic sea salt
chia paste:
1

tablespoon

chia seeds

1/4

cup

warm water

2

teaspoons

arrowroot starch
Instructions
In a medium mixing bowl, sift together all the dry ingredients, which makes the pancakes light and fluffy.

Make the chia paste by grinding the chia seeds in a spice grinder. Whisk the ground chia with the warm water and starch until well combined. Allow the mixture to sit for a few minutes and it should congeal into a gloopy sticky texture.

In a separate bowl, mix all the wet ingredients together. Whisk in the chia paste until well combined.

Add the wet ingredients to the dry ingredients, mix, and then stir in the chocolate chips. If you like your pancakes on the thinner side, add a little more water to the batter. It doesn't take much to thin the mix, so be careful. You don't want your pancakes to become a runny mess.

Heat your skillet to medium heat and dollop on some coconut oil or ghee. Scoop 1/4 cup of batter at a time into the hot skillet. Once you see bubbles start to form, it's time to flip these babies over. The trick with pancakes is to keep the heat high enough to cook them through, but not so high that it burns the outside while the inside is left raw. Once you find the right spot on your stove, take note.

Let the pancakes sit for 5 minutes before serving. This helps them firm up in the middle.

Serve with your favorite toppings.
Recipe Notes
Excerpted from The UnDiet Cookbook by Meghan Telpner. Copyright © 2015 Meghan Telpner published by Appetite by Random House, a division of Random House of Canada Ltd., a Penguin Random House Company. 
Photo by Trent Lanz; styling by Alicia Buszczak