This vegan basil pesto is a staple in our house.
Before I became vegan and discovered I had an intolerance to dairy, I clung to the firm belief that the key ingredient in a really great pesto was an awesome aged parmesan. I've since discovered that you can create pesto perfection without getting cheesy.
The secret is a mixture of fresh lemon juice and sweet white miso paste. If you're avoiding soy, chickpea miso works great, too. If you're on a paleo diet or avoiding legumes and soy for other reasons, this pesto tastes fantastic without the addition of miso. Add more lemon juice and a pinch of lemon zest to get a sharp tangy flavor. But, the addition of the miso really does replicate the taste of aged parmesan.
I've served this to many unsuspecting dairy devotees and they didn't know the difference.
THE BLENDAHOLIC SHOW TRAILER

THE BLENDAHOLIC SHOW TRAILER: Hi, my name is Tess and I'm a Blendaholic. Every Monday I share super easy recipes you can make in your blender! I'm blending up smoothies, cocktails, soups, appetizers, snacks, main meals, and desserts. There isn't anything I won't try in a blender, and all of the recipes are mind-blowingly delicious. So, dust off your blender, and tune in to The Blendaholic every Monday at 7AM PST to find your perfect blend. Find more easy healthy recipes at The Blender Girlhttps://www.theblendergirl.com/

Posted by The Blendaholic on Monday, January 22, 2018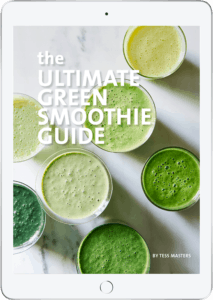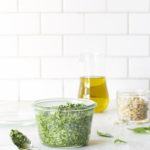 Vegan Basil Pesto
This vegan dairy free basil pesto tastes like it has aged parmesan in it! You'll never miss the cheese.
Ingredients
1/3 

cup (80ml)

extra-virgin olive oil

3

cups (75g)

firmly packed fresh basil leaves

1/2

cup (70g)

raw or toasted pine nuts 

(or blanched slivered almonds)

2

tablespoons

fresh lemon juice 

2

teaspoons

minced fresh garlic

(2 cloves) 

1

teaspoon

sweet white miso paste 

(or yellow or chickpea miso)

1/4 

teaspoon 

Celtic sea salt,

plus more to taste
Instructions
Throw everything into a food processor fitted with the s blade, and pulse until rustically combined. Tweak salt to taste. 

Transfer to a sealed container. The pesto will keep in the fridge for about 5 days.