Kidney Cleansing Juice
---
January 29, 2013
This kidney cleansing juice with asparagus, celery, cilantro, cucumber, lemon, and apple helps flush the kidneys, purify the blood, and detox the body.
Kidney Cleansing Juice
This kidney cleansing juice with asparagus, celery, cilantro, cucumber, lemon, lime, and apple is one my go-to alkaline juices. This magical elixir will top up your alkaline buffers, purify your blood, detoxify your muscles and tissues, clean up your kidneys, and restore alkaline balance to your body after an "acidic orgy" eating binge!
I ate pizza the other night, and felt a little out of whack, to say the least. I juiced up this s'blended concoction before I went to bed, and again when I woke up the next morning, and was back on track.
Lemons, limes, cucumber, and celery are four of the most alkaline-forming foods on the planet, and green apple has the lowest sugar content of all varieties.
As you get used to the flavor of the asparagus, you can reduce the quantity of apple to lower the sugar content even further. Start with 1 apple, then reduced it to 1/2 an apple, then 1/4, and then no apple. This juice is most alkaline forming without the apple. If you do add the apple, use green apples, which typically have the lowest sugar content.
Pick up some alcohol-free lemon stevia for your juices. This stevia is one of the best I've used. Just a few drops sweetens tart juice blends and smoothies.
Tips For Juicing Asparagus
You don't see many juice recipes utilizing asparagus, because the flavor can be funky! Most asparagus juice recipes contain sweet elements like apple or carrot. You can also pair with tomato, cilantro, garlic, and salt for a savory blend. But, don't miss out on juicing this sexy stalk. It is a healthy hero.
The Health Benefits of Asparagus Juice
Surprisingly high in plant-based protein, asparagus is rich in minerals like calcium, phosphorus, iron, sodium, potassium, selenium, manganese, and copper, and vitamins A and C, E and K, folate, niacin, riboflavin, and thiamin.
Amped up with antioxidants, this green queen contains high levels of glutathione to fizzle free radicals; quercetin (a flavanoid) that acts as an anti-inflammatory agent; and rutin, a blood vessel protector. Asparagus also contains the amino acid asparagine, which is a dynamic diuretic, helping to dissolve uric and oxalic acids. Asparagus juice alleviates arthritic pain, can prevent and dissolve kidney stones, and is amazing to reduce water retention during pregnancy.
Asparagus also boosts the function of the pineal, adrenal, and thyroid glands, as well as the heart, lungs, liver, pancreas, and spleen. Asparagus juice is especially helpful for renal and kidney health, is brilliant for clearing respiratory congestion, and is sensational for the skin, helping to clear acne, eczema and other skin disorders.
If You Have a Kidney Condition
Please note: For people with kidney conditions, consult your doctor or healthcare professional before consuming asparagus juice.
Other Asparagus and Green Juice Recipes For You
Apple Lemon Asparagus Juice
Morning Detox Green Juice
Immune-Boosting Green Juice
Allergies-Be-Gone Green Juice
Alkaline Low-Sugar Green Juice
Get Healthy With a 3-Day Juice Cleanse
1. DOWNLOAD the FREE 5-Day Energy Boost.
2. START the 3-Day Juice Cleanse.
3. JOIN our Cleanse Facebook group to get support.
Let me know what you think of this recipe in the comments!
Your feedback is important to me, and it helps me decide which recipes to post next for you.
THE BLENDAHOLIC SHOW TRAILER

THE BLENDAHOLIC SHOW TRAILER: Hi, my name is Tess and I'm a Blendaholic. Every Monday I share super easy recipes you can make in your blender! I'm blending up smoothies, cocktails, soups, appetizers, snacks, main meals, and desserts. There isn't anything I won't try in a blender, and all of the recipes are mind-blowingly delicious. So, dust off your blender, and tune in to The Blendaholic every Monday at 7AM PST to find your perfect blend. Find more easy healthy recipes at The Blender Girlhttps://www.theblendergirl.com/

Posted by The Blendaholic on Monday, January 22, 2018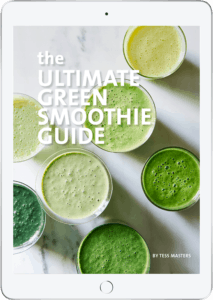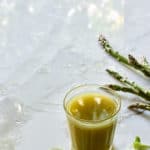 Kidney Cleansing Juice
This kidney cleansing juice with asparagus, celery, cilantro, cucumber, lemon, and apple helps flush the kidneys, purify the blood, and detox the body.

Ingredients
8

large or 16 small asparagus spears

2

ribs celery

1

bunch cilantro

1 

English cucumber

1

lemon

peeled

1

lime

peeled

3

– 5 drops alcohol-free lemon liquid stevia

1

green apple

cored (optional, read post)
Instructions
Push the ingredients through your

juicer

, and strain with a fine mesh sieve.