Roasted Asparagus & Arugula Salad
---
July 26, 2016
This roasted asparagus salad with arugula, toasted hazelnuts, and lemon is vegan and paleo-friendly, and super tasty.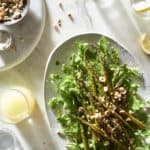 Roasted Asparagus & Arugula Salad
This roasted asparagus salad with arugula is super easy, and is vegan and paleo-friendly. The toasted hazelnuts add crunch and lemon adds a zesty punch.

Instructions
Preheat your oven to 375°F/190°C, and line a baking sheet with a silicone liner or parchment paper. 

Spread the hazelnuts on the baking sheet, and roast for 7 to 10 minutes, or until lightly browned. Allow the nuts to cool, gently roll in a dish towel to remove the skins, and then roughly chop. Set aside. 

Increase the oven temperature to 400°F/200°C, and place the asparagus on the prepared baking sheet. Drizzle the asparagus with 1 tablespoon of the olive oil, and season with salt and pepper. Toss to coat evenly, then spread the asparagus in a single layer. Roast them for about 8 minutes, or until the asparagus is just tender and lightly browned.

To make the dressing, whisk together the lemon zest, lemon juice, and the remaining 2 tablespoons of olive oil.

Throw the arugula into a large bowl, drizzle with half the dressing, and toss until evenly coated. Transfer the arugula to a platter, arrange the asparagus on top, drizzle with the remaining dressing, and top with the chopped hazelnuts.