Roasted Asparagus & Arugula Salad
---
July 26, 2017
This roasted asparagus salad with arugula, toasted hazelnuts, and lemon is vegan and paleo-friendly, and super tasty.
This roasted asparagus salad with arugula is super easy, and is vegan and paleo-friendly. The toasted hazelnuts add crunch and lemon adds a zesty punch.
This roasted asparagus salad is from The Paleo Diabetes Diet Solution by holistic nutritionists Jill Hillhouse and Lisa Cantkier. This new book contains 125 simply healthy recipes plus a 30-day meal plan to help you regulate your blood sugar for better health. A paleo diet isn't a magic bullet for reversing type-2 diabetes, but a health diet can help you effectively manage your blood sugar and lower your risk for diabetes.
I am vegan so I don't eat meat, but aside from the meat I live by paleo principles. There is a popular misconception that a paleo diet is full of big hunks of meat and not much else. Yes, the foundation of the paleo diet includes unprocessed grass-fed meats, but the diet also includes fruits, vegetables, nuts, seeds, and oils. Rather than being a diet that simply reproduces "cave-man" eating, the paleo diet acts more like a framework for better health. It's a nutrient-dense, low-carb, fiber‑rich diet high in vitamins and minerals. And, you don't need to eat meat on a paleo diet. I eat grains very rarely, and am gluten-free. So, most of the time I live a paleo vegan diet.
Food, along with exercise is the foundation for optimal health. Food is the information that tells the body what to do and how to function. While exercise contributes greatly to better health, food is the most important element for blood sugar control. Elevated blood sugar levels can cause all kinds of health issues from eye problems to anxiety, digestive disorders, hormonal imbalances, heart disease, and cancer.
In this book, Jill and Lisa use paleo principles to help readers control their blood sugar levels with their 30-day meal plan. They open the book with an explanation for diabetes, how normal blood sugar works, the state of imbalance that is insulin resistance, the importance for testing blood sugar and insulin levels, and how exercise, stress, sleep, poor diet, toxins, and gut health all affect our blood sugar.
Then, there is a complete guide for a paleo diet, the importance of nutrient diversity, studies for how paleo principles can support healthy blood sugar levels, and then delicious low-carb, grain-free recipes to use during the 30-day program and beyond.
The recipes in the book are very simple and accessible with most of them only containing a handful of ingredients. It's asparagus season, so I chose this super easy roasted asparagus salad. The zesty lemon, peppery arugula, and roasted asparagus and hazelnuts create a simple low-carb nutrient-dense salad that is dressed to impress.
Get your copy of The Paleo Diabetes Diet Solution, and learn more about Jill Hillhouse and Lisa Cantkier.
THE BLENDAHOLIC SHOW TRAILER

THE BLENDAHOLIC SHOW TRAILER: Hi, my name is Tess and I'm a Blendaholic. Every Monday I share super easy recipes you can make in your blender! I'm blending up smoothies, cocktails, soups, appetizers, snacks, main meals, and desserts. There isn't anything I won't try in a blender, and all of the recipes are mind-blowingly delicious. So, dust off your blender, and tune in to The Blendaholic every Monday at 7AM PST to find your perfect blend. Find more easy healthy recipes at The Blender Girlhttps://www.theblendergirl.com/

Posted by The Blendaholic on Monday, January 22, 2018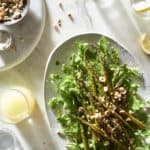 Roasted Asparagus & Arugula Salad
This roasted asparagus salad with arugula is super easy, and is vegan and paleo-friendly. The toasted hazelnuts add crunch and lemon adds a zesty punch.

Instructions
Preheat your oven to 375°F/190°C, and line a baking sheet with a silicone liner or parchment paper. 

Spread the hazelnuts on the baking sheet, and roast for 7 to 10 minutes, or until lightly browned. Allow the nuts to cool, gently roll in a dish towel to remove the skins, and then roughly chop. Set aside. 

Increase the oven temperature to 400°F/200°C, and place the asparagus on the prepared baking sheet. Drizzle the asparagus with 1 tablespoon of the olive oil, and season with salt and pepper. Toss to coat evenly, then spread the asparagus in a single layer. Roast them for about 8 minutes, or until the asparagus is just tender and lightly browned.

To make the dressing, whisk together the lemon zest, lemon juice, and the remaining 2 tablespoons of olive oil.

Throw the arugula into a large bowl, drizzle with half the dressing, and toss until evenly coated. Transfer the arugula to a platter, arrange the asparagus on top, drizzle with the remaining dressing, and top with the chopped hazelnuts.