Paleo Flatbread
---
March 13, 2017
This paleo flatbread recipe with coconut flour is super easy, and is a fantastic gluten-free, vegan bread to serve with stews and curries or to make wraps.
This paleo flatbread using coconut flour is really easy to make and is a fantastic alternative to tortillas or wheat breads to serve with curries, stews, soups, and makes fantastic grain-free wraps.
This paleo flatbread recipe comes from The Jingslingers. Their culinary and wellness philosophy changed my life, and I was honored to write the forward to their book.
Their book, Food With Benefits is not just another collection of healthy recipes. This book is next-level nutrition in the hands of culinary geniuses who are also wellness maestros. Joy and Jay harmonize encyclopedic knowledge of the power of superfoods, herbs and tinctures with brilliant flair for pairing flavors and textures that results in exquisite functional food that heals, balances, and nourishes in ways that surpass the imagination.
The benefits of their food runs the gamut. Some of their recipes get me supercharged, energized, and feeling like I'm firing on all cylinders for the first time in my life. Ready to take on the world, or go out and save it. Some of their recipes take me the other way, with dishes that leave me calmed, balanced, and grounded, helping me get a sound sleep and wake up deeply rested and recharged. Whatever you're after—hormone balance, heightened mental clarity, an antioxidant blast, or anything else on the wellness spectrum—you'll find foods in their book that deliver it.
And the best part: Their fabulous food is fun. The Jingslingers take the funk out of functional. Reinventing healthy food as comfort food, Joy and Jay have worked up gluten-free, sugar-free, superboosted versions of classic drinks, salads, burgers, breads, ice-creams, donuts, cookies, cakes, and pies—all of which blow their conventional counterparts right out of the water. I've been lucky enough to be on hand with other people—hundreds, in fact—when they experience this food revelation. Their reactions are always a thrill and send me into nostalgia for my own first time: "Wow! Un-buh-leev-able. What's in it? No—this actually heals my body?!"
Food with Benefits is a definitive guide to using medicinal herbs and superfoods. They cover foods like: açaí, ashwagandha, astragalus, brain octane oil, chaga mushroom, He Shou Wu, lion's mane, kelp, maca, mucuna, reishi mushroom, and proprietary blends like Blue Majik, Miracle Reds, Brain On, and Pure Radiance. They also talk about their favorite natural sweeteners like blackstrap molasses, monk fruit, stevia, maple syrup, and birch xylitol.
Every recipe in the book has the base ingredients, and then you can "jing it up" with boosters, and then "sling it" to suit your own dietary preferences, such as vegan or paleo. "Everybody is welcome" at the Jingslingers' table, and there is something for everyone in this book.
There are recipes for kickass ketchup, spaghetti squash hashbrowns, silken kabocha bisque, immortal gut salad, gratitouille, charmed chili, jingsmacked kitchari, coconut whipped cream, superfood salted caramel, lemon curd, chocolate sauce, cannoli, coconut creme brulee, panna cotta, chocolotta truffle jinglato ice cream, brilliant brownies, epic eclairs, superhero doughnuts, slingshots, shortbread pie crust, living waters margarita, strawberry-basil lemontini, Blucidity shots, sleeping beatea, and these amazing gluten-free, vegan, paleo coconut flatbreads.
This vegan, paleo, grain-free, gluten-free flatbread is super easy, really versatile for wraps, tacos, and paninis, and is delicious. Add any fresh herbs and spices you fancy. I double the recipe and freeze the remaining flatbreads to use as I need them.
I honestly can't rave enough about this book. The recipes shatter conventional expectations of what's possible with flavor and nutrition with natural food.
Just buy their book and make the recipes. No matter what your health goals or your dietary preferences, this food will rock your world. And it won't be just a Jingsling fling—it'll be a lifelong love affair.
Snag your copy of Food With Benefits, and learn more about The Jingslingers.
Watch their facebook live videos:
Superfood Holiday Recipes
Immunity Tonics
THE BLENDAHOLIC SHOW TRAILER

THE BLENDAHOLIC SHOW TRAILER: Hi, my name is Tess and I'm a Blendaholic. Every Monday I share super easy recipes you can make in your blender! I'm blending up smoothies, cocktails, soups, appetizers, snacks, main meals, and desserts. There isn't anything I won't try in a blender, and all of the recipes are mind-blowingly delicious. So, dust off your blender, and tune in to The Blendaholic every Monday at 7AM PST to find your perfect blend. Find more easy healthy recipes at The Blender Girlhttps://www.theblendergirl.com/

Posted by The Blendaholic on Monday, January 22, 2018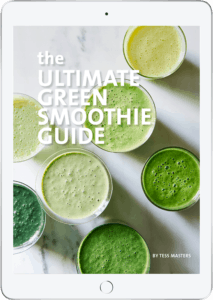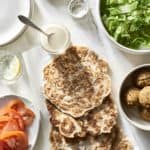 Paleo Flatbread
This paleo flatbread recipe with coconut flour is super easy, and is a fantastic gluten-free, vegan bread to serve with stews and curries or to make wraps.

Ingredients
optional boosters:
1

teaspoon

gelatinized maca powder

1

teaspoon

MCT oil
Instructions
In a medium-size bowl, add all of the dry ingredients (including the maca and MCT oil boosters, if using) and stir together until well combined. Gradually add ¼ cup of the melted coconut oil and all of the hot water, and stir until the mixture comes together in a dough.

Allow the dough to cool for just a few seconds until comfortable enough to handle, and with your hands, split the dough into four equal balls.

On a piece of parchment paper, use your hands to flatten and mold each ball into a tortilla-style disc about ⅛-inch thick. You could also use a rolling pin between two sheets of parchment paper. Work quickly, as the mixture gets more difficult to mold as it sits.

In a small skillet or crepe pan over medium heat, warm 1 tablespoon of the remaining coconut oil and cook the first flatbread for about 2 minutes until lightly browned. Flip the flatbread over, and brown the other side. Add more coconut oil, if needed. Repeat this process with the remaining three flabreads. You may need more coconut oil to cook them all.

The flatbreads will keep nicely in the fridge for about 3 days, and can be frozen for up to 30 days.