Sweet Grape Kale Juice
---
January 27, 2013
If you think you can't enjoy juicing kale, this sweet grape kale juice from Fully Raw will change your mind. It is super easy and really delicious!
Sweet Grape Kale Juice
If you think juicing kale can't taste amazing, this sweet grape kale juice from Fully Raw may change your mind! There are a lot of kale juice recipes out there, but they usually involve a lot of ingredients. This simple green juice has just two ingredients: grapes and kale. This sweet kale juice couldn't be quicker, easier, or more delicious. The grapes neutralize the bitterness of the kale beautifully, resulting in a kale juice that tastes like sweet grape juice.
The Health Benefits of Grape Kale Juice
As Kristina says in her original recipe video, this juice will give you energy, make you feel satisfied, and tastes scrumptious! Grapes contain simple sugars and are high in water content, and kale is one of the most nutritious leafy greens on the planet. So, this sweet kale juice is loaded with nutrients.
With highly absorbable calcium (thanks to a high ratio of calcium to phosphorous) kale juice surpasses milk, cup for cup, in calcium provision. Rich in phyto-chemicals that combat free radicals, kale can lower the risk of colon, breast and lung cancers, as well as fight osteoporosis, macular degeneration, support the cardiovascular and immune systems, and assist in energy production. This mighty leafy green contains lots of chlorophyll, vitamin A (in the form of carotenoids and beta-carotene), vitamins C, E, B6, and K, folic acid, iron, potassium, magnesium, zinc, and sodium.
As a warming vegetable, kale's a natural for a balancing cooler food. And juicing is a great way to enjoy it in its raw glory, as its flavor is less bitter, relative to that of uncooked kale eaten whole. Still, kale's kale—which is to say intense; the juice is best blended. It pairs with a wide range of fruits and vegetables, from apple, lemon, carrot and pineapple to tomato, cucumber and melon. Kale makes a good substitute for spinach in any of these juices, but will bring in its slightly bitter sharp note. Juice it stalk and all, and enjoy your new friend with benefits.
Fully Raw
Kristina from Fully Raw has got the rawkstar glow, and if watching one of her YouTube videos doesn't make you grab for a naked celery stick like a kid in a candy store, nothing will.
Kristina is a leading visionary in the raw food movement. After studying Kinesiology, Health Science, Raw Foods, and Fasting at Rice University, she converted to a raw foods diet after a chance encounter with juice feasting expert, John Rose. This new way of living eradicated her hyperglycemia and other health issues, and she never looked back.
She then studied under John Rose, and interned with Dr. Graham, which began her journey in the organic horticulture, permaculture, and co-operative community movements. Kristina is also a raw foods coach and speaker.
Check out all of the Fully Raw videos on YouTube and check out her wildly popular instagram feed.
Other Kale Juice Recipes For You
Mint Pineapple Ginger Kale Juice
Cranberry Pomegranate Kale Juice
Lemon Apple Parsley Kale Juice
Get Healthy With a 3-Day Juice Cleanse
1. DOWNLOAD the FREE 5-Day Energy Boost.
2. START the 3-Day Juice Cleanse.
3. JOIN our Cleanse Facebook group to get support.
Let me know what you think of this recipe in the comments!
Your feedback is important to me, and it helps me decide which recipes to post next for you.
THE BLENDAHOLIC SHOW TRAILER

THE BLENDAHOLIC SHOW TRAILER: Hi, my name is Tess and I'm a Blendaholic. Every Monday I share super easy recipes you can make in your blender! I'm blending up smoothies, cocktails, soups, appetizers, snacks, main meals, and desserts. There isn't anything I won't try in a blender, and all of the recipes are mind-blowingly delicious. So, dust off your blender, and tune in to The Blendaholic every Monday at 7AM PST to find your perfect blend. Find more easy healthy recipes at The Blender Girlhttps://www.theblendergirl.com/

Posted by The Blendaholic on Monday, January 22, 2018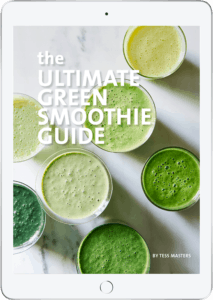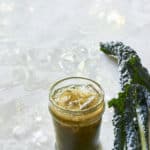 Sweet Grape Kale Juice
If you think you can't enjoy juicing kale, this sweet grape kale juice from Fully Raw will change your mind. It is super easy and super delicious!

Ingredients
1

bag

red grapes

1

bunch

kale
Instructions
Push the ingredients through your

juicer

, and strain with a fine mesh sieve.