These healthier gluten-free Anzac biscuits, or technically, Anzac-style biscuits taste just like conventional Anzac biscuits without the butter and Golden syrup.
Like most Australians, I grew up eating Anzac biscuits.
For those of you in other countries, Anzac biscuits are cookies made with oats, flour, sugar, butter, golden syrup, baking soda and boiling water. They're in the baking repertoire of every self-respecting Aussie.
The origin of Anzac biscuits is a subject of some debate. The most commonly accepted story is that Anzac biscuits were sweet treats made by army wives to send to their husbands at war as they needed to make something that would survive the long journey to Europe.
Another story that has survived, is that Anzac biscuits were made in the trenches by soldiers utilizing the limited provisions they had.
Whatever the origins of the tradition, Anzac biscuits have become one of the most iconic Aussie foods, and unlike Vegemite, can be happily enjoyed by everyone.
The recipe for Anzac biscuits is fairly standard.
Some people add LSA and nuts to their Anzac biscuits, but most people stick to the basics.
My dear friend, Pete, who was like my second father made amazing Anzac biscuits. Many years ago, Pete and I devoured an entire batch of Anzac biscuits during a card game on a lazy Saturday afternoon. He smugly grinned as I sheepishly wiped the last of the crumbs from my lips, and cried, "You made light work of those veggie head?!"
I've modified Pete's recipe using rice flour, coconut sugar, maple syrup, and vegan butter in place of the brown sugar, golden syrup and wheat flour to make these cookies gluten-free and vegan.
Bake the Anzac biscuits for 20 minutes and take them out of the oven. They'll be soft, and will solidify at room temperature. This way, they'll be crunchy on the outside and slightly chewy on the inside. "Bloody Beeyutiful" as Pete would say.
These Anzac biscuits are still loaded with sugar, but as Pete would say, "that's the point!" These are all about the fun, and I'm posting them to commemorate the sixth anniversary of Pete's death. Pete, I love you, and miss our talks every day.
THE BLENDAHOLIC SHOW TRAILER

THE BLENDAHOLIC SHOW TRAILER: Hi, my name is Tess and I'm a Blendaholic. Every Monday I share super easy recipes you can make in your blender! I'm blending up smoothies, cocktails, soups, appetizers, snacks, main meals, and desserts. There isn't anything I won't try in a blender, and all of the recipes are mind-blowingly delicious. So, dust off your blender, and tune in to The Blendaholic every Monday at 7AM PST to find your perfect blend. Find more easy healthy recipes at The Blender Girlhttps://www.theblendergirl.com/

Posted by The Blendaholic on Monday, January 22, 2018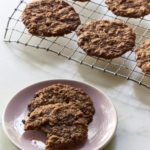 Gluten-Free Anzac Biscuits
These gluten free Anzac style biscuits are super easy and delicious.
Instructions
Preheat the oven to 300°F (150°C), and line two baking trays with non-stick sheets or parchment paper. 

Preheat the oven to 300°F (150°C), and line two baking trays with non-stick sheets or parchment paper. 

In a large bowl, combine the oats, sugar, flours, and shredded coconut. 

In a small saucepan over low heat, melt the butter and stir in the maple syrup. 

In a small bowl, mix together the boiling water and baking soda, and then add it to the melted butter mixture. 

Stir the melted butter mixture into the dry ingredients.

With a tablespoon measurer, spoon the mixture onto the lined trays an inch apart to allow room for spreading.

Bake for about 20 minutes, until just browning. 

Transfer to baking racks to cool.