Vegan Gluten-Free Chocolate Chip Cookies
---
December 14, 2014
These vegan gluten free chocolate chip cookies are absolutely fantastic. They are slightly crispy but chewy on the inside and have an incredible flavor.
These vegan gluten-free chocolate chip cookies are slightly crispy but chewy on the inside and have the most incredible flavor. I've served these to many people who've proclaimed they are the best chocolate chip cookies they're ever had. Big call, I know, but I have to agree. Forget gluten-free and vegan, these are just phenomenal chocolate chip cookies.
These epic vegan gluten-free chocolate chip cookies come from the The Complete Guide to Living Well Gluten Free by my dear friend Beth Hillson from Gluten-Free Makeovers.
This is the most in-depth book about embarking on a gluten-free lifestyle that I have read. I was honored to blurb this book, and I highly recommend it as an invaluable resource for anybody living gluten-free.
Having been diagnosed with Celiac Disease over forty years ago, Beth has been viewed as the guru of gluten-free living for decades. As president of the American Celiac Disease Association, she is utterly committed to providing reliable information to the gluten-free community, answering questions about everything from diagnosis to food to lifestyle.
In this book, Beth includes absolutely every single thing you need to know about living gluten-free with credible references, up-to-date research, and studies. The book opens with all of the essential information on celiac disease that is often not covered in other books. I learnt so much reading this book, about how celiac disease can lead to dental enamel defects, depression, anxiety, osteoporosis, and reproductive issues.
Beth then explains the testing procedure in detail including her advice on how to pick a doctor that can really help you. I found the chapter on the broad spectrum of gluten-related disorders fascinating, and I really enjoyed the section on gut issues and probiotics. Then there's the Gluten 101 chapter that is so valuable to anybody navigating their way through the minefield of the gluten-filled world. The section on checking alcoholic beverages, medication, skincare, and cosmetics is so important.
There's so much practical information in this book, it's honestly hard to do it justice in one post. Beth helps you shop, stock your pantry, set up your kitchen, create gluten-free flour mixes, substitute ingredients, eat out safely, cater for kids, socialize, travel, date, and save money living gluten-free. This is not a cookbook, so Beth has the scope in the book to really go into detail. And it's such an enjoyable read, because she has such a fabulous sense of humor. She's not afraid to cut right to chase and talk about gas and the perils of smooching!
But, she does include a handful of her best recipes in the book. Beth specializes in "gluten-free makeovers." So you can send her a recipe for a family favorite, and she will transform it for you. She shares her gluten-free makeovers of staples such as apple pie, banana bread, biscuits, birthday cake, baguettes, sandwich bread, pretzels, and pizza.
If you're embarking on a gluten-free lifestyle, living with gluten intolerance or celiac disease, this book is an incredible resource. Beth's comprehensive book is informed by decades of experience that will empower you to navigate the world of gluten intolerance with absolute confidence. And her delicious recipes along with an abundant "you can have it" attitude will inspire you to actually have fun, too!
Do not miss making Beth's amazing vegan gluten-free chocolate chip cookies. These are so good it's hard not to eat them all in one sitting.
Get your copy of The Complete Guide To Living Well Gluten Free.
THE BLENDAHOLIC SHOW TRAILER

THE BLENDAHOLIC SHOW TRAILER: Hi, my name is Tess and I'm a Blendaholic. Every Monday I share super easy recipes you can make in your blender! I'm blending up smoothies, cocktails, soups, appetizers, snacks, main meals, and desserts. There isn't anything I won't try in a blender, and all of the recipes are mind-blowingly delicious. So, dust off your blender, and tune in to The Blendaholic every Monday at 7AM PST to find your perfect blend. Find more easy healthy recipes at The Blender Girlhttps://www.theblendergirl.com/

Posted by The Blendaholic on Monday, January 22, 2018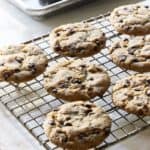 Vegan Gluten-Free Chocolate Chip Cookies
These vegan gluten free chocolate chip cookies are absolutely fantastic. They are slightly crispy but chewy on the inside and have an incredible flavor.

Servings
50
3-inch cookies
Ingredients
2

tablespoons

golden flaxseed meal

6

tablespoons

very warm water

1

cup

white rice flour

(or brown rice flour)

1/2

cup

sorghum flour

1/2

cup

cornstarch

(or tapioca starch)

1/4

cup

potato starch

(not potato flour)

1

teaspoon

xanthan gum

1

teaspoon

baking soda

2

8oz sticks

vegan butter,

at room temperature 

3/4

teaspoon

Celtic sea salt

2

teaspoons

natural vanilla extract

3/4

cup

granulated sugar

3/4

cup

firmly packed light brown sugar

2

cups

semisweet vegan chocolate chips 
Instructions
Preheat the oven to 375°F/190°C, and line four cookie sheets with parchment paper. 

In a small bowl, combine the flax meal with the water. Set aside to cool.

In a medium-size mixing bowl, whisk together the rice flour, sorghum flour, cornstarch, potato starch, xanthan gum, and baking soda. Set aside.

In a large mixing bowl, cream the buttery sticks until fluffy. Add the salt and vanilla and beat. Add the two sugars. Beat well until the mixture is smooth. Add the flax mixture and beat. Add half of the flour mixture at a time, beating after each addition. Fold in the chocolate chips.

Drop the cookie dough by heaping teaspoonfuls about 2 inches apart onto the prepared cookie sheets. Bake for 12 to 14 minutes, or until the tops are slightly browned. Remove from the oven and allow to cool completely before removing from the cookie sheets. While these are baking and cooling, drop the remaining dough onto the other pans.

*These freeze well. The dough can be scooped into balls and frozen, then stored in a resealable plastic bag to bake later.  The dough can also be refrigerated and made the following day.