Homemade Face Moisturizer
---
December 8, 2009
I've been making this homemade face moisturizer for years and it has become so popular with other people. This makes an amazing gift!
The Most Incredible Homemade Face Moisturizer
I've been making this homemade face moisturizer for years and I still love it.
The skin is the largest organ in the body, and absorbs whatever you put on it. So, I'm just as vigilant about what I put on my body as I am about what I put in it. If I can't eat the skincare, I don't use it.
This philosophy has led me into the wonderful world of natural skincare recipes. There are a lot of fantastic organic food-grade skin care products on the market. But, I find that a lot of these creams still have too many preservatives.
I use coconut oil as a natural body moisturizer, rose water as a toner, almond pulp as a scrub, and mashed avocado and lemon as a mask.
I got this face cream from my friends Kim and Lou at a homemade skincare workshop I did over a decade ago. My friends and took one of their classes, and came away with some brilliant recipes. This homemade moisturizer was the star, and we've all been making it with joyful gratitude ever since.
Some girlfriends and I created a co-op, and we make huge batches of this moisturizer, with some scrubs and lip balms for holiday gifts. We get together every December, and it's so much fun.
We buy the raw ingredients and jars in bulk, and share the cost. Then, we make the base mix, line up a ton of jars, and add in the essential oils. This way, each jar of moisturizer works out to be about five dollars each! Not bad for a cream that will rival anything you've tried on the market.
I'm not an aromatherapy expert, but the health benefits of essential oils are miraculous. But, these oils are potent, and less is more. You only need about 6 drops in each jar. Refer to an aromatherapy book for guidance on blending the right oils together for your specific purpose, and to learn more about using them safely and correctly. I love lavender, so stick to that for my personal use.
My favorite aromatherapy book is The Fragrant Pharmacy. For raw ingredients, I use New Directions in Australia, New Directions Aromatics in the U.S, and New Directions in the UK. This company has all of the raw organic ingredients, as well as glass jars and lids.
When you make the cream, be careful not to over blend the mixture. Your cream will get runny. To get the cream juuust right blend in short bursts with an immersion blender, and stop the moment the mixture turns the consistency of mayonnaise. At this point, the cream is thinner, and it will thicken in the jars in the fridge.
The first time we made this homemade face moisturizer as a group we all panicked, only to realize later that all would be well. We've found the best approach is to use an immersion blender with a tall plastic jug. This way, you can completely control the blend by pulsing gradually, and stirring in between each pulse. Pulse on low or your cream may be moisturizing the kitchen walls!
Another helpful hint when making this homemade face moisturizer is to add the essential oils only when you need them. I make a batch of the basic cream, jar it up, and leave it in the fridge without any essential oils. Then, when I need a jar of cream, I add in the desired oils according to my needs. Then, the cream is fresh, and I can change the blend depending on the weather and my mood. The cream will keep in the fridge for up to six months.
I seriously can't do this homemade face moisrturizer justice. It is amazing. Enjoy!
THE BLENDAHOLIC SHOW TRAILER

THE BLENDAHOLIC SHOW TRAILER: Hi, my name is Tess and I'm a Blendaholic. Every Monday I share super easy recipes you can make in your blender! I'm blending up smoothies, cocktails, soups, appetizers, snacks, main meals, and desserts. There isn't anything I won't try in a blender, and all of the recipes are mind-blowingly delicious. So, dust off your blender, and tune in to The Blendaholic every Monday at 7AM PST to find your perfect blend. Find more easy healthy recipes at The Blender Girlhttps://www.theblendergirl.com/

Posted by The Blendaholic on Monday, January 22, 2018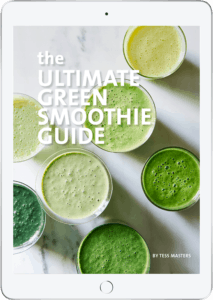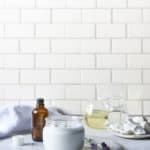 Homemade Face Moisturizer
This homemade face moisturizer is easy to make and really effective. Just blend and seal in jars.
Instructions
Combine the apricot oil, jojoba oil, cocoa butter, shea butter, glycerin, and emulsifying wax into a small saucepan. On very low heat, gently stir the ingredients for 2 to 3 minutes until the ingredients are just melted and the emulsifying wax has dissolved. (Don't use high heat, and never allow the mixture to boil.) 

Place the filtered water in a tall plastic jug, and place your

immersion blender

firmly on the bottom. Turn your blender on low, and slowly start pulsing the water. Gradually pour in the oil mixture in one steady stream while pulsing. Once you've added all of the oil mixture you should have a thin white cream. Increase the blender speed to medium-high, and pulse for 2 to 3 minutes further, until the mixture has thickened slightly like a thin whipped mayonnaise.

Stop pulsing, and add in the vitamin E oil, grapefruit seed extract, rosehip oil, and carrot seed oil. *If you're making the entire batch for yourself, add in all of the essential oils of your choice now. However, if you're going to divide the batch for gifts, and want to add different essential oil blends to each container, hold off adding the essential oils, and instead, gently stir 6 drops into each jar once you've poured the cream into the jars.

Pulse the thickened mixture on low for about 5 seconds just to gently mix in the additions. (Be careful not to overblend the cream or it will return to a thin runny consistency.)

Pour the cream into individual jars, and allow the mixture to cool uncapped before sealing. (If adding different essential oil blends for gifts, add the 6 drops to each jar now, and gently stir to combine well.)

Fasten the lids to each jar, and store them in the fridge overnight to thicken.

The cream will keep in the fridge for up to 6 months.