Homemade Face Moisturizer
---
December 8, 2009
I've been making this homemade face moisturizer for years and it has become so popular with other people. This makes an amazing gift!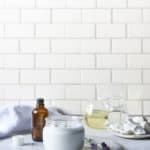 Homemade Face Moisturizer
This homemade face moisturizer is easy to make and really effective. Just blend and seal in jars.
Instructions
Combine the apricot oil, jojoba oil, cocoa butter, shea butter, glycerin, and emulsifying wax into a small saucepan. On very low heat, gently stir the ingredients for 2 to 3 minutes until the ingredients are just melted and the emulsifying wax has dissolved. (Don't use high heat, and never allow the mixture to boil.) 

Place the filtered water in a tall plastic jug, and place your

immersion blender

firmly on the bottom. Turn your blender on low, and slowly start pulsing the water. Gradually pour in the oil mixture in one steady stream while pulsing. Once you've added all of the oil mixture you should have a thin white cream. Increase the blender speed to medium-high, and pulse for 2 to 3 minutes further, until the mixture has thickened slightly like a thin whipped mayonnaise.

Stop pulsing, and add in the vitamin E oil, grapefruit seed extract, rosehip oil, and carrot seed oil. *If you're making the entire batch for yourself, add in all of the essential oils of your choice now. However, if you're going to divide the batch for gifts, and want to add different essential oil blends to each container, hold off adding the essential oils, and instead, gently stir 6 drops into each jar once you've poured the cream into the jars.

Pulse the thickened mixture on low for about 5 seconds just to gently mix in the additions. (Be careful not to overblend the cream or it will return to a thin runny consistency.)

Pour the cream into individual jars, and allow the mixture to cool uncapped before sealing. (If adding different essential oil blends for gifts, add the 6 drops to each jar now, and gently stir to combine well.)

Fasten the lids to each jar, and store them in the fridge overnight to thicken.

The cream will keep in the fridge for up to 6 months.