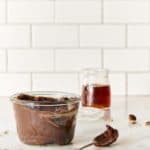 Sugar-Free Chocolate Hazelnut Spread
This sugar-free chocolate hazelnut spread tastes like Nutella without all of the dairy and refined sugar. And, it's super easy to make!
Instructions
Preheat your oven to 350F (180C), and lay the hazelnuts in a single layer on a baking tray. Roast for about 12 minutes, until fragrant. Remove from the oven and allow to cool slightly.

Transfer the roasted hazelnuts to a large kitchen towel, and use your hands to roll the hazelnuts in the towel to remove as much of the skins as possible. Discard the skins.

Add the grapeseed oil and skinned hazelnuts to your high-speed blender, and blast on high (using the tamper to guide the nuts through the blades) for about 1 to 2 minutes until a butter forms. (You may need to stop the machine and scrape down the sides of the container.) The hazelnut butter will be warm, and that is what you want.

Add the chocolate chips, vanilla, and salt, and blast again for 10 to 20 seconds, until the chocolate chips have melted, and the chocolate hazelnut butter is smooth and creamy. The nut butter will be thin and runny. Add sweetener to taste.

Transfer the mixture to a glass jar, seal it, and allow to cool. Store in the fridge to thicken. The nut butter will keep in the fridge for up to a month. But, it never lasts that long.