This chocolate hazelnut spread is so delicious it's hard to quit eating.
I was reminded of this delicious spread when my friend, Mika texted me yesterday requesting an alternative to peanut butter for her son, Kai, who refuses to put anything else on his toast! I gave them a blender for Christmas, and suggested they make their own flavored nut butters.
Even though this spread contains a lot of natural sugar, I decided it would be a great fun start to get Kai excited about making something other than peanut butter. He really enjoys experimenting in the kitchen with smoothies, so this worked.
This chocolate hazelnut spread is really simple, and you don't have to roast or skin the hazelnuts. I just throw them in raw and whole. Tweak the cacao powder, maple syrup, and coconut oil to taste. This butter will keep in the fridge for up to a week. But, it never lasts that long.
THE BLENDAHOLIC SHOW TRAILER

THE BLENDAHOLIC SHOW TRAILER: Hi, my name is Tess and I'm a Blendaholic. Every Monday I share super easy recipes you can make in your blender! I'm blending up smoothies, cocktails, soups, appetizers, snacks, main meals, and desserts. There isn't anything I won't try in a blender, and all of the recipes are mind-blowingly delicious. So, dust off your blender, and tune in to The Blendaholic every Monday at 7AM PST to find your perfect blend. Find more easy healthy recipes at The Blender Girlhttps://www.theblendergirl.com/

Posted by The Blendaholic on Monday, January 22, 2018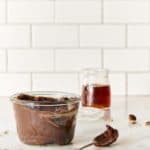 Chocolate Hazelnut Spread
This raw vegan chocolate hazelnut spread tastes like Nutella without all of the dairy and refined sugar.
Instructions
​Throw all of the ingredients into your high-speed blender, and blast on high for about 1 minute, until smooth and creamy. Use the tamper, or stop the machine periodically and scrape down the sides of the container. 

Transfer to a sealed glass container, and keep in the fridge.