This sweet celery apple lemon broccoli juice is an incredible detox juice and comes from Kibby's Blended Life.
Kibby is a landscaper by trade, but she has since found her real passion is blogging and sharing information about health, wellness, inspiration, green living, organic gardening, green smoothies and plant-based recipes. Kibby lives in North GA with Scott, and their 3 dogs, and lovely cat.
This lovely lady creates some awesome recipes, and I had to share this brilliant broccoli juice with you.
Broccoli is the detox diva of the food world. Broccoli is rich in glucosinolates, and is very high in glucoraphanin, which the body converts to sulforaphane using the enzyme myrosinase (also found in broccoli). You can find myrosinase in mustard, radish, and horseradish, so pairing broccoli with these foods heightens the effects. This crazy-amazing crucifer is utterly loaded with antioxidants (glutathione plus vitamins C and E), alkalizing minerals (magnesium, zinc), flavonoids, carotenoids, and omega-3s to combat oxidation and inflammation.
High in vitamin K, folate, and iron, broccoli is also wonderful for oxygenating the blood. It contains vitamin C to aid iron absorption. The leaves are high in calcium and antioxidants like vitamins A and C. We push the florets, stalks, and leaves through the juicer.
THE BLENDAHOLIC SHOW TRAILER

THE BLENDAHOLIC SHOW TRAILER: Hi, my name is Tess and I'm a Blendaholic. Every Monday I share super easy recipes you can make in your blender! I'm blending up smoothies, cocktails, soups, appetizers, snacks, main meals, and desserts. There isn't anything I won't try in a blender, and all of the recipes are mind-blowingly delicious. So, dust off your blender, and tune in to The Blendaholic every Monday at 7AM PST to find your perfect blend. Find more easy healthy recipes at The Blender Girlhttps://www.theblendergirl.com/

Posted by The Blendaholic on Monday, January 22, 2018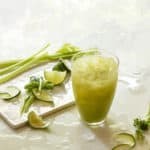 Key Lime Pie Green Juice
This broccoli green detox juice from Kibby Miller tastes like key-lime pie and is incredibly cleansing.
Ingredients
1

head

broccoli,

stalks and florets

3

ribs

celery

2

green apples,

cored 

2

lemons,

peeled

1/2 

zucchini

1

heart

romaine

(or 1 handful baby spinach)
Instructions
Push the ingredients through your juicer, and strain with a fine mesh sieve.