Butternut Squash Apple Soup
---
December 12, 2016
This butternut squash apple soup is super easy and delicious, and is toddler and kid-friendly for a simple meal the whole family can enjoy.
This butternut squash apple soup is really easy and kid-friendly. This soup is vegan and allergy-free, and is a delicious healthy meal the whole family can enjoy. You can adjust the spices and sweetness to taste.
I get constant requests for family-friendly soup recipes for babies, toddlers, and young children. This butternut squash soup with apple comes from The Pediatrician's Guide To Feeding Babies and Toddlers by Dr Anthony Porto and Dr Dina Dimaggio, This book is a fantastic resource for reliable nutrition information for young children. It also contains some awesome recipes like this butternut squash apple soup.
The book is broken up into developmental chapters. The first chapter covers what you need to know when your baby is 0 to 3 months old: help with breastfeeding, guidance for choosing and using formulas, the lowdown on bottles and nipples, a yardstick for expected growth, information on dealing with milk allergies, and coping with constipation.
At 4 to 6 months there's information about expected developmental milestones, recommendations for introducing solid foods, and making your own baby food. Chapter 3 covers what your baby needs when he or she is 7 to 8 months old such as tips for balancing solid foods with breast milk and formula, teething issues, failure to thrive, celiac disease, and reflux. For babies 9 to 12 months old, you need to know about good finger foods, checking for food allergies, monitoring anemia, and coping with diarrhea.
Then, the book moves on to the toddler years, with tips for picky eaters, guidance for dealing with constipation, practical tips for potty training, and great information for managing autism. There is also a great chapter covering common medical conditions like gastrointestinal disorders and allergies, and tips for finding good specialists for specific issues.
Along with all of this fantastic practical advice, each chapter contains delicious recipes that parents can enjoy with their children. Some of my favorites include the: red,white, and blueberry overnight oats, sweet potato pudding, broccoli lentil soup, sunflower seed butter and fruit quesadillas, and almond butter bites.
This butternut quash soup is from the 4 to 6 months chapter. The reason Tony and Dina include this recipe is that butternut squash is sweet and delicious (popular with children), but it also has a low risk for food allergies. But, Tony and Dina recommend waiting until your child is 6 months of age to make this soup as butternut squash is a high-nitrate food. This soup is a good source of fiber for infants (and adults), which is useful for maintaining regular soft stools; is an excellent source of vitamin A, potassium, and iron; and a good source of folate, and vitamins C, E, and K.
I used vegetable broth in this recipe as I was making it for adults. But, if you're making this recipe for very small children, use the filtered water.
Get your copy of The Pediatrician's Guide To Feeding Babies and Toddlers, and learn more about by Anthony Porto and Dina Dimaggio.
THE BLENDAHOLIC SHOW TRAILER

THE BLENDAHOLIC SHOW TRAILER: Hi, my name is Tess and I'm a Blendaholic. Every Monday I share super easy recipes you can make in your blender! I'm blending up smoothies, cocktails, soups, appetizers, snacks, main meals, and desserts. There isn't anything I won't try in a blender, and all of the recipes are mind-blowingly delicious. So, dust off your blender, and tune in to The Blendaholic every Monday at 7AM PST to find your perfect blend. Find more easy healthy recipes at The Blender Girlhttps://www.theblendergirl.com/

Posted by The Blendaholic on Monday, January 22, 2018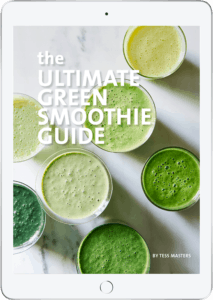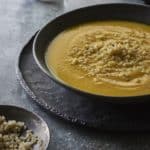 Butternut Squash Apple Soup
This butternut squash apple soup is super easy and delicious, and is toddler and kid-friendly for a simple meal the whole family can enjoy.

Cook Time
1
hour
5
minutes
Total Time
1
hour
20
minutes
Ingredients
1

medium

butternut squash,

halved

1/4

cup

filtered water,

plus more for thinning 

2

tablespoons

extra-virgin olive oil

1

medium

yellow onion,

diced

1 1/2 

medium

carrots,

peeled and diced (about 1 cup )

5

medium

Gala apples,

peeled, cored, and diced (about 4 cups)

5

cups

vegetable broth

1 3/4 

teaspoons

Celtic sea salt,

plus more to taste

1/2

teaspoon

ground cinnamon

1/4

teaspoon

mild yellow curry powder
Instructions
Preheat the oven to 400°F/200°C.

Line a baking sheet with parchment paper. Lay the butternut squash halves face on the sheet. Bake for about 40 minutes until cooked through. Allow to cool. Scoop out the seeds, and discard them, and then scoop out the flesh.

Throw the flesh into your blender with about 1/4 cup of filtered water, and blast on high for 10 to 20 seconds until smooth.

In a large saucepan over medium-high heat, warm the oil, and sauté the onion, carrots, and apples for about 5 minutes, until the onions are soft and translucent. Add the broth (or water), salt, cinnamon, and curry powder. Increase the heat to high, bring to a boil, and then lower the heat to medium, and simmer for about 15 minutes until the apples and carrots have softened. Add the butternut squash puree, and simmer for a further 5 minutes to allow the flavors to mesh.

Remove the pot from the heat, allow to cool slightly, and then transfer in batches to your blender, and blast on high for 30 to 60 seconds until smooth and creamy. 

Serve with cooked grains or bread. 

*The soup will keep in the fridge for up to 3 days, or frozen for up to 3 months.