This gluten-free tomato gazpacho is super easy, bursting with delicious fresh flavors, and is raw, vegan, grain-free, and paleo-friendly.
I read a wonderful article by Janet Mendel in the LA Times celebrating gazpacho in all its incantations. It was a scorching afternoon and the title phrase, "This Spanish soup is adaptable as it is refreshing on a hot summer's day" had me lunging for my blender to create a gazpacho of my own.
In the article, Janet gives a fabulous brief history of gazpacho. It is thought that this traditional Spanish soup may have had its traditions in Roman and Moorish/Arabic cultures where a simple gruel of bread and oil was enjoyed. She suggests that the word gazpacho comes from the Latin term "caspa", meaning fragments or little pieces.
The common tomato gazpacho that we're all familiar with now came into existence from the peasants working in the vineyards, plantations, groves, and fields in southern Spain. They made simple raw soups from their rations of bread, water, olive oil, garlic, salt, and seasonal fresh veggies. Fresh tomatoes and cucumbers were plentiful in the Summer so they were thrown into the "dornillos" (large wooden bowls) and pounded together to create what we now know of as tomato gazpacho. This soup refreshed and sustained the workers while they were slaving away during long days in the heat.
Like most rustic peasant foods, gazpacho has been reinvented and had a chic facelift. Gourmet offerings are served in high-end restaurants jazzed up with seafood and cured meats. The sky's the limit, and creative chefs experiment with a never ending list of bizarre toppings.
Janet suggests that "no self respecting Andalusian housewife would add basil to tomato gazpacho soup." But in my world, basil and tomatoes are just meant to be together. It is a match made in heaven much like hazelnuts and chocolate. While I was at the farmer's market with tomatoes in hand my nose just led me over to the fresh basil! A letter of apology to any sensitive Andalusian housewives.
Most tomato gazpacho recipes use bread to thicken the soup, but I've kept this gazpacho raw with a simple mixture of fresh fruits and veggies. You could roast the tomatoes for a deeper flavor. A splash of tabasco is delicious, too.
Either way, this tomato gazpacho is a little gem.
THE BLENDAHOLIC SHOW TRAILER

THE BLENDAHOLIC SHOW TRAILER: Hi, my name is Tess and I'm a Blendaholic. Every Monday I share super easy recipes you can make in your blender! I'm blending up smoothies, cocktails, soups, appetizers, snacks, main meals, and desserts. There isn't anything I won't try in a blender, and all of the recipes are mind-blowingly delicious. So, dust off your blender, and tune in to The Blendaholic every Monday at 7AM PST to find your perfect blend. Find more easy healthy recipes at The Blender Girlhttps://www.theblendergirl.com/

Posted by The Blendaholic on Monday, January 22, 2018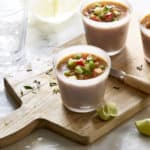 Tomato Gazpacho
This raw vegan tomato gazpacho soup is quick, easy, and delicious.
Ingredients
1/4

cup

filtered water

2

tablespoons

extra-virgin olive oil

2

tablespoons

fresh lime juice,

plus more to taste

3

medium tomatoes,

diced, plus more to garnish

1

English cucumber,

skin on, and diced, plus more to garnish

1

large red bell pepper,

diced, plus more to garnish

1/4

medium red onion,

diced

1

cup

firmly packed fresh basil leaves,

finely chopped, plus more to garnish

2

cloves

garlic

1

small green chile,

ribbed, seeded, and minced

1

teaspoon

Celtic sea salt,

plus more to taste

1

teaspoon

pure maple syrup 
Instructions
Throw everything into your blender and pulse until you get a rustic consistency.

To serve ladle individual portions into glasses or bowls, and top with diced tomato, cucumber, bell pepper, and basil.