This onion and herb socca from The Blender Girl cookbook is quick and easy and is a fantastic vegan gluten-free flatbread everybody loves.
I first fell in love with socca in Italy about 15 years ago.
Socca is made with chickpea flour, water, olive oil and salt is cheap as chips, and super easy!.
Various incarnations of chickpea flatbread are served in parts of Italy and France along the Ligurian Coast from Nice to Pisa. Each region serves it slightly differently, but they're usually served up as crispy thin pancakes or crepes. Probably the most famous version is the Socca served in Nice, but it is also known as Farinata or Cecina in Italy.
This traditional street food dates back to about 1860, when it was commonly made in little wagons with built-in ovens. Nowadays, socca is made in a cast-iron skillet or tin-plated copper baking pan and then placed in an open wood-fire oven. The crispy golden crust and slightly smokey flavor is what makes this Socca or Farinata fabulous.
This process is usually replicated (although it is never really as good as the ones you get in France and Italy) by partially frying in a pan and then placing each flat bread in the oven for about 5 minutes, and then flipping it and repeating the process until they are golden brown and crispy.
I must also admit that after endless tries to get my flat breads crispy without sticking to the pan and tearing apart, I decided with frustration to forge my own Socca path and bake one big piece.
This way, the socca slides right out and looks gorgeous as one big wheel of yumminess on a breadboard. You can jazz up this socca with other herbs, lime juice, olives, and chiles. I've added some suggestions under the main ingredients list.
Get creative with your fillings; make this socca your own.
THE BLENDAHOLIC SHOW TRAILER

THE BLENDAHOLIC SHOW TRAILER: Hi, my name is Tess and I'm a Blendaholic. Every Monday I share super easy recipes you can make in your blender! I'm blending up smoothies, cocktails, soups, appetizers, snacks, main meals, and desserts. There isn't anything I won't try in a blender, and all of the recipes are mind-blowingly delicious. So, dust off your blender, and tune in to The Blendaholic every Monday at 7AM PST to find your perfect blend. Find more easy healthy recipes at The Blender Girlhttps://www.theblendergirl.com/

Posted by The Blendaholic on Monday, January 22, 2018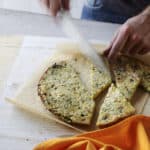 Onion and Herb Socca
This onion and herb socca from The Blender Girl cookbook is super quick, easy, and delicious.
Ingredients
1

cup (240ml)

lukewarm water

1

cup (160g)

chickpea flour

(garbanzo bean flour)

Celtic sea salt and freshly ground black pepper

1/2

cup (75g)

diced yellow onion

2

teaspoons

finely chopped garlic

(2 cloves)

2

tablespoons

finely chopped flat-leaf parsley

1

tablespoon

finely chopped thyme
Instructions
Pour the water, 2 tablespoons of olive oil, the flour, and 1/2 teaspoon each of salt and pepper into your blender and pulse on low a few times until just combined. You don't want to over- process. Just get rid of the lumps.

Transfer this mixture to a bowl and let stand at room temperature for at least 30 minutes and up to 12 hours, until the flour absorbs the water and oil and the mixture has the consistency of heavy cream.

Preheat the oven to 450°F (235°C).

In a shallow frying pan over medium heat, sauté the onion in 1 tablespoon of olive oil for 10 minutes, until the onion is soft and translucent. Add the garlic and sauté for 5 minutes more, until the onion and garlic are slightly caramelized. Remove from the heat and stir in the herbs.

Grease a 9- to 10-inch (23 to 25cm) cast-iron frying pan or shallow pie plate with a tiny bit of olive oil. Spoon the onion and herb mixture into the bottom of the prepared pan and pour the batter over the top. Stir gently to disperse the onion and herbs throughout the batter.

Bake uncovered for 10 minutes. The socca is done when it pulls away from the sides of the pan. Remove from the oven and let cool in the pan for 5 minutes. Brush the top of the socca with a little bit of olive oil and season with salt and pepper. It should slide right out of the pan.

Cut into wedges and serve. Socca is best eaten as soon as it is made.
Recipe Notes
rosemary option:
Substitute the thyme with 2 tablespoons finely chopped rosemary.
lime and cilantro option:
Substitute the thyme with 1/2 cup finely chopped cilantro, and add 3 tablespoons fresh lime juice, and 1 teaspoon red pepper flakes.
olive and parsley option:
Substitute the thyme with 1/2 cup finely chopped flat-leaf parsley, and add 1/2 cup chopped Kalamata olives.
Photo by Anson Smart from The Blender Girl cookbook published 2014 by Ten Speed Press