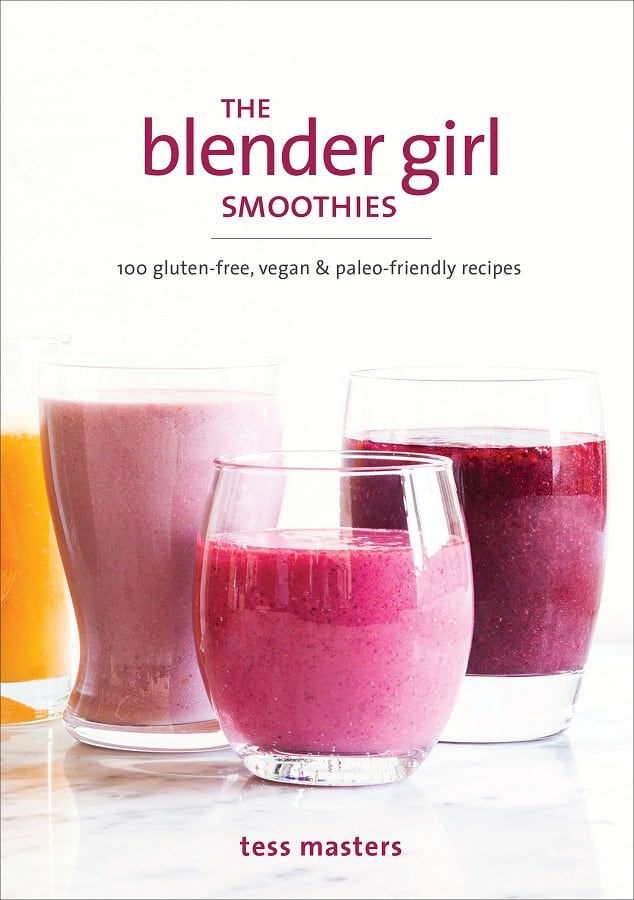 ---
The Blender Girl Smoothies Book
Based on the The Blender Girl Smoothies app, this popular smoothies book (published by Ten Speed Press) has 100 smoothie recipes for weight loss, energy, immunity, detox, protein, inflammation, alkalinity, and more. There is also a smoothie glossary and smoothie-making chart to make your own blends. The book is available at bookstores and online outlets. 
BUY NOW
SHARE
The Blender Girl Smoothies book (published by Ten Speed Press) is based on The Blender Girl Smoothies app (with Penguin Random House) that was one of three finalists for best app of the year in 2014.
This book contains 100 of the best smoothie recipes from The Blender Girl collection.
All of the recipes are vegan (dairy-free, egg-free) and gluten-free, and use whole plant based ingredients and natural flavorings, seasonings, and sweeteners.
Many of the recipes are also nut-free, soy-free, sugar-free, keto-friendly, and paleo-friendly.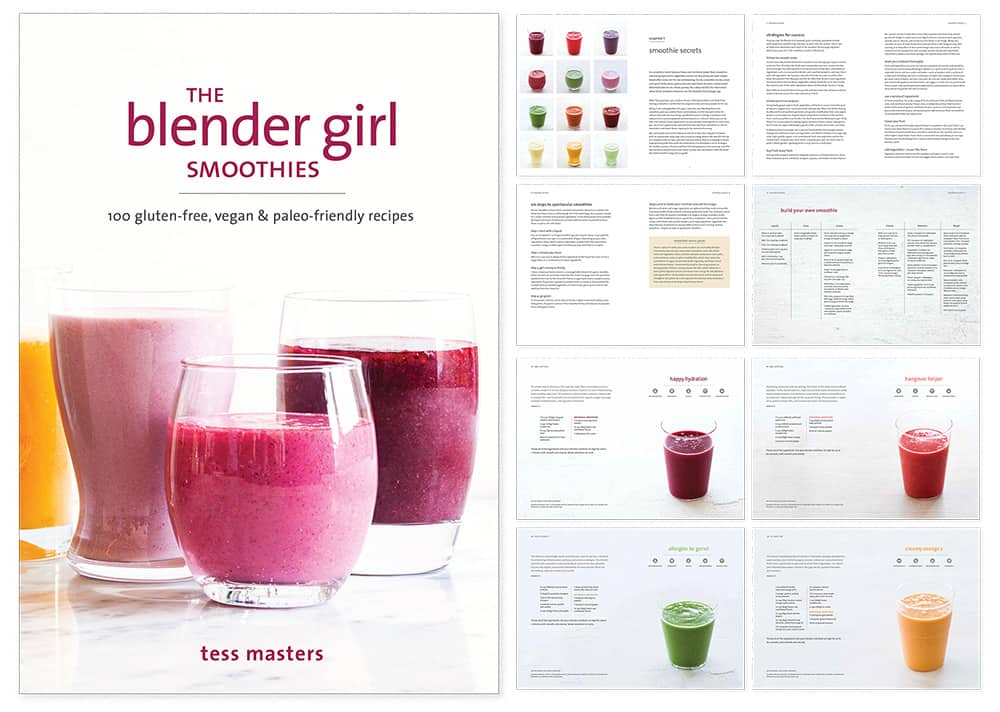 GET YOUR COPY NOW
---
The Smoothie Recipes
The smoothie recipes are broken up into four chapters:

Light and Fruity Smoothies

Clean and Green Smoothies

Exotic Smoothies with complex flavor combinations

Dessert Smoothies
There is a stunning photo and double-page spread for each smoothie with recipe summaries listing the health benefits, and special icons to flag specific needs - weight loss, immunity, detox, energy, inflammation, protein, alkalinity, unsweetened, and nuts (for allergies).
Ingredients lists include both imperial and metric measurements, and there is also a full nutritional analysis for each smoothie providing calories, fat, sodium, carbs, fiber, sugar, protein, calcium, and iron levels per serving.
All smoothies make two 16-ounce glasses and are designed to serve 2 people.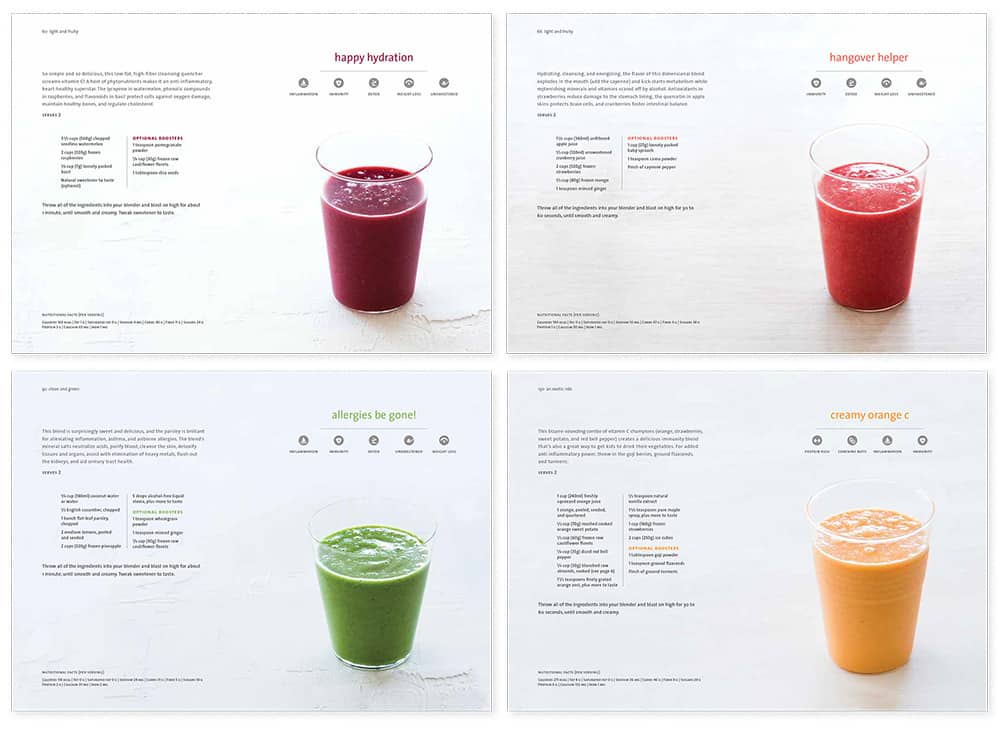 Smoothies For Your Health Goals
You can search for smoothies fitting your dietary preference via the index of the book.
There are smoothies for:
weight loss
energy
immunity
detox
protein
inflammation
alkalinity
There are also smoothies that are sugar-free tagged with the unsweetened icon.
So, whether you want to detox, lose a few pounds, get energized, or guard against seasonal colds, there is a smoothie recipe for your every need!
Each Smoothie has 3 Optional Boosters
Every smoothie has three optional boosters (like chia seeds, ginger, coconut oil, wheatgrass, superfood powders) that allow you to ramp up flavor, nutritional value, or both.
Use one, two, or all three options together in your smoothie according to your taste or sense of adventure.
The benefit or flavor effect of each smoothie booster is called out in the head notes for each recipe.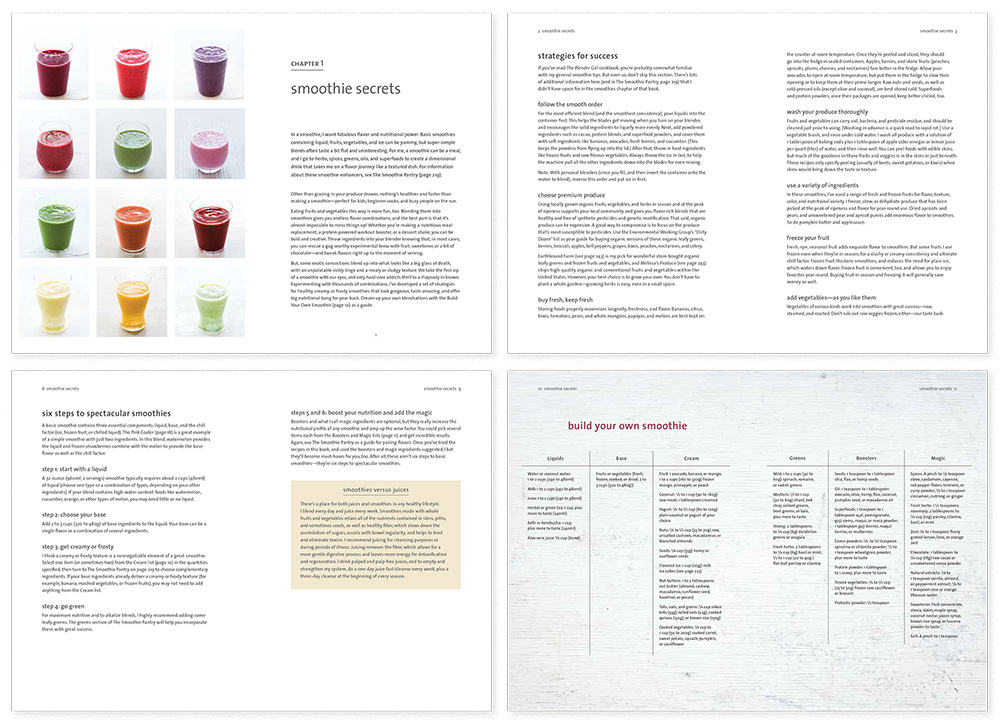 Smoothie Making Tips
In addition to the smoothie recipes, there are a ton of smoothie making information so you can create your own amazing smoothie recipes.
There are tips for:
combining ingredients to elevate flavors and textures to help you take your smoothies to the next level.

soaking ingredients for the smoothest texture

how to store smoothies to keep them fresh

adding probiotics to your smoothies for gut health

strategies for reducing bloating when drinking smoothies

the difference between juices and smoothies
Build Your Own Smoothie Chart
Use the 6 Steps To Spectacular Smoothies chart to build your own incredible smoothies.
Thousands of people have used this chart to build smoothies with rave reviews. It really works!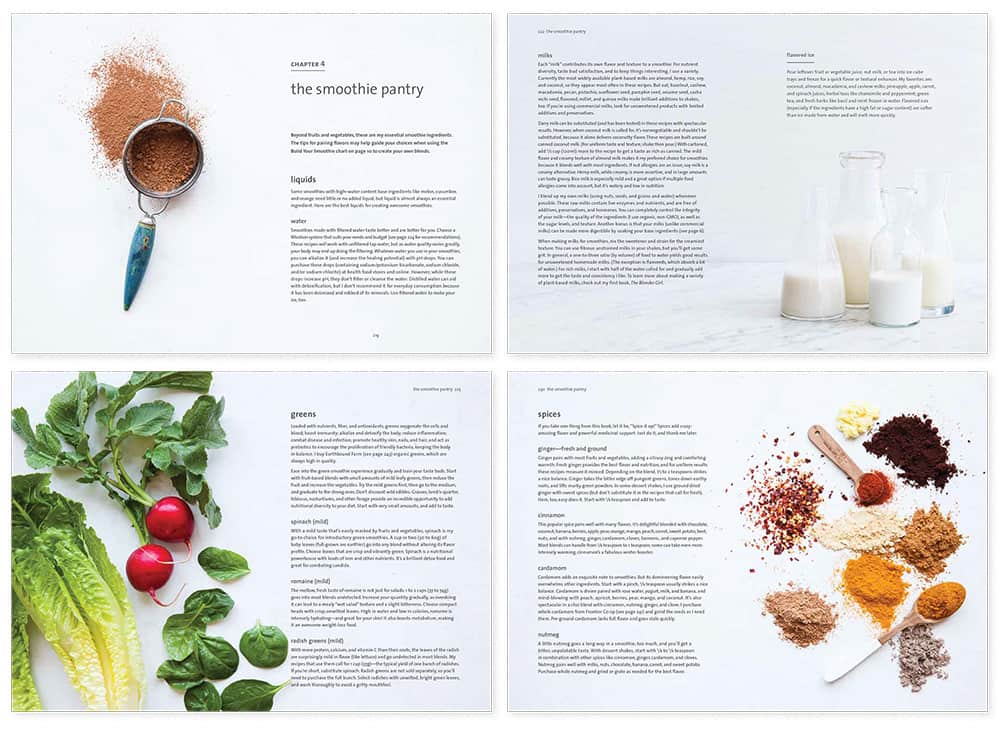 Smoothie Ingredient Glossary
Don't miss The Smoothie Pantry!
This glossary of smoothie ingredients has tips for pairing and layering flavors with:
liquids (milks, juices, herbal teas, kefir, kombucha)

leafy greens

herbs and spices

oils

coconut

superfoods

flavor enhancers

sweeteners

protein powders
So, take your smoothies to the next level, and get your copy now.